Welcome and Happy Saturday!
Before we get to the freebies, something BIG is happening tomorrow. I promise you won't want to miss out. Think tons of freebies and a chance to WIN BIG on TpT. 😉
Click the link below to find out how to earn $100 in TpT GOLD!
Now, here's what you really came for. Check out my Top 5 Freebies for the week.
Number 5.
This is a great freebie for all of the kindergarten teachers out there. If you have students who are working on matching upper and lowercase letters, check out this freebie from Teresa Williams.
Number 4.
I don't know about you, but my students always love measuring whether it is with standard or non standard units. This shamrock themed measurement freebie from 1st Grade Teacher is perfect for St. Patty's Day.

Number 3.
This cute little packet from Owl Things First contains a fun hundreds chart activity that will help students work on adding tens. It also contains a creative persuasive writing project that would make a fantastic bulletin board!
Number 2.
I've said it before, and I'll say it again. I love graphing. It's always one of my students favorite units. That's why I love this cute tallying and graphing freebie from Erin Palleschi. Check it out!
Number 1.
Are you teaching the long a sound? Well then this free long a word wall from Ms. Joanne is perfect for you. I love that there are pictures to match the words, and I love that she covers all of the different vowel combinations to make long a.
There you have it!
Make sure to stop back tomorrow for a chance to win some TpT gold and grab a ton of St. Patrick's Day goodies! I promise you, you won't want to miss it!
Until then,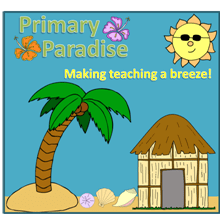 Martha from Primary Paradise
Want to receive the top 5 freebies and other great posts via email? Scroll up to the top and enter your email under "Don't Miss Out, Follow Me!"
Do you have an awesome freebie that you would like featured as one of my Top 5 Freebies of the Week?
Click here to fill out the form!