Welcome to my Top Five Freebies of the Week! 🙂
Before we get to the freebies, I am excited to announce that I have (finally) finished the SPRING version of my Wacky Words Parts of Speech Packet! Yaaaaaaaay!
Click the picture below to check it out.
And of course, I had to include a free sneak peak for you, so click the picture below to download two stories for free! 😉
Okay here we go!
Number 5.
This super cute write the room freebie from Amy Swan would be great for kindergarteners or first graders who still need practice with CVC words. It's perfect for March since it has an adorable St. Patrick's Day theme!
Number 4.
This is a great freebie from Amy's SMART Designs for 2nd graders who are learning about non-fiction text features. It's much more fun than a normal graphic organizer, and it even includes a fun scavenger hunt activity!
Number 3.
This fun game from Ciera Harris is kind of like memory, but with a twist. It is a fun way for students to practice their vowel sounds, and they won't even realize they're learning! 🙂
Number 2.
I don't know why, but I just love teaching ABC order. I think it can be such a fun skill for students to learn, and it has so many real world applications. Check out this pup-tastic ABC order freebie from Sheila Melton. I give it 5 paws. 😉
Number 1.
I don't know about you, but I love to have my students celebrate each others writing (or really any work they are proud of). This fabulous form from RaraDT helps students do just that. I especially love it because she encourages students to explain why they like it. This is definitely a great thing to download and tuck away for the next time you finish a big writing project.
Before I go, don't forget that the blog hop is still on, so if you haven't hopped down the rainbow yet, click the link below.
Have a fabulous weekend!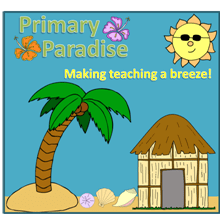 Martha from Primary Paradise
Want to receive the top 5 freebies and other great posts via email? Scroll up to the top and enter your email under "Don't Miss Out, Follow Me!"
Do you have an awesome freebie that you would like featured as one of my Top 5 Freebies of the Week?
Click here to fill out the form!