Hi All! Happy Saturday! Before we get to the freebies, don't forget: The Find the Leprechaun's Gold Blog Hop ends TOMORROW! If you haven't gotten your freebies or entered to win $100 to TpT yet, click below!
Now here are my Top 5 Freebies for this week. 🙂
 Number 5.
I love this cute spring themed synonym game from Natalie Snyders. Students can figure out if they have a match because they'll have a bee and a flower. Very cute!
Number 4.
Have you ever read Crazy like a Fox by Loreen Leedy? It's a fabulous way to teach similies, and I highly recommend it. This is an awesome powerpoint to go with the book that doubles as similie and comprehension practice.
Number 3.
This freebie is a little bit selfish. As you might know, I have recently changed positions and, among other things, am pulling students to do RTI. These record sheets from JD's Rockin' Readers are a great way to keep accurate and detailed records.
Number 2.
If you're a speech teacher or just have students that have a difficult time articulating their ideas and thoughts, this is a great, free game from HCSpeechtherapy. Students get a card with a topic on it and then name 5 things that match that topic. If they can name 5, they keep the card. The person with the most cards wins. 🙂
Number 1.
Here's one from QR Queens for all of the tech-savvy people. I bet your students will love scanning the codes and learning about plants. All you need is a smart phone or I-Pad to use these. Even if you don't have one now, you could still save this for the future.
Thanks so much for stopping by. I really enjoy sharing these freebies each week, and the best part is hearing what you all have to say about them, so please feel free to leave comments below.
Have a fantastic weekend!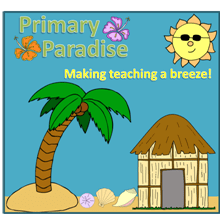 Martha from Primary Paradise
Want to receive the top 5 freebies and other great posts via email? Scroll up to the top and enter your email under "Don't Miss Out, Follow Me!"
Do you have an awesome freebie that you would like featured as one of my Top 5 Freebies of the Week?
Click here to fill out the form!