Hey All!
If you are just starting your Spring Break, I hope you are enjoying it! Mine starts this coming Friday, and I'm very excited. 🙂
Just a quick note to let you know, I will not be doing a Top 5 Freebie of the Week post next week, since I'm sure very few people will be thinking about school next Saturday, right before Easter. I will pick back up on April 6th though.
Okay, now let's get started!
Number 5.
I really like this freebie from Shelia Melton because I could see it as a great morning Do-Now, independent practice, or center activity. If you are working on the sight words "green", "like", or "put", or are discussing fruits and veggies, this is a great freebie for you!
Number 4.
This 2 player Spin and Cover game from Collaborative Classroom is a great way for Kinders to practice number recognition, and can also be used to help Kinders and Firsties with their doubles. Not only is it cute, but also very easy to set up!
Number 3.
Kids love to explore nature, and the spring time is a perfect time to allow  them to explore nature. I love this cute freebie from Phyllis Sprangel because it gets kids outside, observing, and thinking.
Number 2.
Alright 2nd grade friends, do I have a great resource for you! I love this freebie from 2nd Grade Snickerdoodles that requires students to sequence the strength of meaning of different adjectives. What a fab way to see if students REALLY know the meanings of the words.
Number 1.
Now, I know March is almost over, but this fabulous Common Core Aligned Math mini book from Latoya Reed would work well in April or any month once all of the concepts have been taught. I think these would make great do-now's or morning work!
Thanks so much for stopping by, and feel free to leave a comment below to let me know what you think of these freebies!
Have a a wonderful weekend!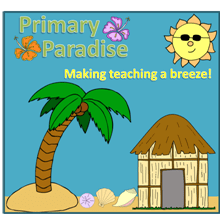 Martha from Primary Paradise
Want to receive the top 5 freebies and other great posts via email? Scroll up to the top and enter your email under "Don't Miss Out, Follow Me!"
Do you have an awesome freebie that you would like featured as one of my Top 5 Freebies of the Week?
Click here to fill out the form!