Sometimes the best ideas are straight forward and to the point. I know I've mentioned before that I am currently working with 2 fabulous first graders as one of my RTI groups. We've been working primarily on short vowel CVC words and sounds. I've been using my file folder flippers to help them go through each short vowel word family, but I wanted a fun activity that they we could use to reinforce what they've learned and also assess where the are with blending the sounds in unfamiliar words.
Well, luckily, Karla over at One Room Schoolhouse can apparently read minds! She has created a FABULOUS 2 player game that focuses on the exact skill of working on short vowel CVC words in a fun way!
Her Lucky Leprechaun Short Vowel Partner Game has quickly become a favorite of my two firsties, so I wanted to share it with you.
Now, before I tell you all about this fabulous product. I'm not crazy. I know that St. Patrick's Day has past, but believe me, that doesn't phase my firsties one bit. They like to talk about how "lucky" they are every time we play it. 🙂
The game is very simple, but that's what makes it so great. Just print out the two game boards and laminate, assemble the die, grab a dry erase marker and you're ready to go. I decided to copy the game boards back to back so that they can just flip them over if they'd like to use a different board (It comes with three different game boards).
Each player has a game board. They roll the die, see if they can make a word on their board, read it, and then it's the next person's turn. The first player to fill up their board is the winner. It's as simple as that!
My kiddos LOVE this game. The best part is that they are working on that important skill of blending words and they are practicing all of their short vowel sounds.
Which brings me to another way I use this fabulous product. This die is seriously the best thing ever.
Since I'm working with only two students at a time, I am able to use this die as a great way to practice review short vowel sounds. They take turn rolling the die, making the sound that vowel makes, and then thinking of a word with that sound in it. Can I just tell you how much they LOVE rolling this die!
I also like to use these mats one more way. I will write in different vowels in the blanks, normally nonsense words, and have them practice reading them. If they can read it, we leave it on the board, if they can't we erase it and try a different one.
I am SO glad I found this awesome game, and I hope they're helpful to you as well.
Karla has so many fabulous products. Click the picture below to check them out!
Also, don't forget to check out her blog: Life in Special Education for more great ideas!
Check out some of the other fabulous products that other bloggers are highlighting!
Would you like to win a copy of this pack? Leave a comment below explaining why you'd like to win it, and I'll pick one random winner on Monday April 8th using a random number generator!
**Just a side note. You don't have to leave your email in the comment because I can see it behind the scenes when you post. I don't want anyone to feel like they have to put their email in cyber space. ;)**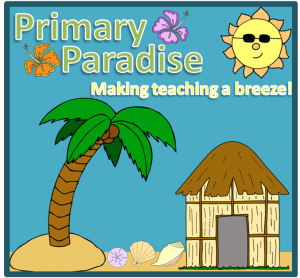 Martha from Primary Paradise