Hi All! Before we get to the freebies, have you entered to win my 200 Follower Teacher's Choice Giveaway? If not, click the picture below! The giveaway ends tomorrow!
Now, here we go!
Number 5.
Place value is such an important skill, which is why I love this spring themed multiplayer game from Mel from From The Pond. Students try to make the largest or smallest number possible by placing numbers in either the tens or ones column. This is sure to be a great springtime hit!
Number 4.
I love these small reading strategy posters from Second-grade-alicious. She suggests taping them right onto your guided reading table so students have them right there when you're working with them, and I think that's a wonderful idea!
Number 3.
Adding 10 to a number is a very important common core skill, and students get to practice that with this fun flower themed game from Teach With Laughter! This game would work great in pairs. Students roll e die, add 10, and then in they have that number on their flower, they cover it up. The first person to cover up each number on their flower wins!
Number 2.
Pssst! Mother's Day is just around the corner! I know, it's snuck up on me too! Luckily I found this adorable tea pot card freebie from Crayon Box Learning that your students (and their moms) will love. The teacup pattern also comes blank so students can write their own message.
Number 1.
I LOVE Teacher Appreciation Day! Can you guess why? 😉 I also love these fabulous teacher appreciation certificates from The Teacher Gene because they allow you to fill in the recipient's name- How cool!
Welp, those are my picks for the week! I love sharing these freebies, and I think my favorite part is hearing what you think about them, so leave a comment below and let me know!
Before I go, I just wanted to show you my newest product that I'm SUPER proud of!
This pirate themed map pack is a great way to introduce basic map skills. It includes a SUPER fun interactive powerpoint that explains the parts of a map and how to use a grid.
It also includes some fabulous simple map worksheets for students to practice their skills.
And it culminates with a fabulous create your own map and pirate craftivity!
Click any of the pictures about to check it out!
Have a fabulous weekend!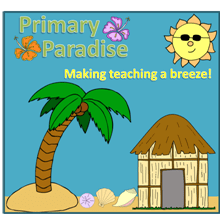 Martha from Primary Paradise
Want to receive the top 5 freebies and other great posts via email? Scroll up to the top and enter your email under "Don't Miss Out, Follow Me!"
Do you have an awesome freebie that you would like featured as one of my Top 5 Freebies of the Week?
Click here to fill out the form!