Hello!
I know some of you have probably finished up your last week, or are heading into your last week. Congrats on another year of accomplishments! Whether or not you're done school, it's always a great idea to start planning for next year, so with that I give you some fab freebies to tuck away from next year, or send home with your kiddos for the summer.
Number 5.
These 6 Behavior Cards from Amanda's Special Needs Store are great to use with students who are nonverbal, hearing impaired, or have Autism.  They work with typically developed students as well.  Wear the Behavior cards on your wrist. Show the student the picture to remind him what you want him to do. What a great, non-verbal cue to reinforce expectations!
Number 4.
This sweet game from The Fabulous Life of an Elementary Teacher asks students to match a number (on the cupcake) to its representation (base 10 block pictures). This freebie goes up to thousands. This would be great for 2nd grade!
Number 3.
This activity from Linda du Plessis is perfect for students who need to work on their all important listening skills. Students have to complete an activity according to a set of instructions. The instructions can be read by them or they can listen to the instructions (you read it to them). You can even project the instructions on your white board to save paper. There is even a color answer key included.
Number 2.
These two sets of money word problems from Robin's Resources require students to solve problems with smaller amounts of money (mostly bills, but some bills and coins) and larger amounts of money (just bills). The first set relates to buying snacks with smaller amounts of money, and the other to buying items in a toy store with larger amounts of money. Students are given the amount of money they have and the price of the item. Some problems have two steps – students must determine if they have enough money to buy more than one of the item.
Number 1.
 This End of Year Games Freebie by Games 4 Learning is a collection of 3 printable games for End of Year celebrations! It includes 3 printable games that will keep kids learning and let them have fun! These games are Collecting Shells Doubles or Triples, a math board game, Starfish and Shells, a strategic board game and Beach Word Maker a word building game with a beach theme! Your kiddos will LOVE these fun games!
Remember, if you download these freebies, please remember to leave these lovely ladies some feedback for their hard work.
I hope you all enjoy your (hopefully) long weekend. I know I will!
Would you like to see one of your freebies featured next week? Click on Top 5 Freebie Entry at the top of the page.
🙂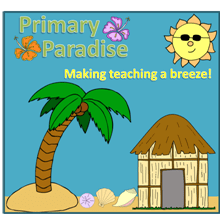 Martha from Primary Paradise
Want to receive the top 5 freebies and other great posts via email? Scroll up to the top and enter your email under "Don't Miss Out, Follow Me!"