Oh my, this weekend is a busy one! Last night I went to see the school play at my school. It was SO fantastic! Then today is the school carnival. My hubby and I will be manning one of the games. It's going to be a fun (but super hot) day. Before I head out the door, here are my Top 5 Freebies of the Week!
Number 5.
I know I've seen teachers use comic strips with upper elementary students, and the kiddos normally eat. it. UP! Well, now thanks to Susanna Westby, your K-2 students can come up with their own comic as well. What a great way to encourage your students to start working with dialog and try to tickle each others funny bones!
Number 4.
Everybody love clip art and everybody definitely loves FREE clip art! These adorable doodle frames from Cherry Workshop would make a great frame for any worksheet. The best part? The use very little ink since they're black and white, and students could color them in if you're making a book, certificate, etc.
Number 3.
Here was my first response to this poem: Ahahaha! I love this cute poem by Hardcore Teacher Resources. Honestly, if she only included the poem, I would have picked this one just because it's hilarious. However, she includes a student question sheet that asks them to use this poem to answer questions by making inferences and connections to it. Brilliant!
Number 2.
Even the most reluctant poets will love creating concrete poems using this template from Aspire to Inspire (love that name!). If you are not familiar with concrete poetry, students write a poem about an object in the shape of that object. It's a very fun way to help students practice using adjectives and creative language. I think the ice cream cone would be especially popular this time of year!
Number 1.
If you've never used one of Mr. Hughes' resources, you are missing out. He's recently jumped into creating K-2 resources, and I am super impressed. This activity requires students to use their heads and their hands. Students start with the "start" strip. They figure out the answer and then find it on one of the unused strips. They place the strip above the first one and answer the question. This continues until the student reaches the "Finish" strip.
I hope you enjoyed this week's freebies! Leave me some love below and let me know which is your fav!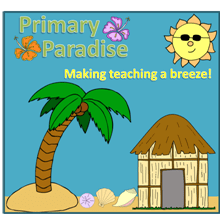 Martha from Primary Paradise
Want to see YOUR freebie here next week? Click here to fill out the simple entry form! 🙂
Want to receive the top 5 freebies and other great posts via email? Scroll up to the top and enter your email under "Don't Miss Out, Follow Me!"