Hi Friends! I am currently coming to you from my BRAND NEW COMPUTER! Sorry to shout, but I'm am sooo excited to be on a working computer. Not only does it work, but my awesome hubby built it from scratch with custom parts, so basically it has more memory than an elephant with a digital camera! (That made sense in my head…)
Before we get to the freebies, I have a deal for you. I absolutely love getting feedback on the products I make. It makes me so happy to hear that I am saving a teacher time and work or that students across the country are learning from something I created! Plus, leaving feedback on TpT benefits you since it gives you credits that you can save up to buy more fabulous resources!
Win-win!
So here's my deal for you. I'm having a Weekend Feedback Frenzy (thanks Ms. Smartypants for the idea. ;)).
For today and tomorrow only, leave feedback on any paid product that you have purchased from my TpT store, and you can pick any $2 or under product from my store for free. It could be a product you purchased last week, last month, or last year! Just leave your feedback and then email me at primaryparadisetpt@gmail.com with your TpT Username and the name of the product you want. I will email you back with your free product by Monday morning at the very latest. It can be a product you purchased recently, or a long time ago. It doesn't matter.
You can even purchase something today or tomorrow and then leave feedback on it.
And Now it's time for the Top 5 Freebies of the Week! 🙂
Number 5.
This adorable Common Core Aligned addition center from Differentiation Station would be a great addition to your math centers for Kindergarten and the beginning of First Grade that includes sums to 10.  Students choose a picnic addition mat and some ant manipulatives, then they represent each numeral with ant manipulatives and add the ants together to find the sum. There are even some blank mats so you can create your own problems.
Number 4.
Okay, confession time… I have never played bump with my class. I know, I know, it's such a popular game, but it's just something I never did. However, this adding 9 bump game from Tina Parker looks so fun, I wish I could go back to First Grade and try it out.  Use this freebie to extend a fact strategy lesson, put in a math center, or even send it home to provide a homework activity students will love to actually complete!  This product is sure to be a hit with your class
Number 3.
This I Have, Who Has game from Dennis McDonald is obviously not for K-2, but since I'm going to be moving to 4th, I've also started checking out upper elementary resources as well. This game has 32 cards so it can be used with a really large class, or you could play a few times.
Number 2.
I have one more upper elementary freebie that I love. This math freebie from Teacher Gems would be a great independent or partner game for students working on converting units of time (example 60 seconds=1 minute). Also a great way to teach common core standard CCSS.Math.Content.4.MD.A.1. Units of time include conversions between days, weeks, months, years, seconds, minutes, centuries, and more. When they have matched up all 10 cards they can flip the cards over to reveal a pattern. If their pattern matches the one on the answer key they know they got them all correct!
Number 1.

I love these adorable summer themed reading logs from Lauren at Teacher Mom of 3. They will help to keep kids excited and motivated to read this summer.  Kids or parents record the title and author on the log. There are also some cute graphics are included for kids to cut out and paste under the rating column as a way to reflect and evaluate their reading.
I hope you enjoyed this week's freebies! Don't forget about the Weekend Feedback Frenzy!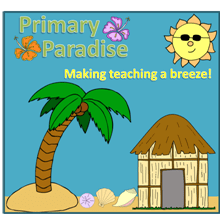 Martha from Primary Paradise
Want to see YOUR freebie here next week? Click here to fill out the simple entry form! 🙂
Want to receive the top 5 freebies and other great posts via email? Scroll up to the top and enter your email under "Don't Miss Out, Follow Me!"