Happy Saturday! I know at this point many of you are out of school, so Saturday probably isn't such a big deal (except for the fact that you wake up at the crack of dawn just to read my freebie post, right? 😉 ), but I'm still in school (for 3 more days) so Saturdays are still my fav!
Today is one of my FAVORITE Saturdays of the year: Town Wide Yard Sale Saturday! My town has a town wide yard sale every year, and for me it's serious business, but the fun kind. I even made my own color coded map with the streets that have yard sales, how many, and where exactly they're located. (Just call me Miss Type A!)
I am on the look out for books, board games, and anything tropical. Check back tomorrow to see what I get!
Oh, and of course, we're taking advantage of the chance to get rid of some junk treasures. 😉 This is what my sunroom looked like last night when we were organizing stuff to sell. Since I'll be book/classroom hunting, hubby will be manning our front yard, which I really appreciate since I'm the worst sales person ever.
Last thing, before I get to the freebies. I am on the look out for more Top Freebie submissions, so if you have one, click the Top 5 Freebies Entry button at the top of the page to submit yours.
Okay, here we go!
Number 5.
For those of you who are still in school, here is a super fun end of the year activity from 180 Days and Counting! I bet your kiddos won't be able to resist the excitement of Minute To Win It Games!  This freebie contains 5 posters and directions for each game.  You're students will be thanking you for letting them play. 🙂
Number 4.
This is a great little booklet from Erin Palleschi that will help introduce basic punctuation to your students.  After reading the book (if you haven't ever read these books, they're FABULOUS), students can practice writing sentences using different kinds of punctuation.  Your kids will love reading this book to a partner using their best punctuation voices!
Number 3.
Do you recieve weekly or monthly magazines for your students (i.e. Weekly Reader, Time for Kids, National Geographic)? Ever wonder what to do with them? Well look no further! This freebie contains a group work and share activity! that covers some important skills and topics: main idea/important facts, illustrating, defining interesting words, and asking questions and making connections. You can thank Tori's Teacher Tips for this awesome freebie.
Number 2.
I am always a fan of creative and new freebies, and I love this one from Rebecca Reid. This American Sign Language Mini Lesson  includes an A to Z ASL finger spelling chart, as well as a worksheet with five of Helen Keller's first words (once with the word next to it, and once with a word bank for students to match). It also has an lesson idea page to give you ideas on how to incorporate it in to lessons. What a great way to help students understand how some people communicate!
Number 1.
I can't wait to try out QR codes with my kiddos next year with my 4th graders. If you teacher K-2, you should tuck this adorable packet from Teacher's Toolkit away for the new year. This is a great way to start off the year in a fun way and help your kiddos learn about you.
Thanks again for stopping by! Have a great Saturday!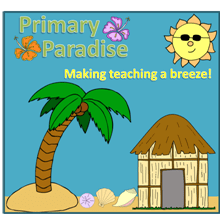 Martha from Primary Paradise
Want to see YOUR freebie here next week? Click here to fill out the simple entry form! 🙂
Want to receive the top 5 freebies and other great posts via email? Scroll up to the top and enter your email under "Don't Miss Out, Follow Me!"