Hi Friends!
The kids are done school, and I have a few more days to finish out. I can't wait to spend my summer creating, blogging, reading, and preparing for the next year in first fourth grade!
I plan to reread the Daily 5 Book and read the CAFE book as well. Is it weird that I'm super excited to read them? It's so nice to take some time in the summer to relax, but after a few days, I'm ready to start thinking about the next year.
Any who, I'm sure you're ready for some FAB freebies. 🙂
Number 5.
This is a great little freebie from Teacher Tam that focuses on K and 1st Grade common core math skills.  There are 10 cut-and-glue workbook pages to address the Common Core Standards* of each grade.  Some of the pages address the standards in both grades.  You can use these as morning work, whole group activities, math center practice, or homework! 🙂
Number 4.
Ahh, clouds. Kids always love looking for picture in the clouds, and I think this is such a fun spring/summer activity! Green Grubs Garden Club by Mrs Hug-a-Bug has given some direction to this relaxing activity. Students look at the clouds, and draw what they seen. Then they choose from a few activities including a fun bingo game!
Number 3.
I have always loved using plays in the classroom. I used to do theater until I start teaching and didn't have time anymore. That's why I love this Gingerbread Man reader's theater from Ms. Joanne! This is a 3 page, 7 part reader's theater script for the folk tale The Gingerbread Man that is written with K-2 students in mind. It also contains parts for Emergent to Transitional readers.
Number 2.
I can describe this freebie from The Brown Bag Teacher with 4 syllables- A-DOR-A-BLE! A fun and engaging spring center, students will compare equations with three addends! Not only is this activity is aligned with CCSS.Math.Content.1.OA.A.2, but it's super fun! Your kiddos will be so excited, they'll want to tweet about it! 😉
Number 1.
I know that most of us are heading into summer or are already there, but I am one to always be planning ahead and thinking of the new year. That's why I LOVE this planning calendar from Chalk One Up to the Teacher! This adorable calendar that will make your planning a little easier, and I'm sure you'll find it useful!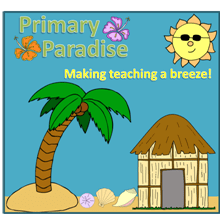 Martha from Primary Paradise
Want to see YOUR freebie here next week? Click here to fill out the simple entry form! 🙂
Want to receive the top 5 freebies and other great posts via email? Scroll up to the top and enter your email under "Don't Miss Out, Follow Me!"