Hello Friends! I hope you're having a lovely week, and I hope you enjoy this week's freebies!
Number 5.
If you're looking for some simple summer writing activities, look no further than this freebie from Heart2teach. It includes: 1 Acrostic Poem, 1 Venn Diagram, 1 Writing Prompt, 1 A to Z list, and 1 Word Find Activity.
Number 4.

Here's a great little math freebie for Kindergarten from Melissa Williams. This FREE packet has 9 cut-and-paste practice pages aligned to the Kindergarten Math Common Core Standards. Head on over and check it out!
Number 3.
Here's a resource for my upper elementary friends from Robin's Resources. This set of 24 task cards addresses the tricky skill of correctly using subject and object pronouns…which leads to correct subject/verb agreement in sentences such as She and I went to the movies. On each card there is a sentence with pronouns underlined and three choices for corrections. Students choose the correct way of writing the pronouns and write the letter of the correct response on the recording sheet. These cards can be used as a literacy center by individual students, or as a game in a small group. An answer key is included.
Number 2.
This is a pretty easy and quick review to do with your class from Who is Ready to Teach. The four types of sentences are leveled (there is an easier version with the words: command, statement, question, and exclamation and a harder version with the words: interrogative, declarative, imperative, and exclamatory). You just cut apart the words and put them into baggies and then gave students the sentence page and they would put which type of sentence it is in the box.  There is also a poster that you can use to explain each type of sentence!
Number 1.

Do you need a motivating writing activity? Check out this one from Third Grade Galore! Your students are going to write to persuade you to let them have something special in the classroom – chew gum, extra recess, no homework.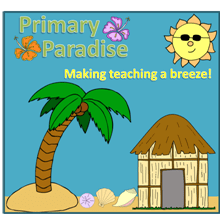 Martha from Primary Paradise
Want to see YOUR freebie here next week? Click here to fill out the simple entry form! 🙂
Want to receive the top 5 freebies and other great posts via email? Scroll up to the top and enter your email under "Don't Miss Out, Follow Me!"