Hi All!
Boy is it good to be back! It probably (hopefully) wasn't obvious, but I just got back from a 2 week trip to heaven Hawaii with my wonderfully hubby. While I was gone I was carefully to schedule a few blog posts and Facebook posts so you all wouldn't miss me too much. 😉
Just a little warning, this post has nothing to do with teaching, but if you stick around, you'll get to see some really cool stuff. 🙂
Man, oh, man! Have you ever been to Hawaii? If not, GO! Do it! It is seriously the best place on Earth! This is coming from someone who hates flying (I'm claustrophobic) and had to travel 12 hours on a plane to get there. It was seriously worth every minute of torture travel.
We spent 3 days on Oahu and 10 days on Maui.
Oahu
We of course had to go see Pearl Harbor. It was very interesting and sad. It definitely made me thankful for all of the soldier who defend our country.
If you go there, get there EARLY. We got there 1/2 an hour before it opened, and the line was still this long.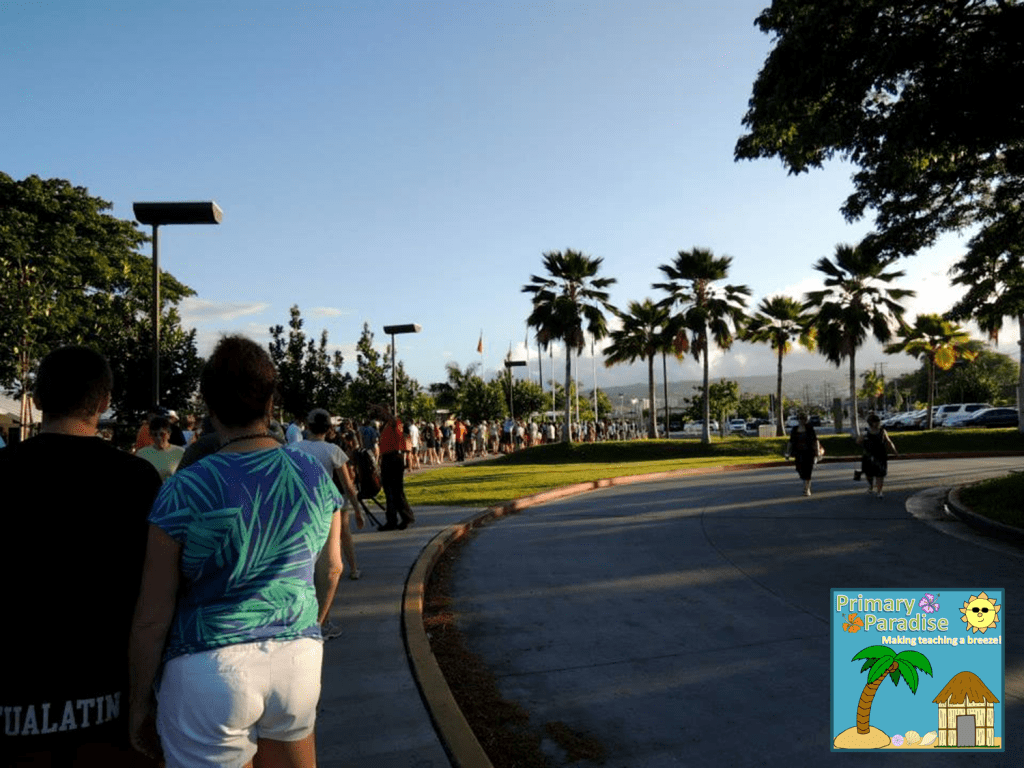 We were still able to get in and get free tickets to go to the Arizona Memorial. While we waited, we checked out the museums, ships, and exhibits.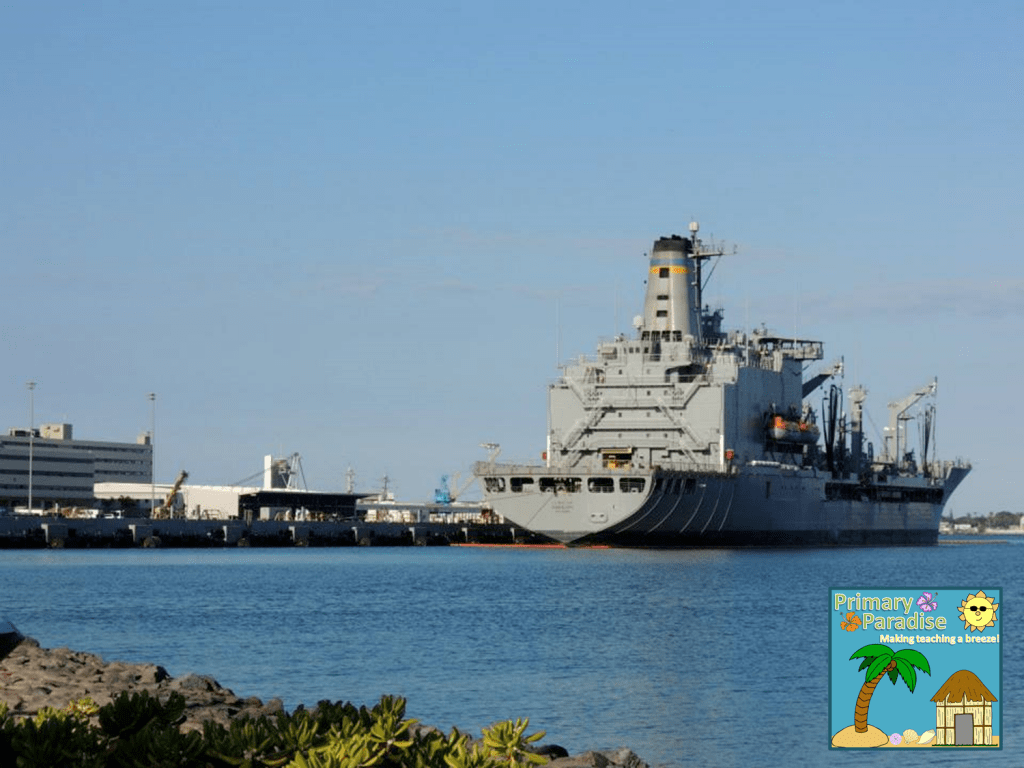 It would definitely be a great experience for kids.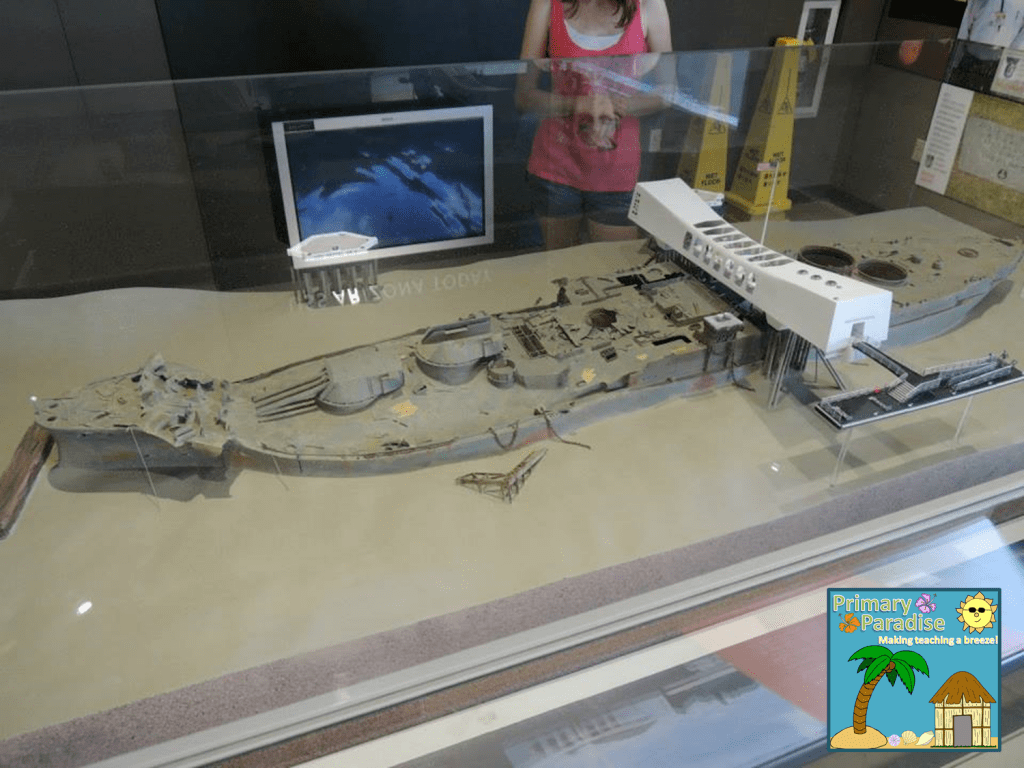 If you get there early enough, you can get FREE tickets to visit the Arizona Memorial. They give you a specific time, and then you can look around at other things until it's your turn. When it's your time, you go into a theater and they show this really great film about Pearl Harbor (totally kid friendly). After that, you get on a boat that takes you to the floating memorial over the sunken battleship.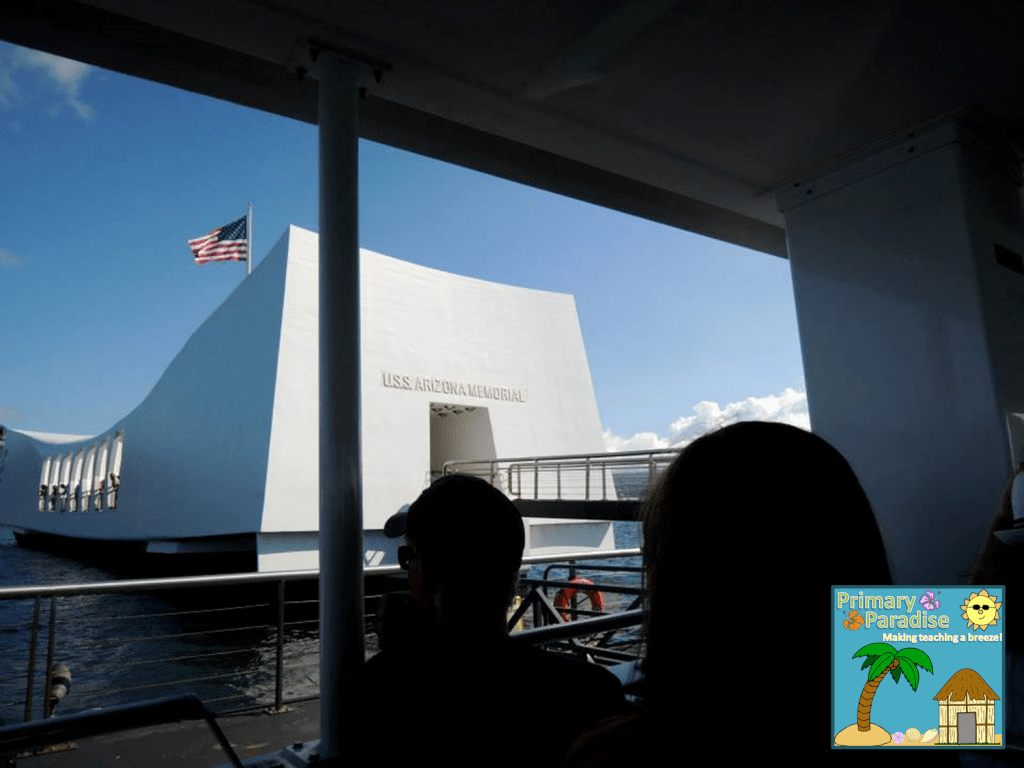 As you can see, it was very popular.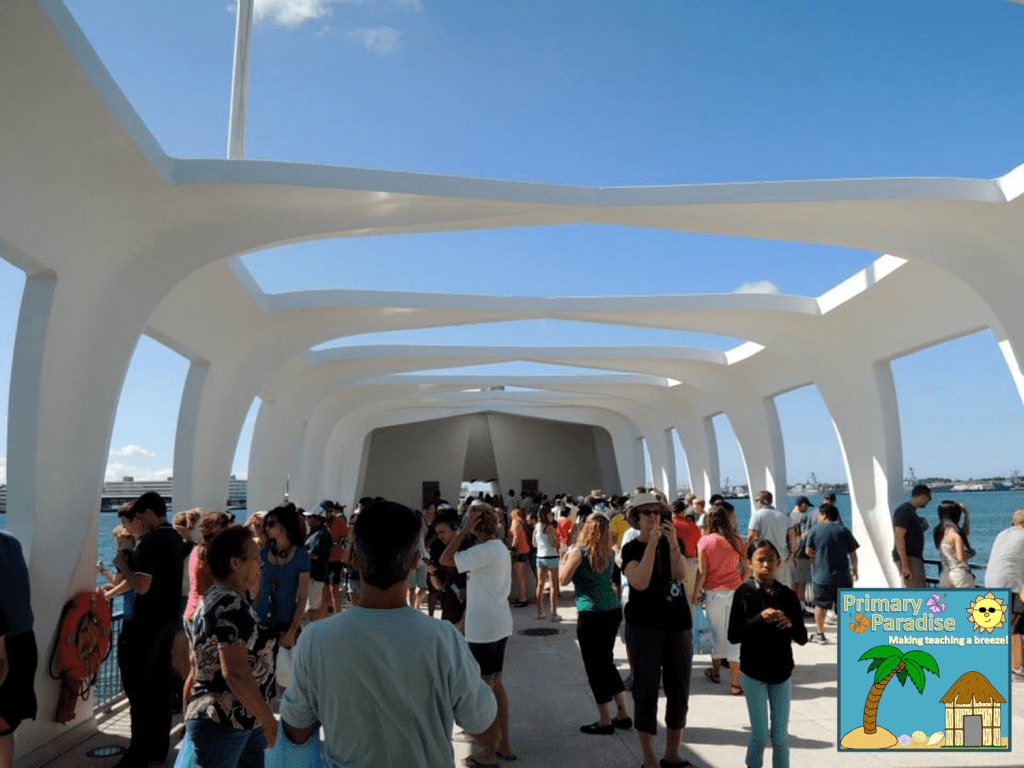 At the back you can see the actual memorial with all of the names of the soldiers who lost their lives on the ship.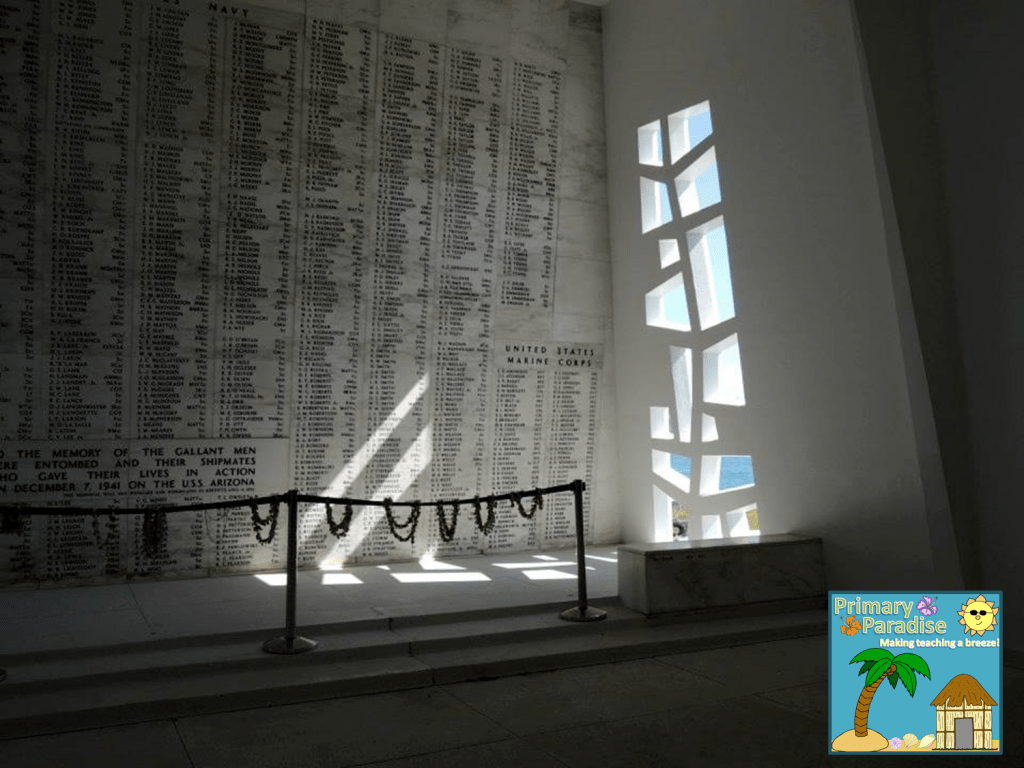 There was a TON more to see, but so this blog post doesn't end up in the world record book for the longest blog post ever, I'll keep moving on. I have to just say, if you're ever in Oahu, go see Pearl Harbor. It only takes a few hours and it's a very moving experience.
The next day we hiked up Diamond Head, and let me tell you, it was amazing!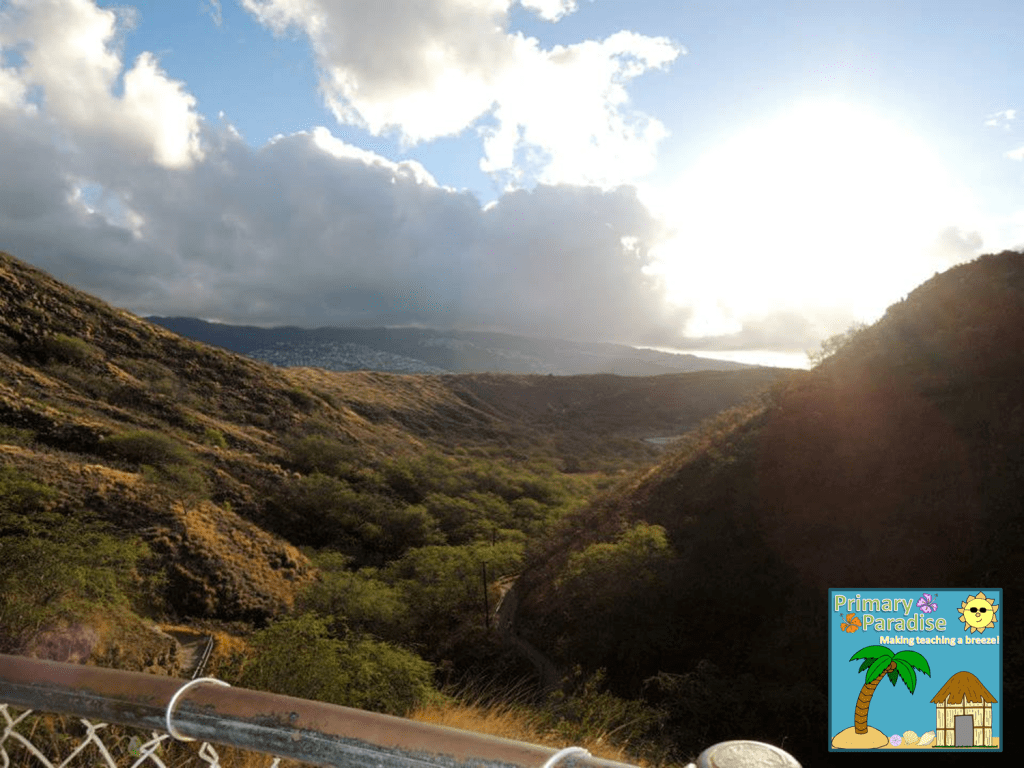 This was the view from only part of the way up. We took about 100 pictures. It was SO gorgeous!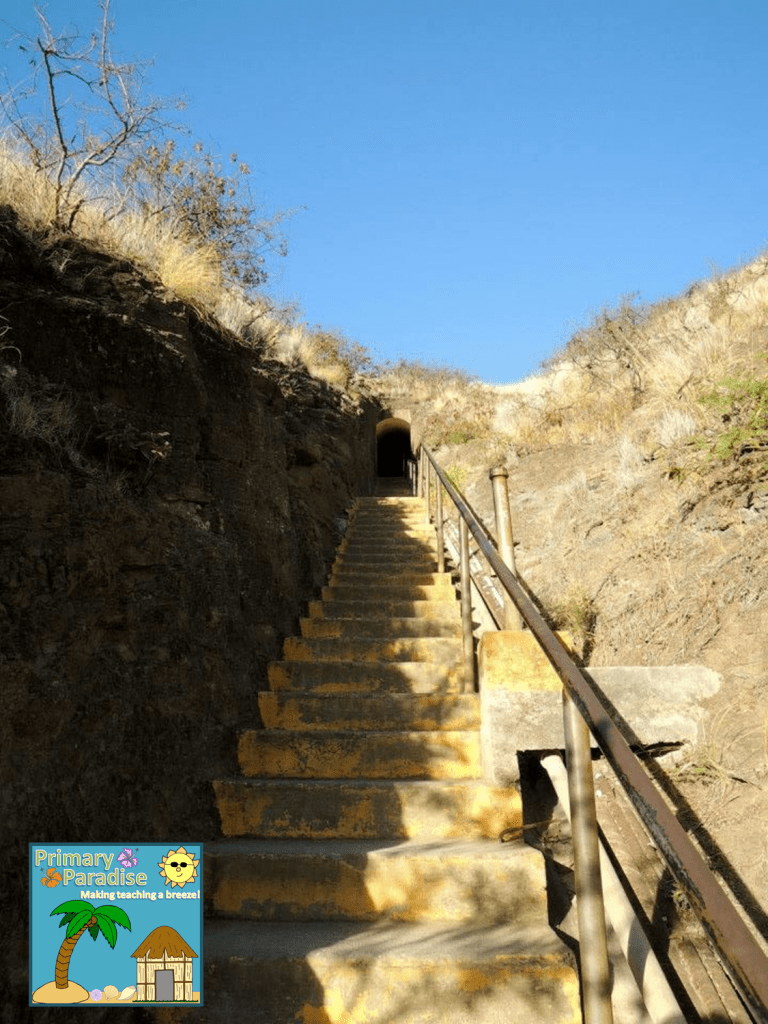 I'm not going to pretend it wasn't kind of hard though. I was sweating up a storm after climbing up the trail, up these stairs, and through a tunnel, but…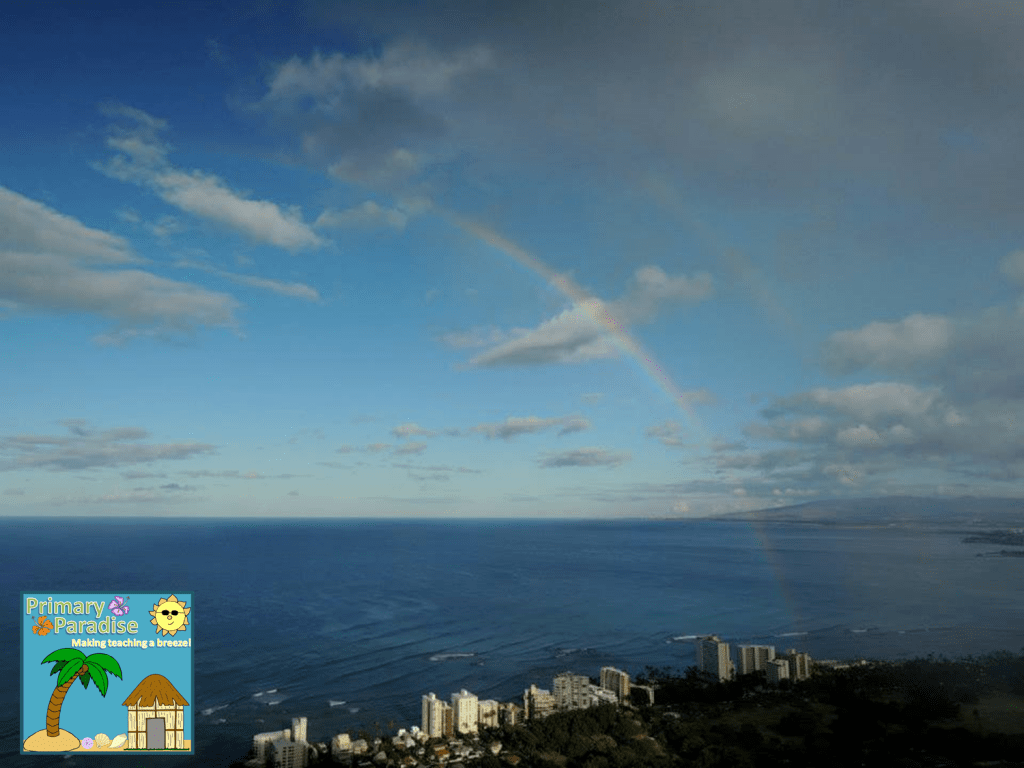 When we go to the top, we saw a rainbow! 🙂 🙂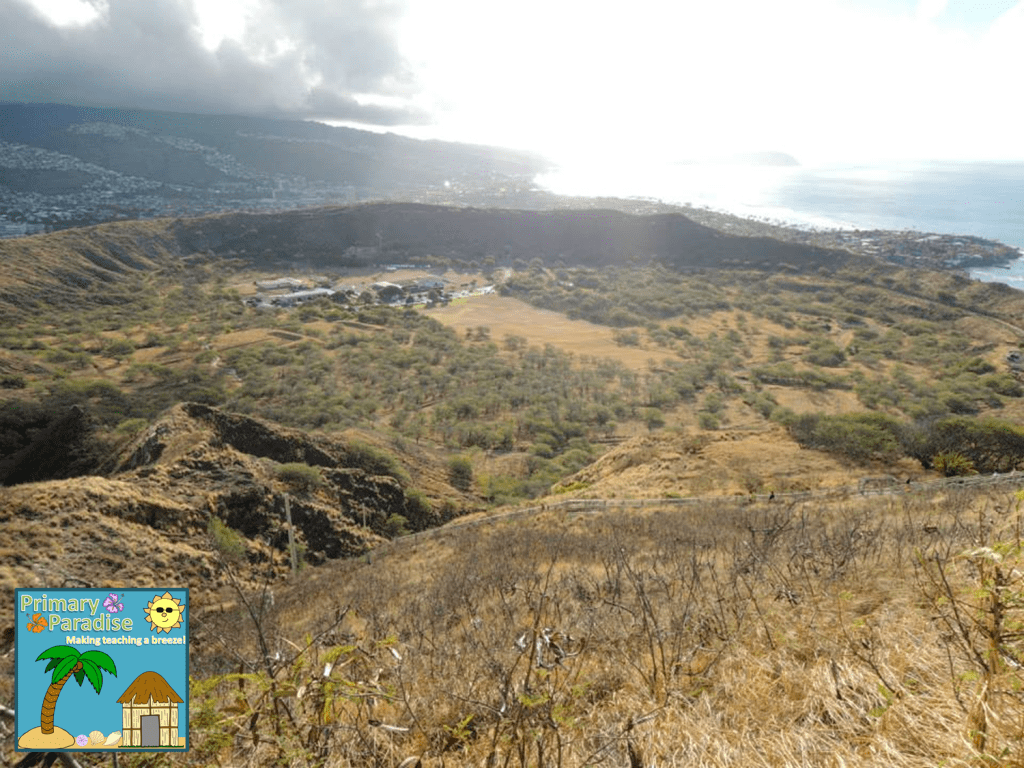 We could also see inside the entire crater!
I'll be honest… I've never been much of a hiker, but after reaping the reward of seeing how beautiful it was at the top, I definitely think I found a new hobby. This is another must do if you're ever in Oahu. My advice- don't go on a tour, just get a taxi, drive there yourself, and hike it on your own. We took a tour bus over, but went up the trail on our own and were fine. 🙂
Those are the two main things we did in Oahu. We also ate at some fabulous restaurants. I'd recommend Wailana Coffee House for breakfast (very cheap and delish), Rum Fire at the Sheraton for dinner and live music, and the Yard House for yummy burgers. 🙂
Maui
In Maui we rented a car and a condo with a kitchen, which I would definitely do both again. You can't really go anywhere on Maui without a car since there isn't much public transit and everything is pretty spread out. We most ate out, but bought some snacks and breakfast food at the local grocery store, which saved us a little money.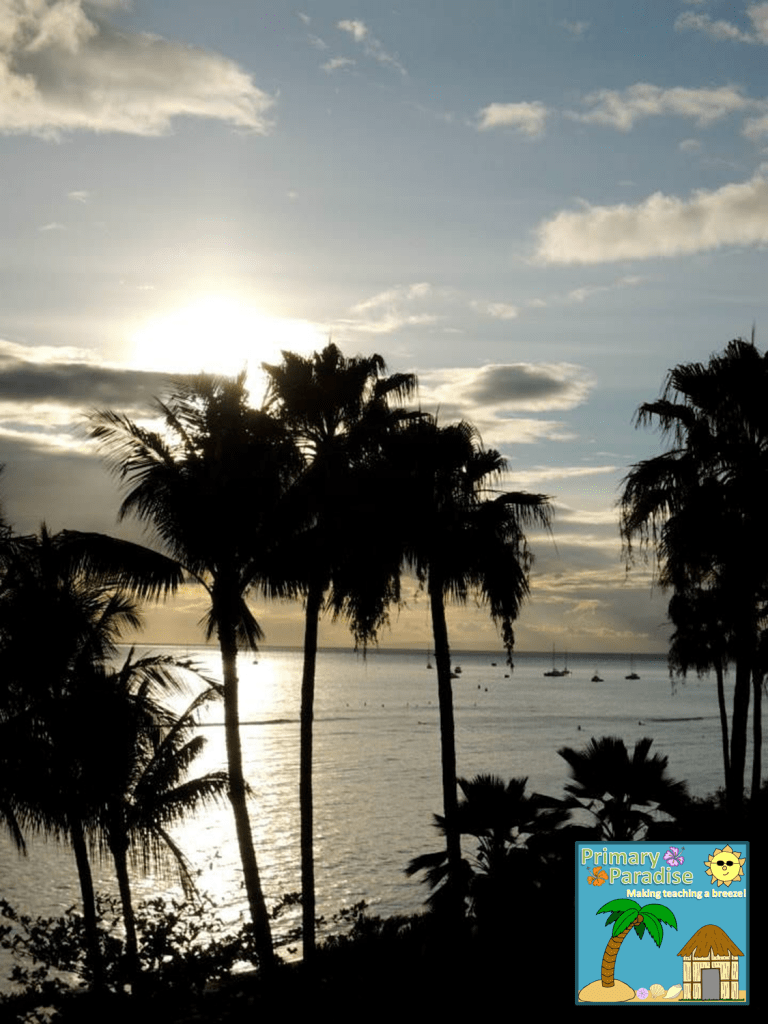 Here is the view from our balcony- heaven on Earth! We stayed in Lahaina which was a cute little town with lots of shops. I'm only going to highlight a couple things we did because otherwise you'd be reading for hours.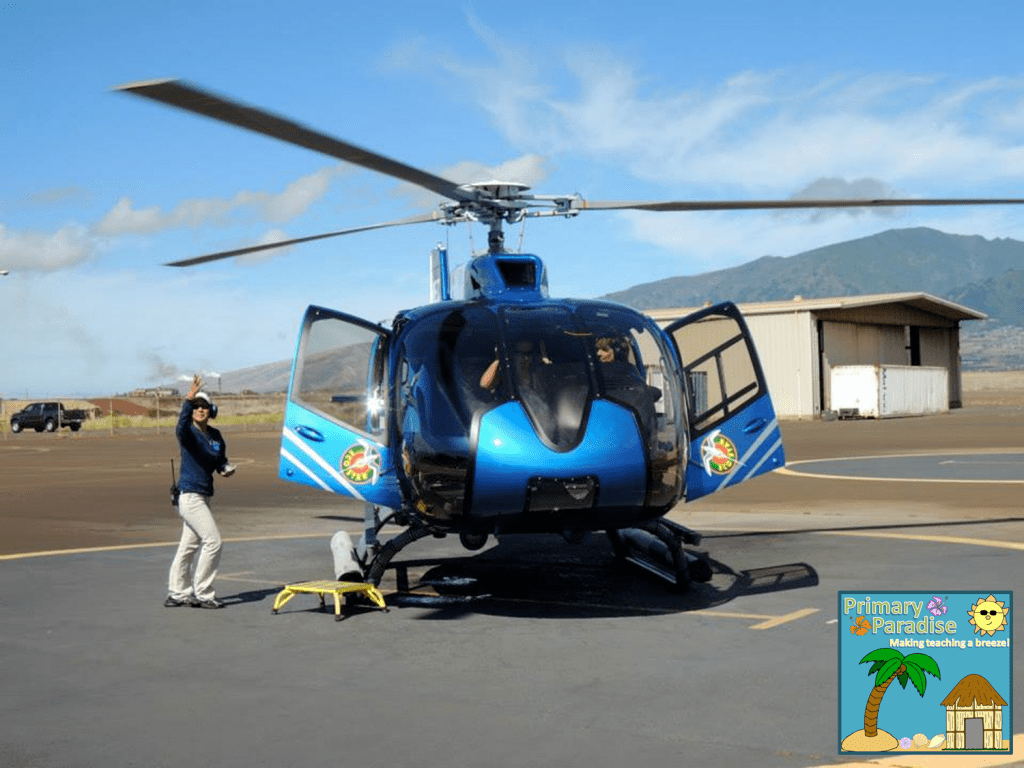 Remember how I said I was claustrophobic? Well, a helicopter ride sounds like a good fit, right? lol I have to say it wasn't actually that bad (space-wise). We went with Blue Hawaiian, and I would highly recommend them.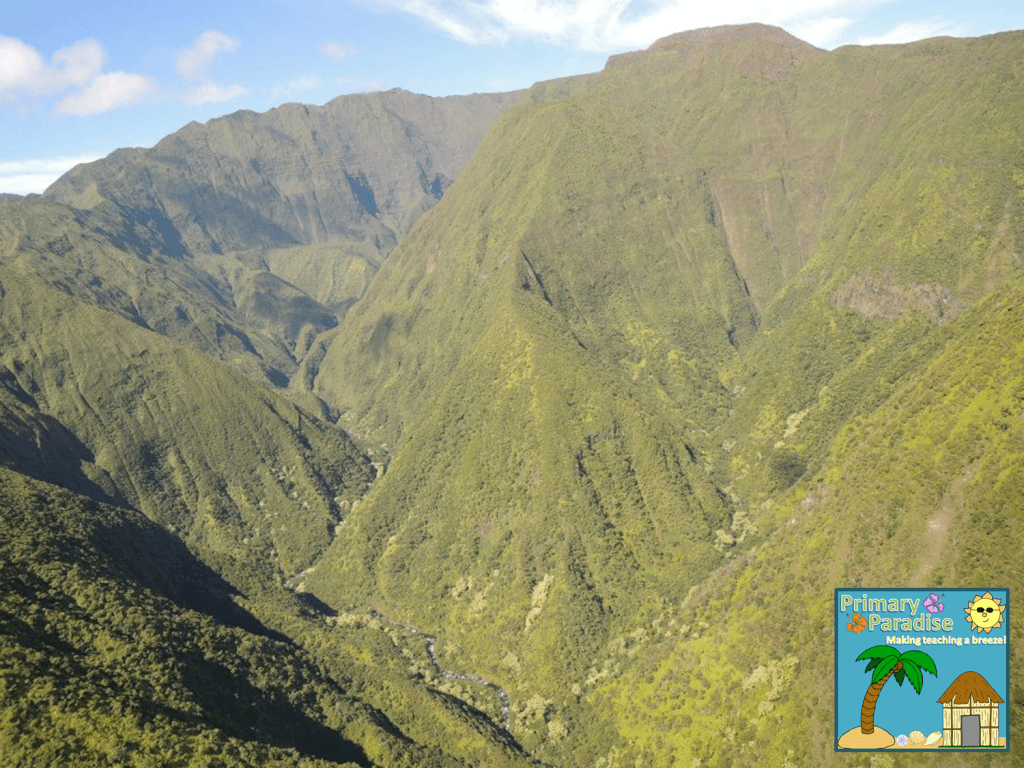 We got to fly around the entire island of Maui, the pilot told us some cool facts, and the view was great… by the end of the flight, my stomach wasn't quite so great, but it was still really cool. 🙂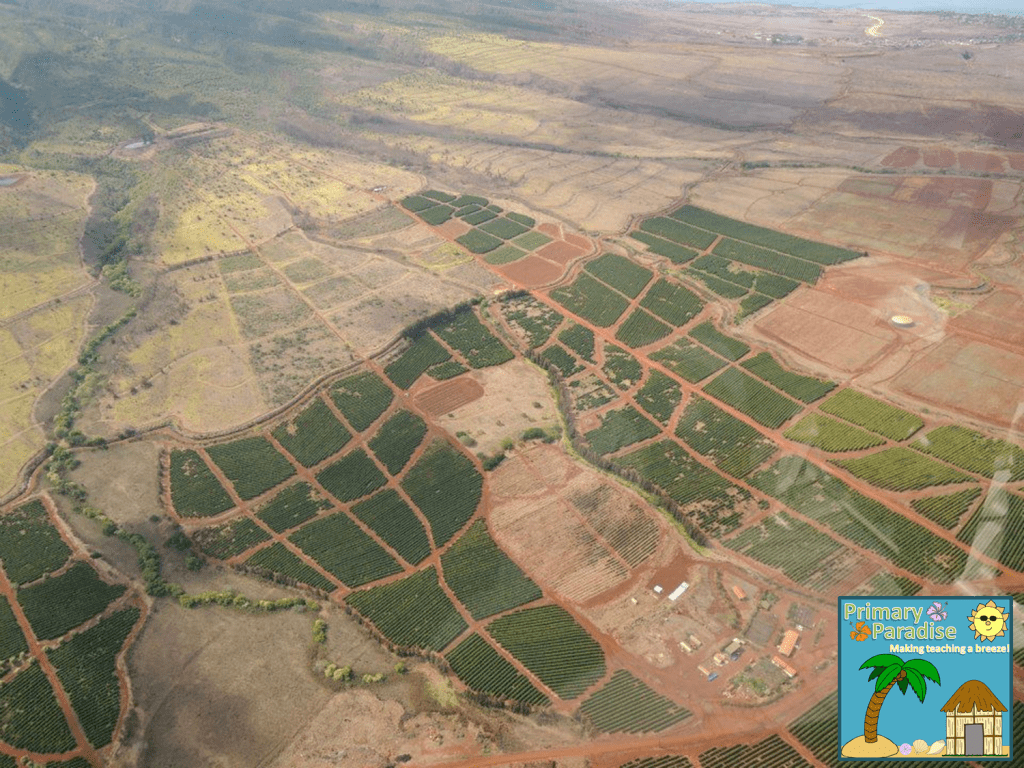 Here's a view of some sugar cane fields. Yum!
One of my FAVORITE things we did was drive the Road to Hana.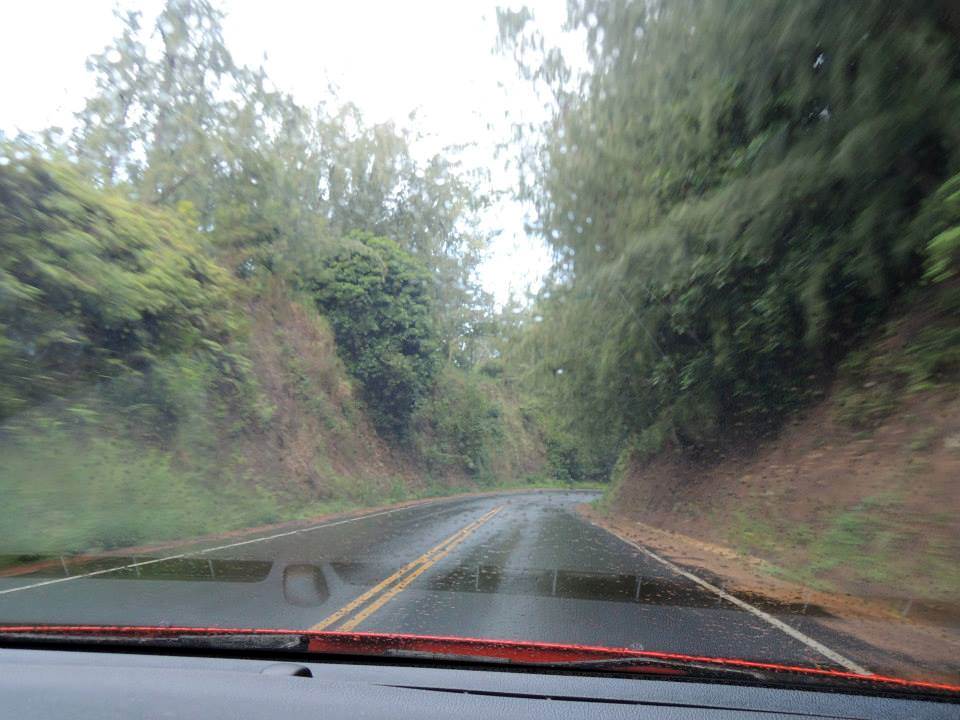 It is this ri-di-culously windy, tiny road up and down a mountain that takes you onto the lush, rainforest-y side of Maui. It was raining in the morning, but stopped shortly (it is the rainforest after all).
We downloaded this awesome app called GyPSy Guide that told us cool places to stop and gave us a history as we drove there and back. There are views of the ocean, beautiful plants, and lots of waterfalls! Warning: if you plan to drive the Road to Hana, rent the smallest car possible!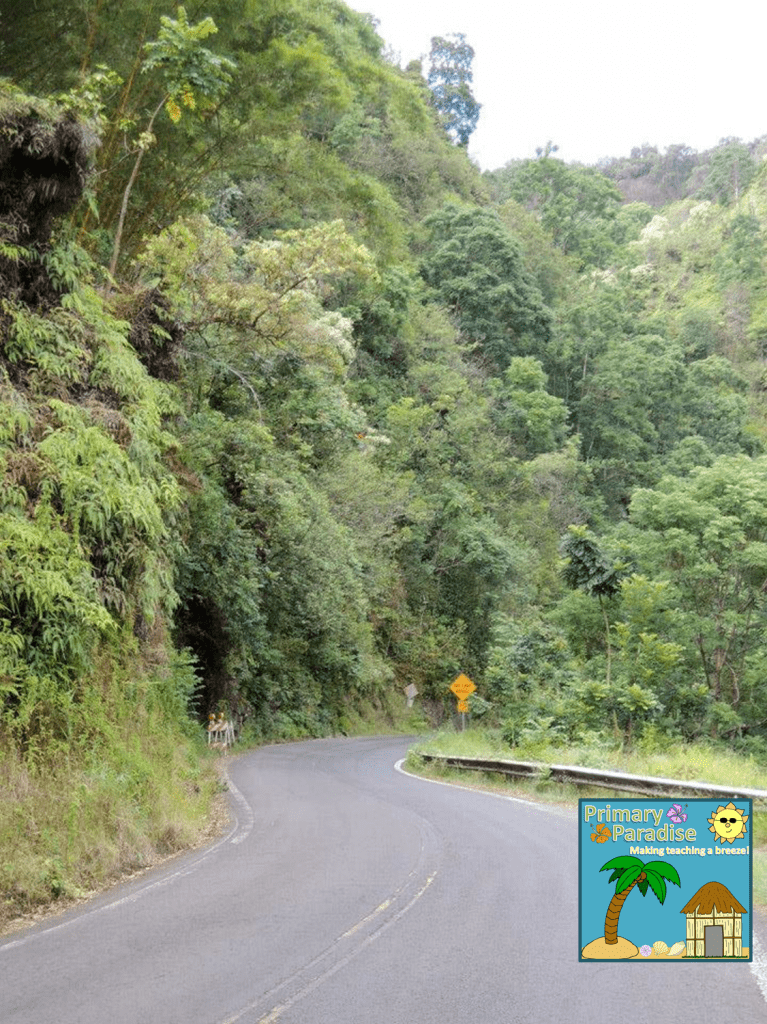 Now, there are LOTS of cool places to stop on the way, but I'm going highlight my 2 favorite. Here are some pictures of Wai'anapanapa State Park.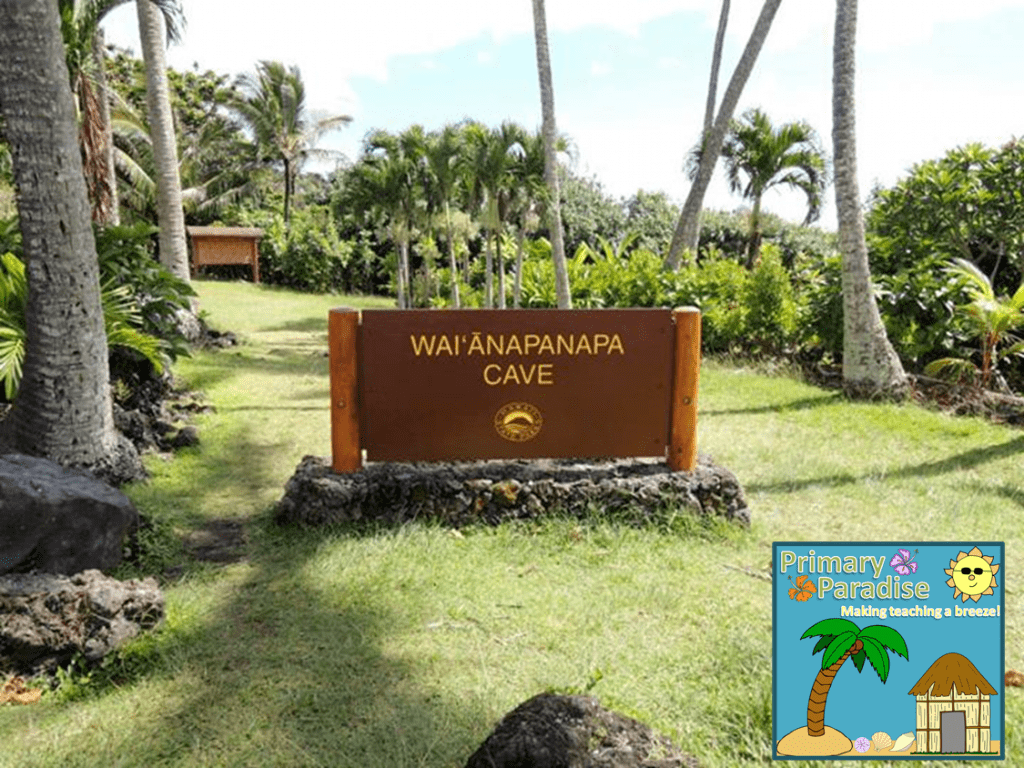 There were lots of cool things to see there, and it was a beautiful place to eat lunch (I'd recommend packing a lunch). 🙂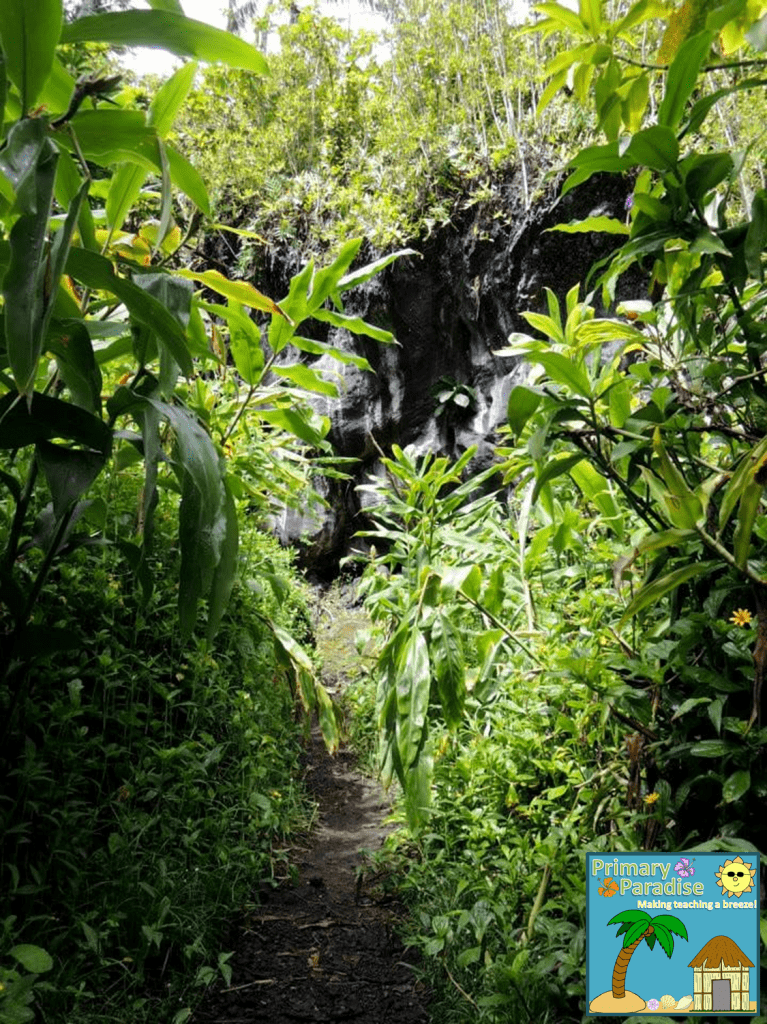 There were caves…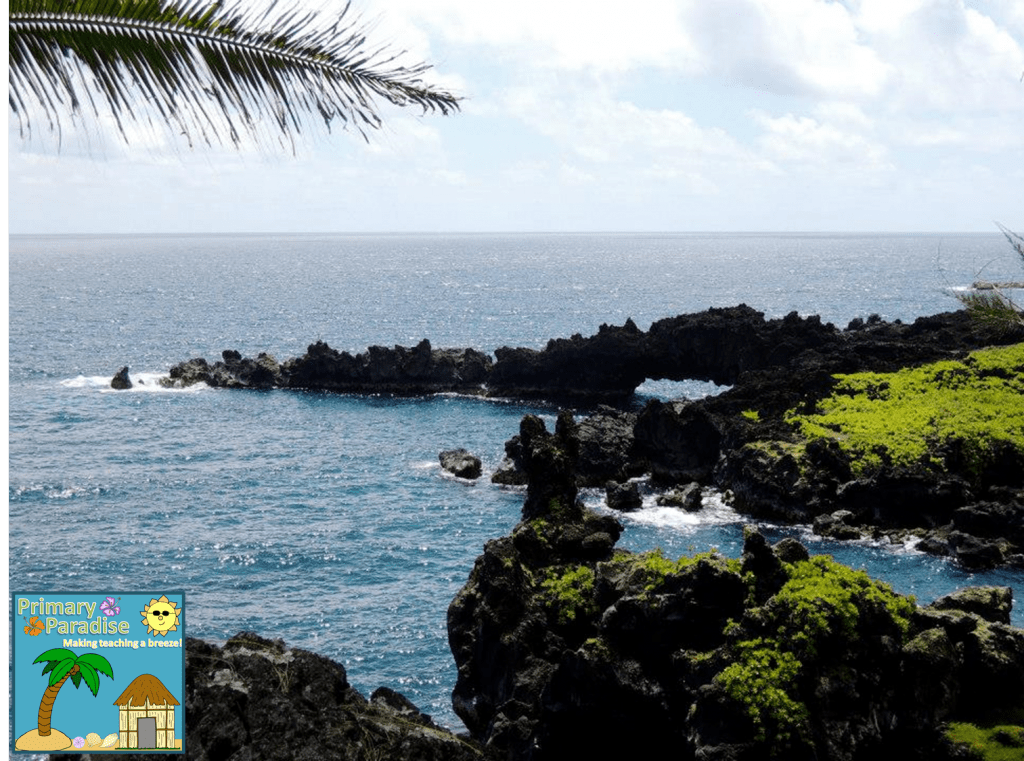 Gorgeous views of the ocean and black sand beaches…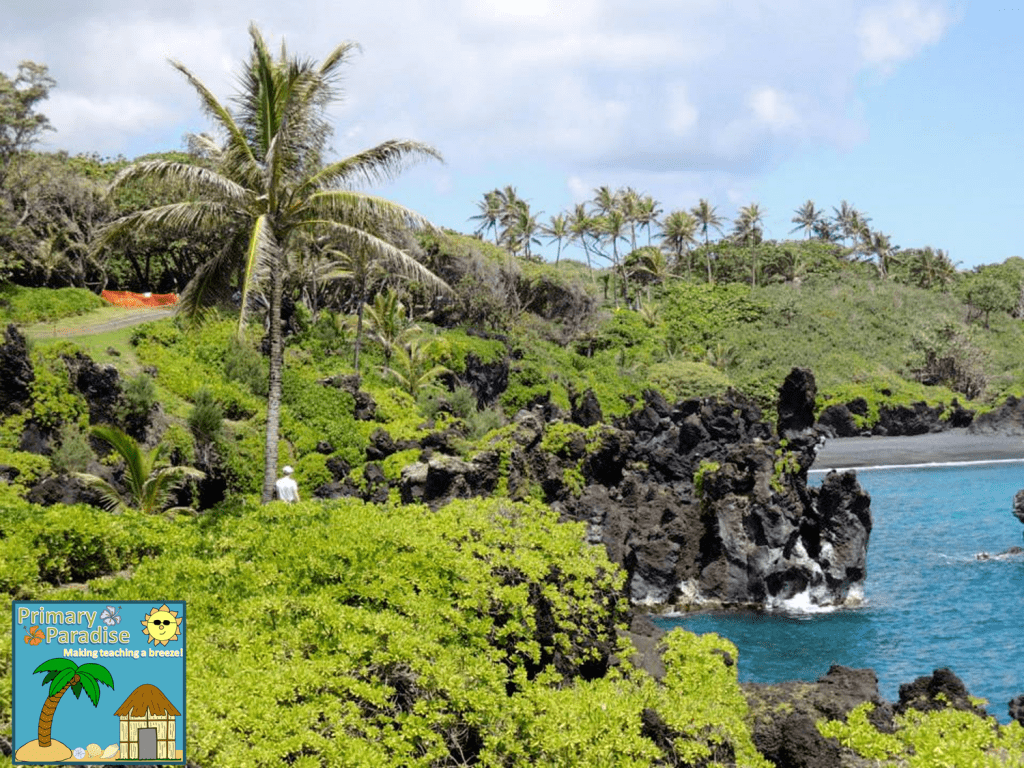 Can you spot my hubby? 😉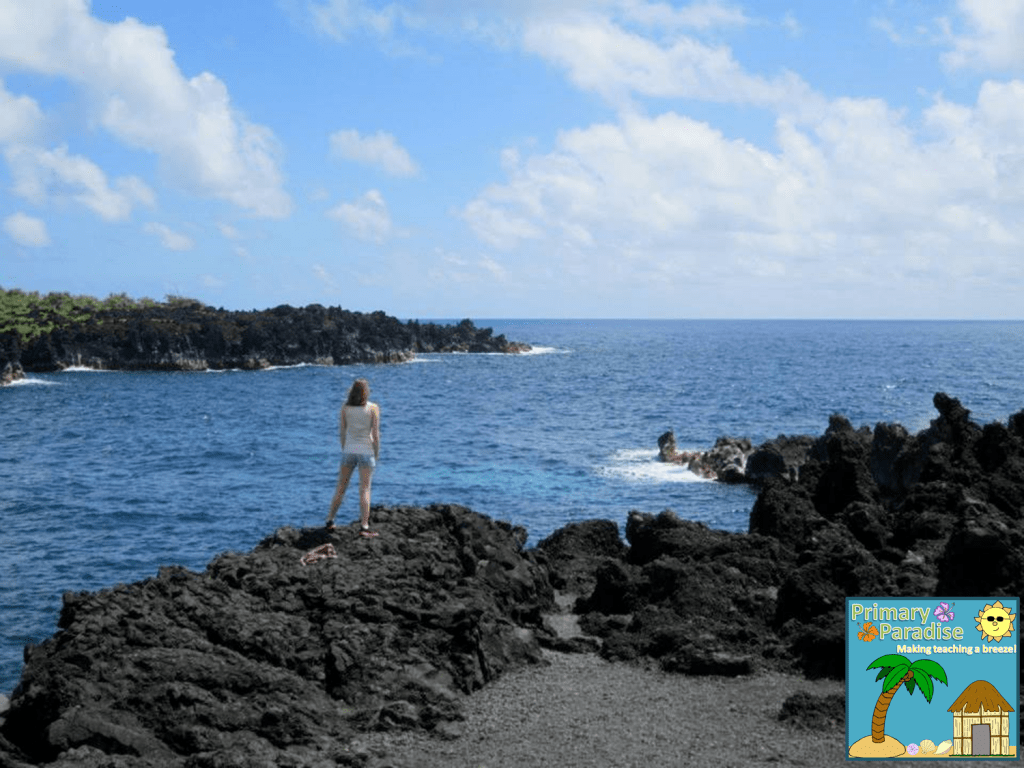 I wanted to stay there all day, but there was SO much more to see!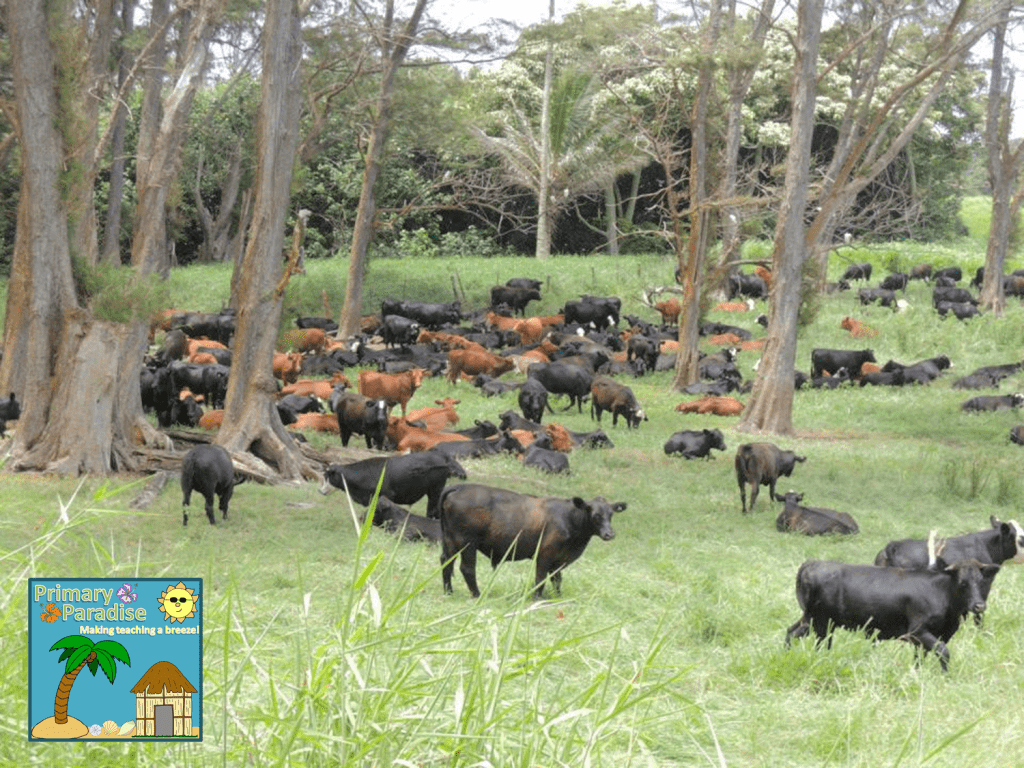 Like cows… That's right, Hawaiian cows! 🙂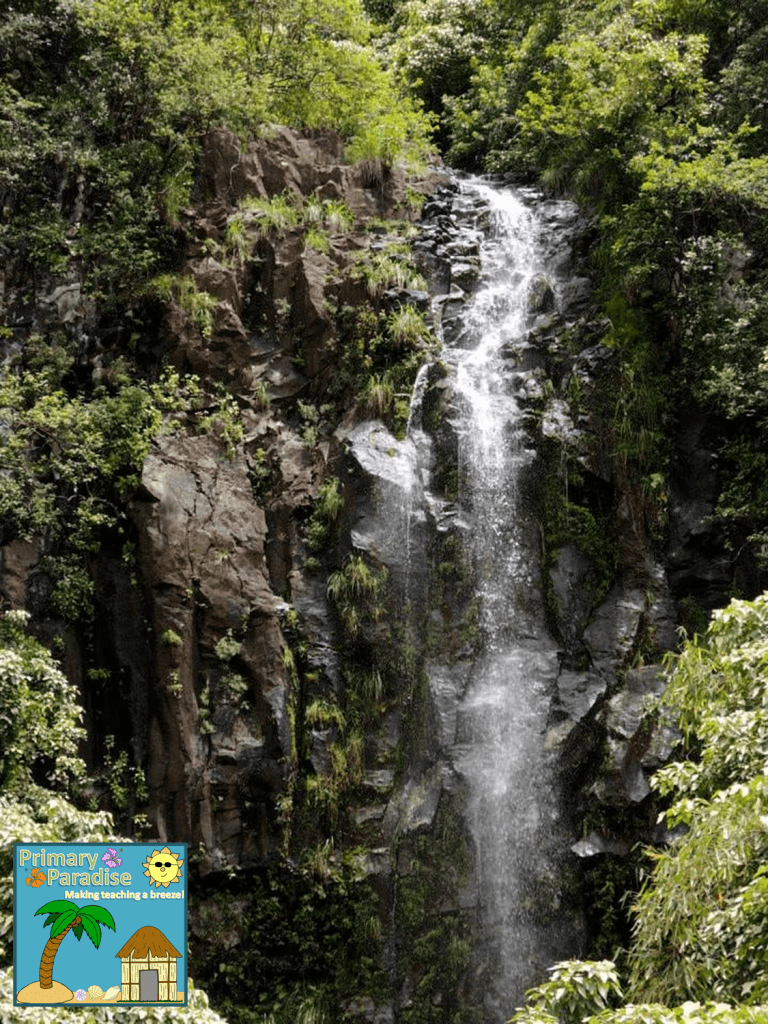 And water falls!
Shortly after you get to Hana (we didn't even go in the town, actually) you come to Haleakala National Park. You can see some beautiful waterfalls and even swim in some natural pools! It was SO refreshing!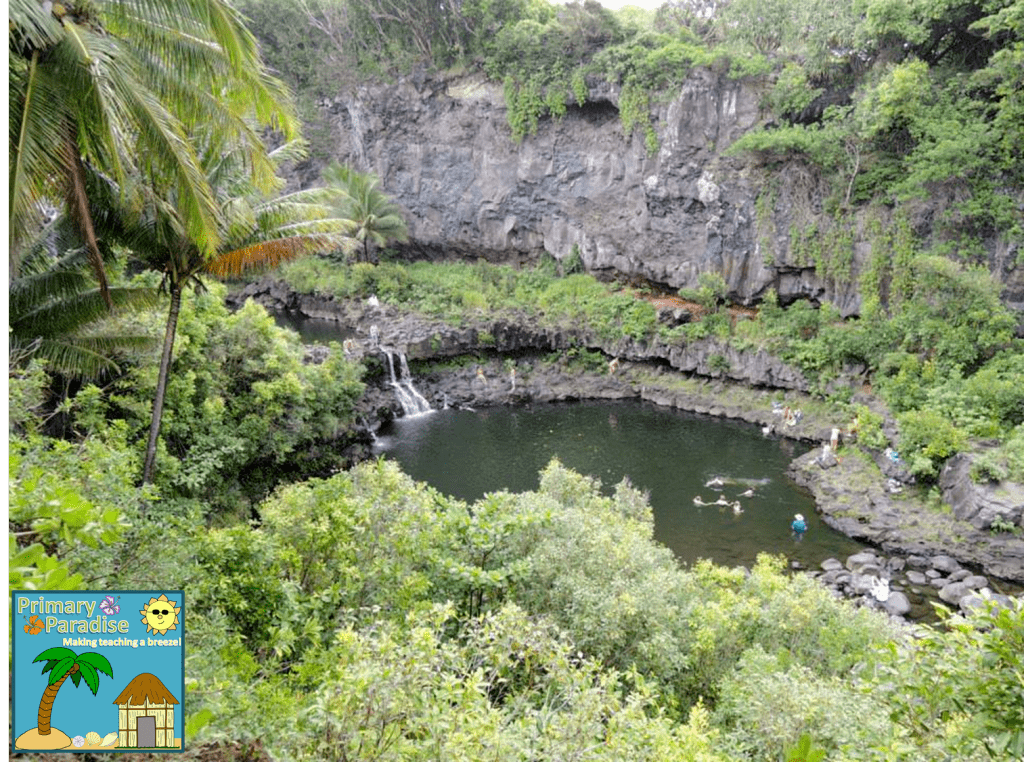 After swimming for a bit and cooling off, we were off to see the Waimoku Falls. It was a really, really long 2 mile hike (both ways) up a mountain to get to this 400 ft water fall.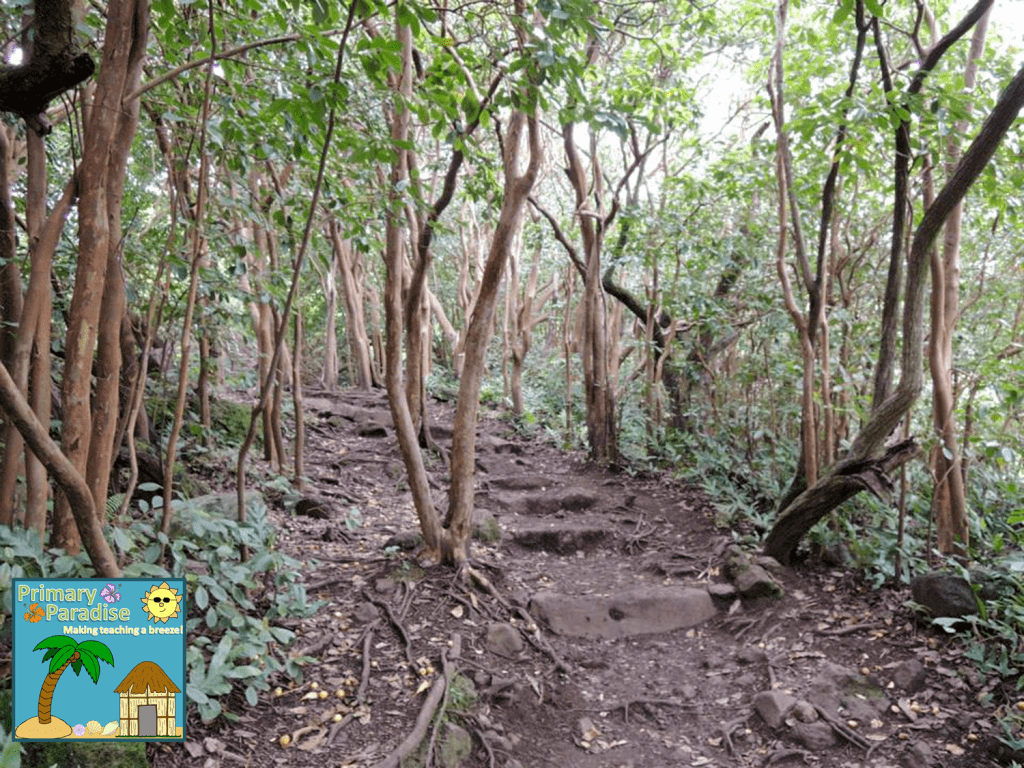 However, the views were incredible.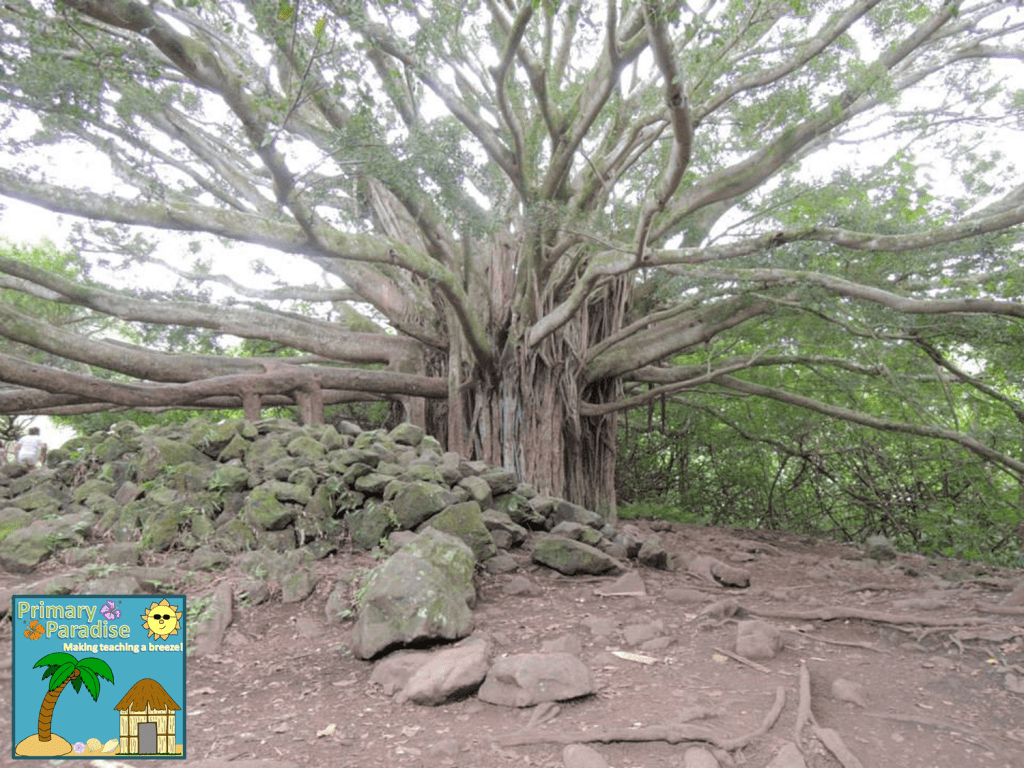 And there were many pretty waterfalls along the way.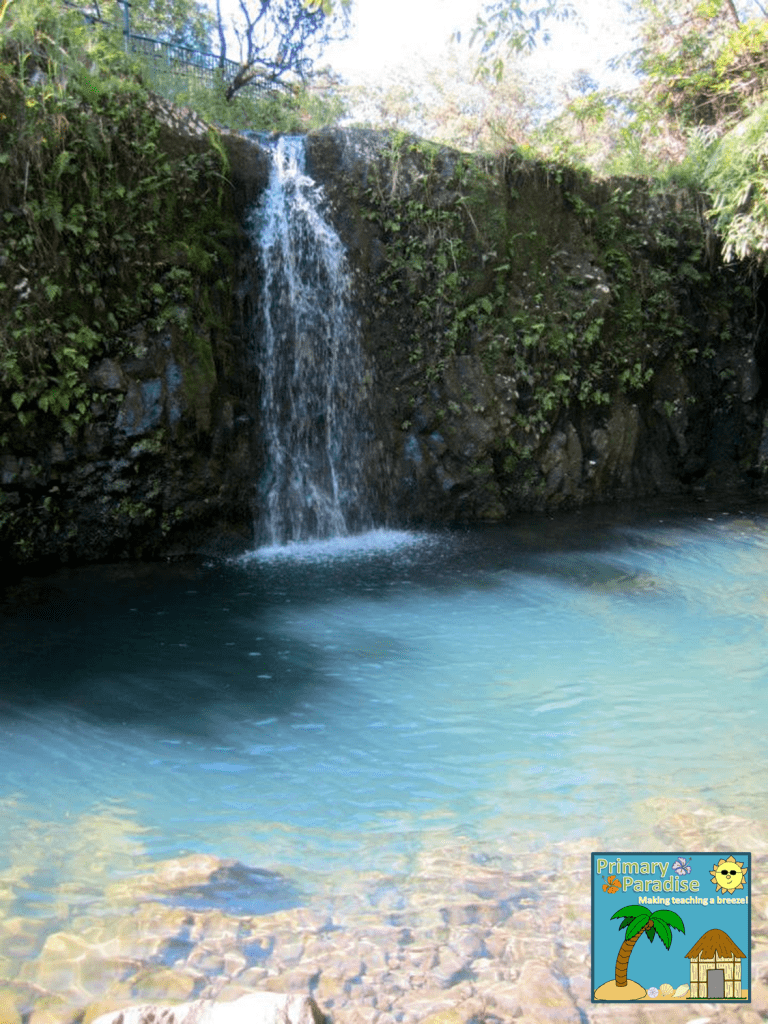 And we ever got to hike through a giant bamboo forest! 🙂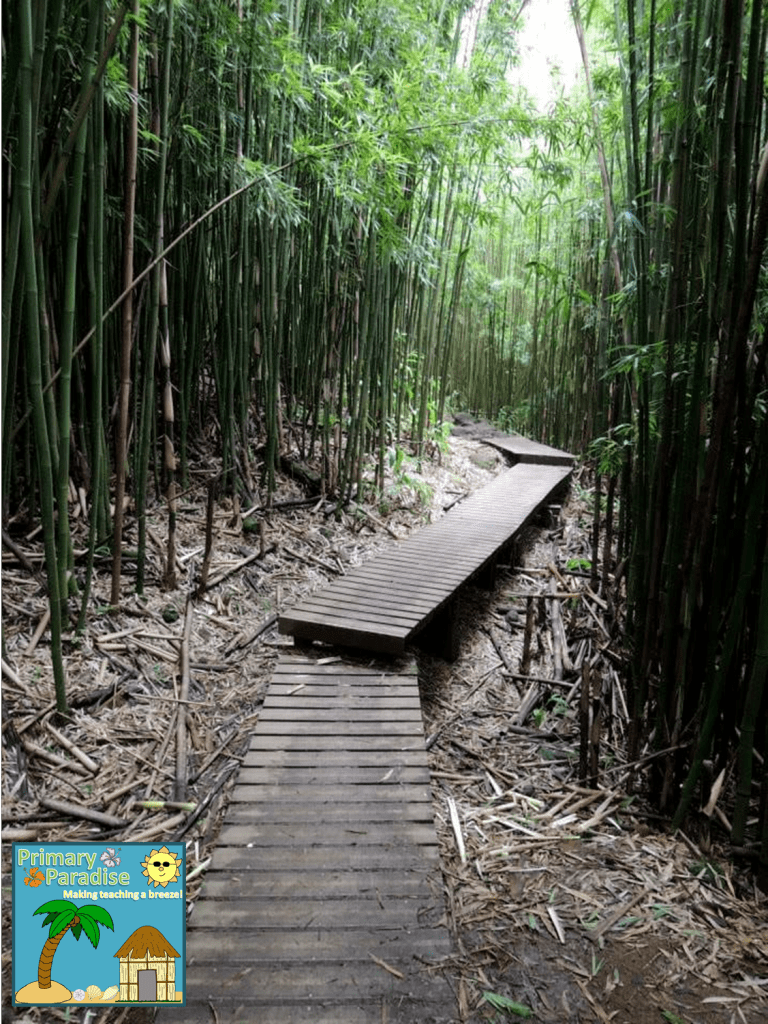 Finally after 2 hours of hiking (mostly because we kept taking pictures ever few feet), we saw the falls!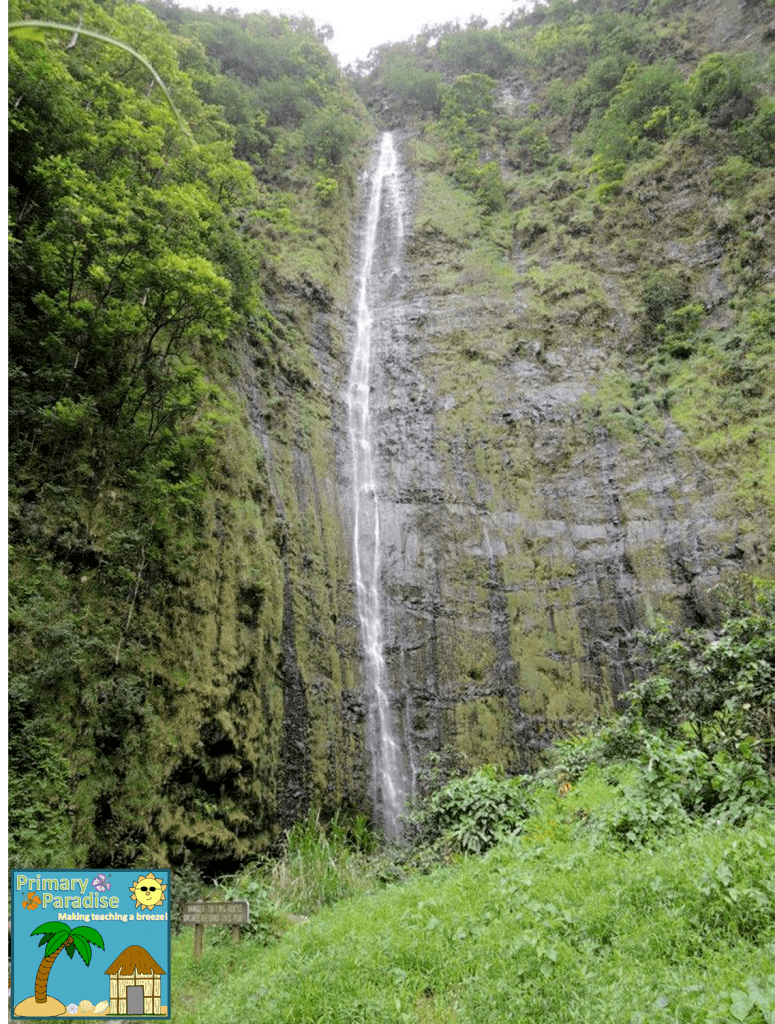 I don't have a picture of the pool (unfortunately) but there was a little pool you could wade in and stand right under the waterfall. It was amazing!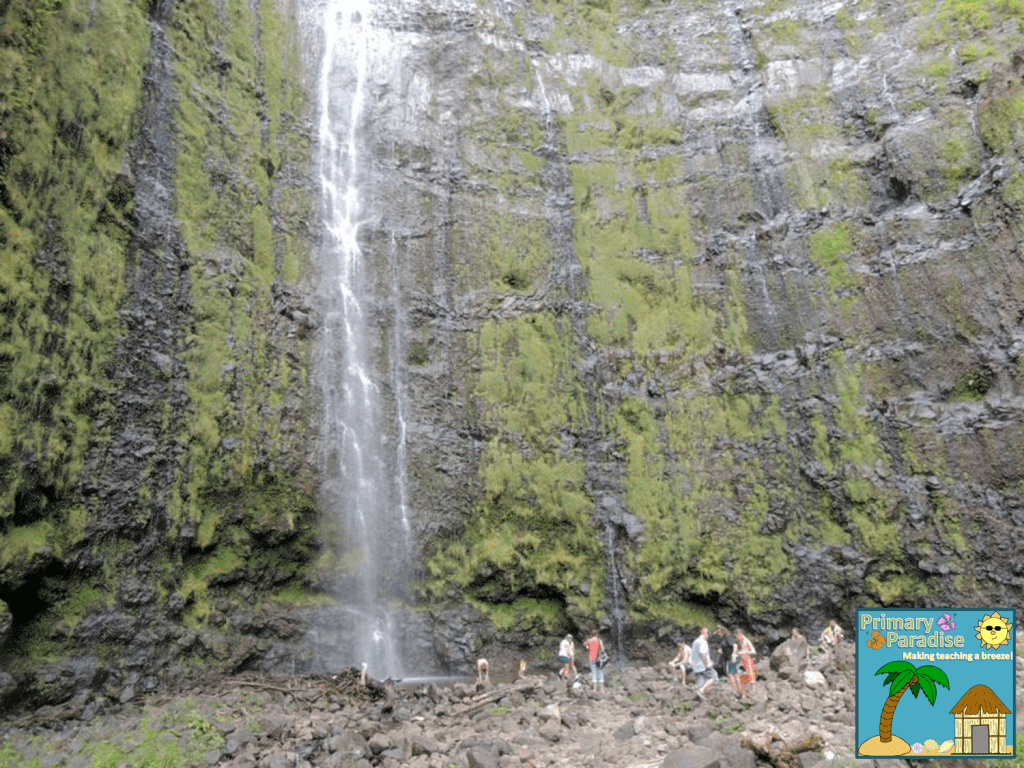 The last thing I wanted to share with you was the view of the sunrise from the top of Haleaka (an inactive volcano). It is 10,000 feet in the air, and we were above the clouds. If you do this, bring a coat- it was FREEZING!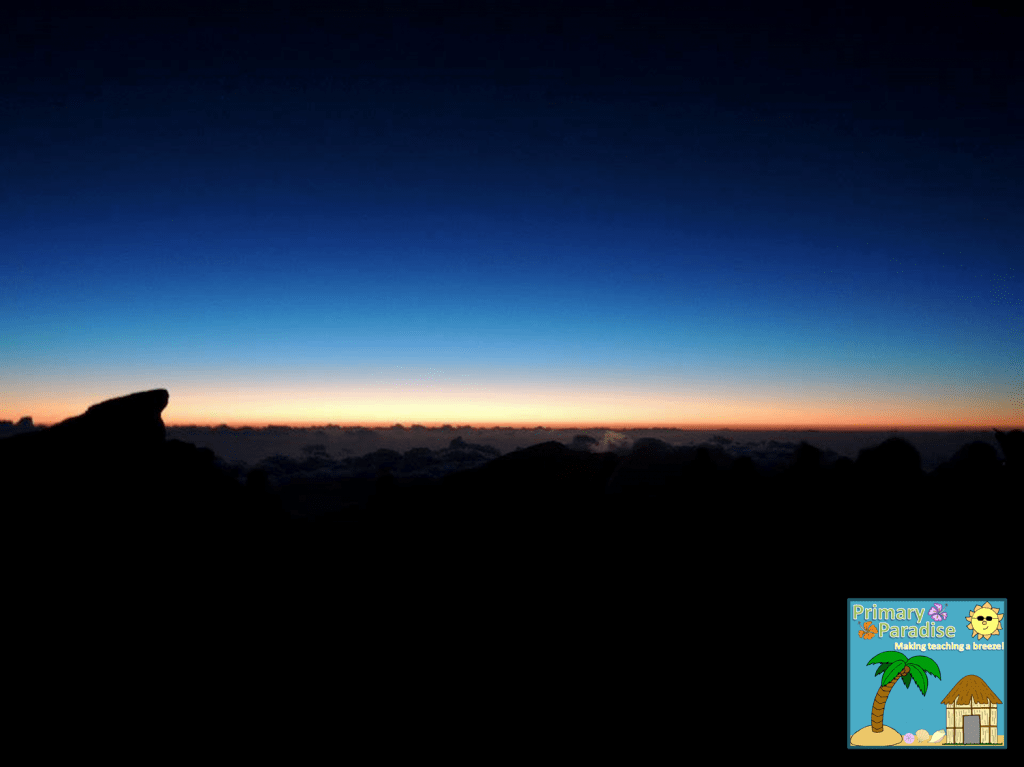 Gorgeous!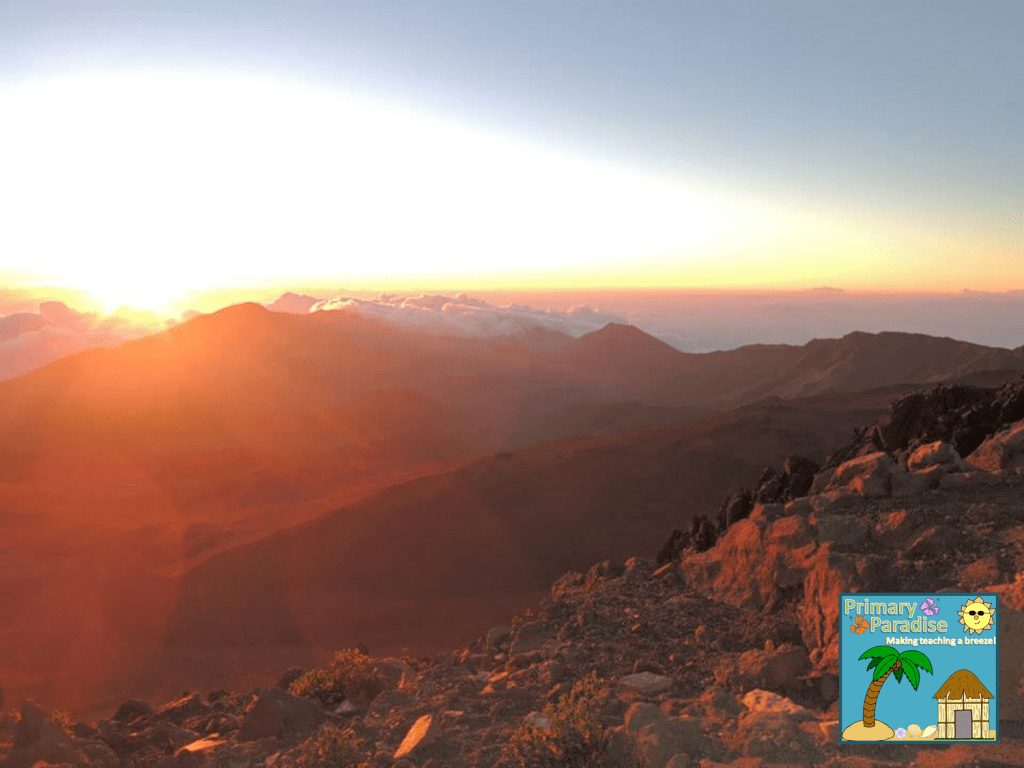 Well, I could go on and on (oops I already did!). We of course went to the beach, shopping, swimming, snorkeling, etc. It was an amazing trip. I'm glad to be back home, and am ready to start thinking about next year, but it was definitely a trip of a life time. And now I can say I've truly been to paradise. 😉
If you're still reading this, I'd love to hear your thoughts! Leave a comment below!
Martha from Primary Paradise