Hi All! Today I'm linking up with The Teaching Tribune for another day of summer fun!
Today is Teacher Tip Thursday! Click the button below to check out the rest of the awesome quick tips from teachers all around the world!
Now here's my teacher tip: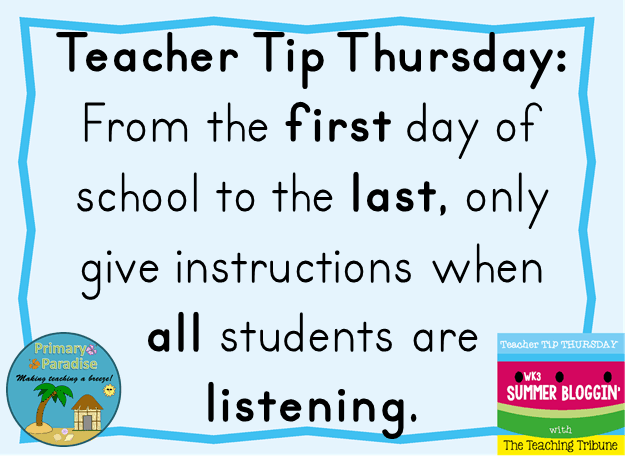 This might seem like a "duh" tip, but I think it's something we don't always remember to follow.
When I was a student teacher and I first started taking over for my cooperating teacher, I would wait until most of the class was quiet and start giving instructions.
One day, my very wise cooperating teacher pulled me aside at the end of the day and told me that I needed to wait until they were all listening to give instructions or else I'd just keep repeating myself. I thought I was, but when I thought back over the day, I realized I was scared to wait too long and loose more students, so sometimes I would just start talking and hope everyone else would stop talking.
Now, from the first word I say in front of a new class, I follow this tip. I always explain that I will not talk when someone else is talking because it's rude and I expect the same from them. I also make a point to let them know that we use this same courtesy when another student is sharing. I want them to know that it's not all about me, it's all about respect.
Do you agree with my tip? Have something to add? Leave a comment below!
And don't forget to go check out all of the other fabulous tips!