I'm SO excited to announce that I'm part of an amazing new collaborative blog!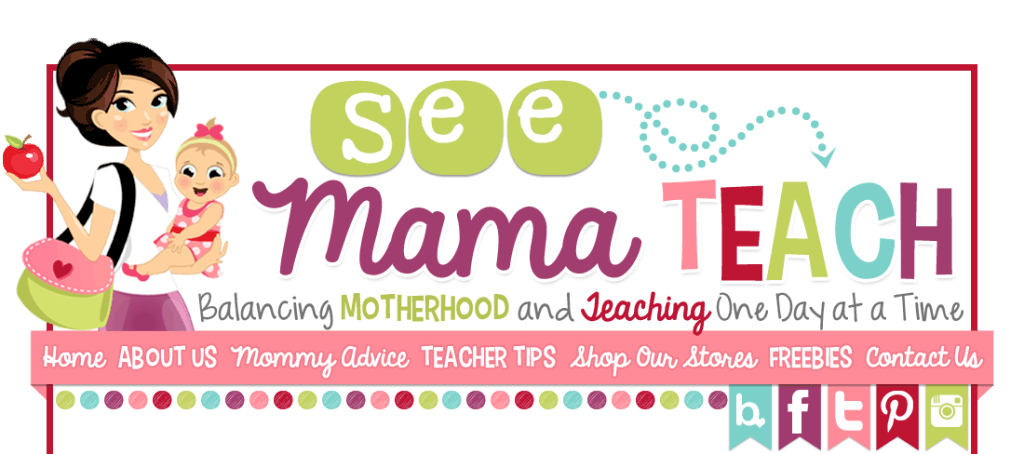 I just posted my first post over there, and it's all about 10 Ways Teaching Prepared me for Motherhood!
Teaching is a tough job. Rewarding, of course, but tough for sure. Being a mom is an equally tough job, and of course it's crazy rewarding. People often make comments to me about how being a first grade teacher probably prepared me for being a mom, and you know what? They're so right. So, let's count down the top 10 ways that teaching prepared me for motherhood.
Number 10:
You can deal with gross things like puke, boogers, and other bodily fluids.
 Let's keep it real, as a teacher, we see it all, and it's not always pretty. However, when you have 2 students start throwing up simultaneously during lunch in your classroom (I *may* be speaking from experience), it takes a lot to gross you out, which is a very handy skill when you become a mom and your reality is poop, spit up, pee, and a little more poop for good measure. 😉
Number 9: You can multitask.
Holding my 2 month old and giving my classroom storage a facelift.
 Most women of great multitaskers, but teachers are especially. How many times are you greeting students, checking homework, tying shoes, breaking up disagreements, giving hugs, putting in attendance, and fielding questions from parents all at once? And that's just in the first 5 minutes of the day. As a mom, espcially a mom with multiple kiddos, this skill is invaluable. Because when you're trying to make dinner, the baby needs to be held, and your toddler wants to ready a book, you make it work, and then later you feel like superwoman… or at least you breathe a sigh of relief that you made it until daddy gets home.
Number 8: You can turn anything into a song.
In my classroom, I always sang everything. I mean everything. Let's take out our notebooks! (To the tune of take me out to the ball game), To the left to the left, put your name on the paper to the left, and  a rap about whatever math fact we were learning could always be heard a few classrooms down the hall (sorry!). And now? Did you poop? Did you poop? Yes you did! Yes you did! (to the tune of where is thumpkin) and many more of my greatest hits. Kids love music and it helps you keep your sanity, or at least helps you smile while you're loosing it. 😉
Number 7: You can turn anything into a game.
Are you teaching the most boring, most difficult topic ever? As a teacher, what can you do to make it fun? Come up with some ridiculous game, of course! Learning time? Let's put two clocks at the front of the room, have two students stand at the back of the room, yell out a time and have them race to the front, show the time, and hold it up! (Because it always WAY more fun when your teacher lets you run in the classroom). And now that I have a very curious, antsy, active toddler? Who wants to play stack the salt and pepper packets? How about a rousing game of find the balls (anything round) in the grocery store?
————————————————————————–
Want to read the rest of the count down? Just
head on over to See Mama Teach
! While you're there, enter our giveaway to win a $50 target and $25 TpT gift card!