"I'm done!" I don't know about you, but that is one phrase that I really, really don't need to hear in my classroom. We all have those students who finish their work early, and then of course need something to occupy their time. Today I'm going to share some ideas that are simple to implement, will add value to your students learning, and your students will enjoy!
Watch my Facebook live video about this topic here.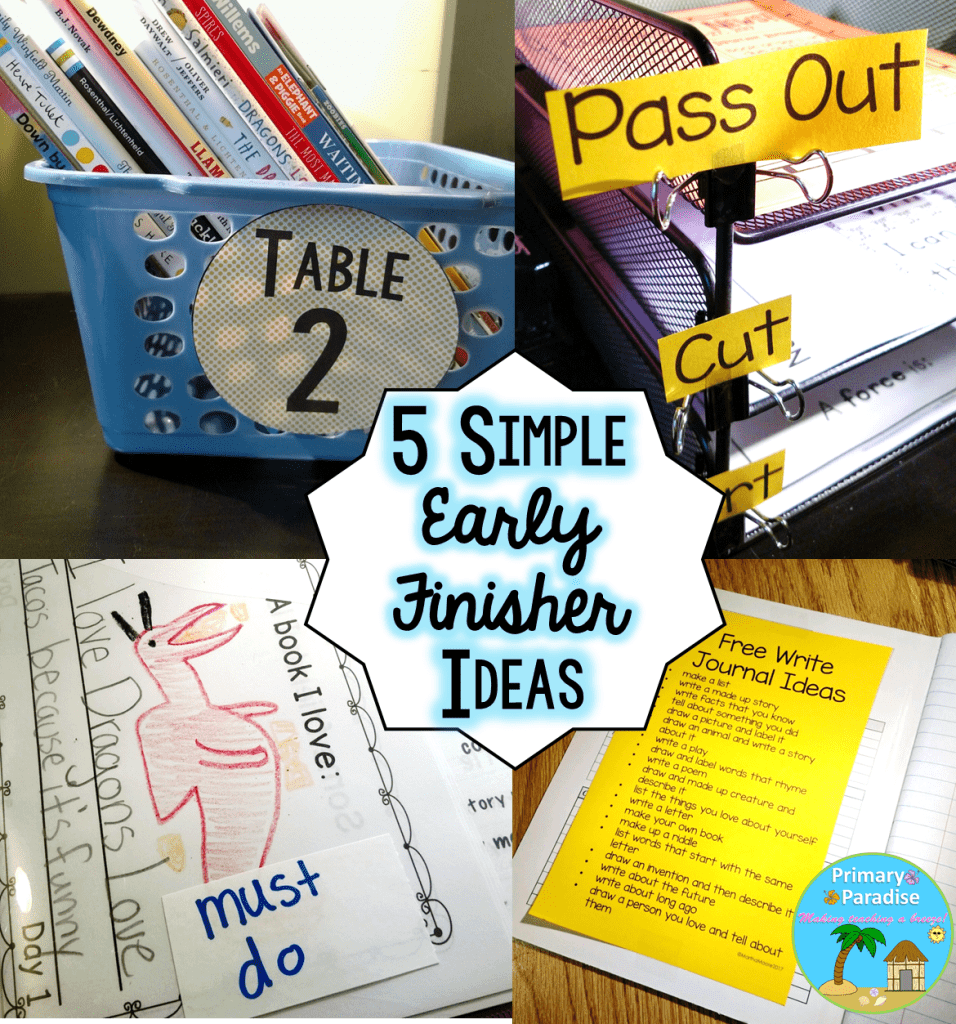 #1 Rotating SPECIAL Book Bins
As teacher, we always want our students to read, read, read, so this is a common, go to early finisher activity, but I like to add a few tweaks to make it a little more appealing for students.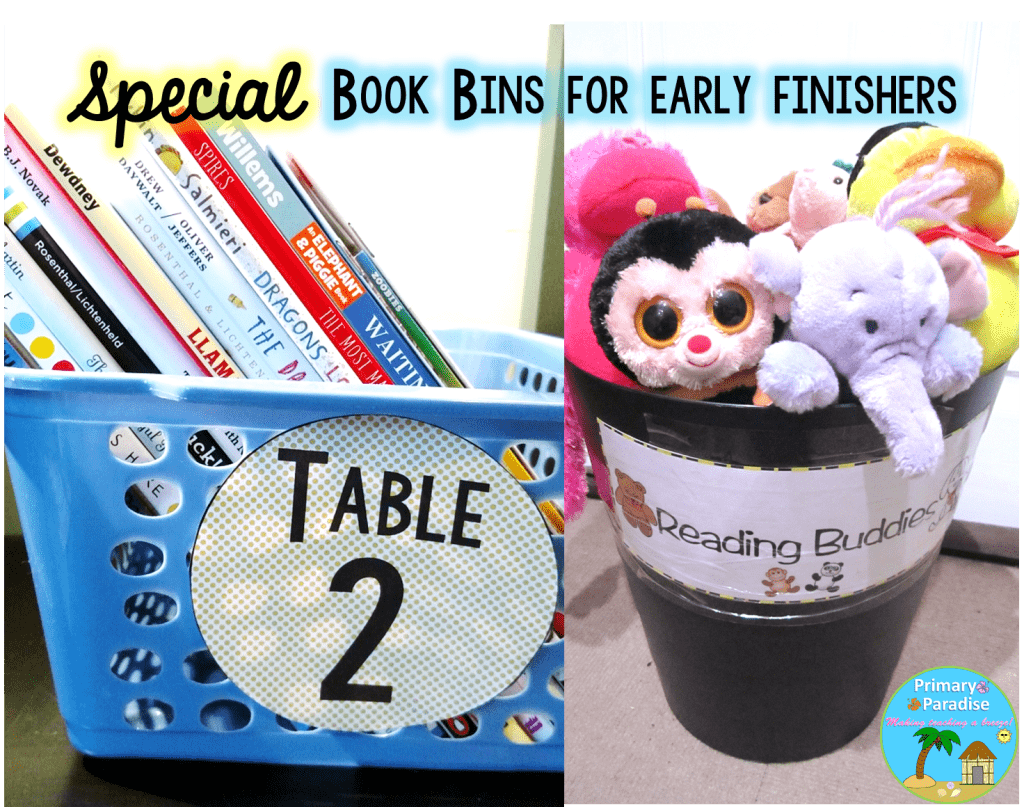 I have enough bins for every group or table of students, so students don't have to get up from their area to pick a book. I fill each book bin with SPECIAL books. These aren't books that they'll find in our classroom library. They are magazines, MY books that I use for teaching, seasonal books, and so on. I also rotate them to a different table every week, so I only have to change out the books every month or two (depending on how many groups I have). My students FLIP over these books because they know that they're only available for a limited time, so they thoroughly enjoy reading them.
As an added bonus, if I have a class that can handle it, I'll also allow them to grab a reading buddy and find a spot around the room to read after they are finished while others are working. They know that, if they're playing and not reading, their reading buddy privileges can be revoked, so I've rarely had any issues. Something about picking a fuzzy friend, a comfy spot, and reading a SPECIAL book really makes reading when they're finished early much more appealing.
#2 Must Do May Do Folder
This one is a life saver, and I can credit this idea to my cooperating teacher when I was student teaching. My must do, may do folders both keep my kiddos organized AND save my sanity when dealing with early finishers.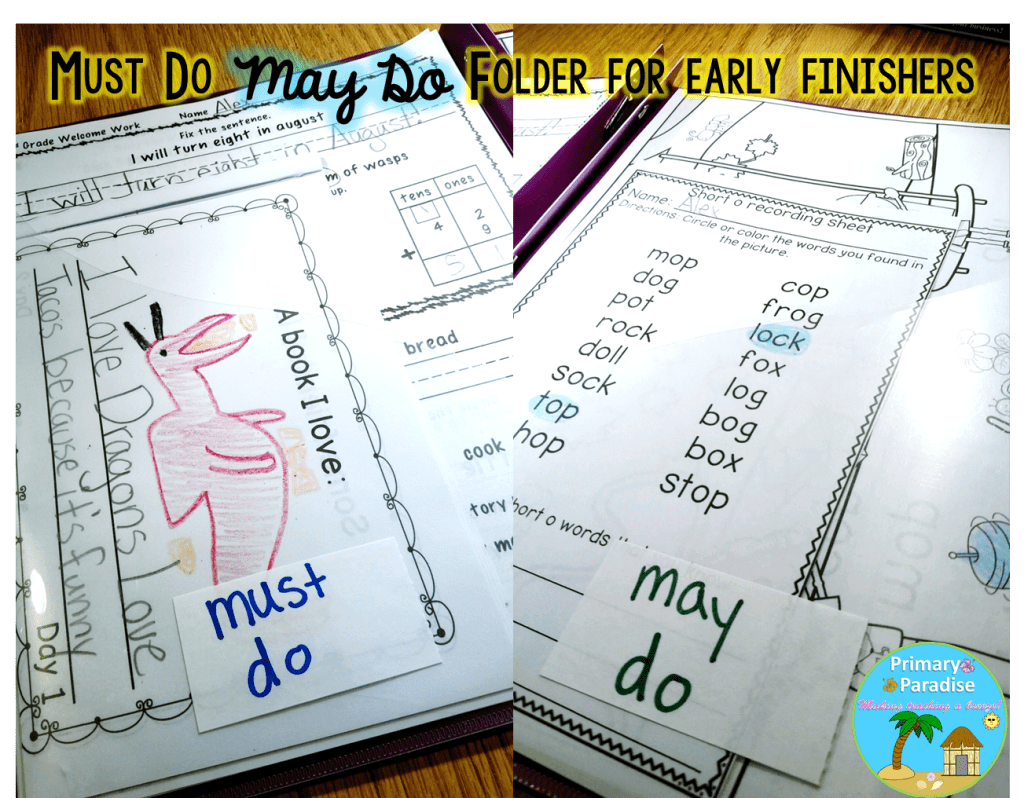 The idea is very simple. Each student has a Must Do, May Do folder. On one side, I label "Must Do" and the other side "May Do". On the Must Do side, students keep work that they must complete before doing anything else, as well as on going projects and morning work so they always know where to find it. On the May Do side, they keep activities that they can choose to complete when they finish early (as long as their may do side work is completed and up to date).
Must Do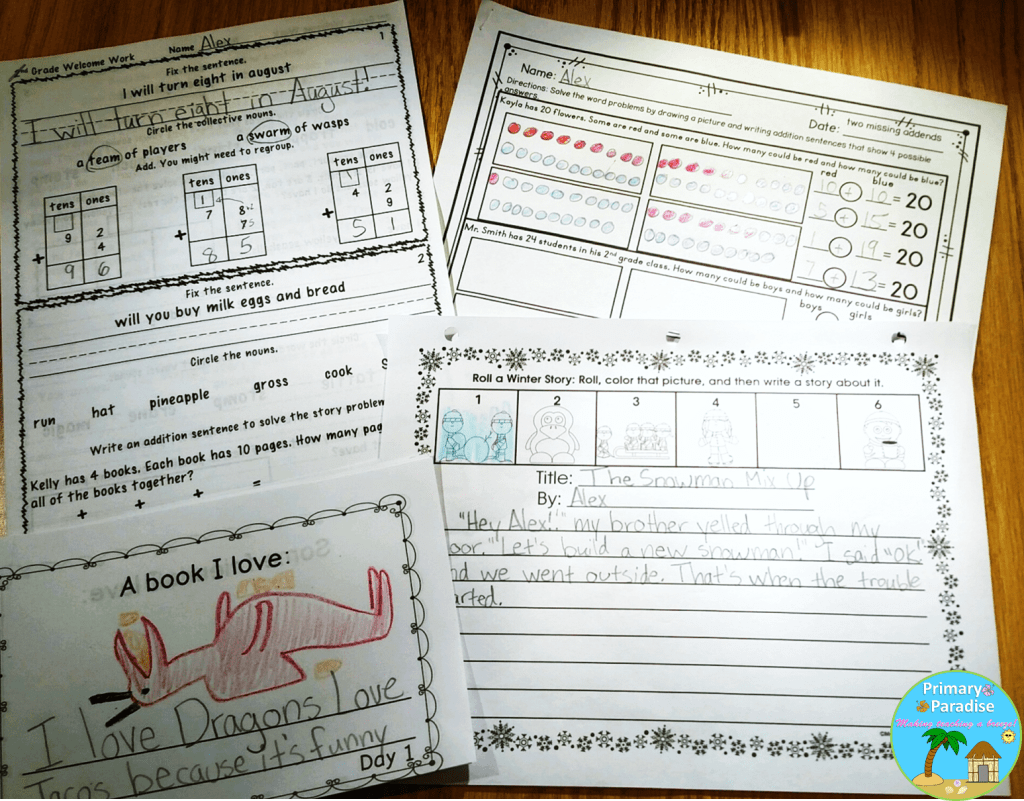 On their must do side, my students always have their morning work since they need it every day, any ongoing projects, such as their daily journals (the February one is free here until 1/27/17), and then any work that they haven't completed from the current week. They know that, when they complete their work, any unfinished work must be completed before they make another early finisher choice.
May Do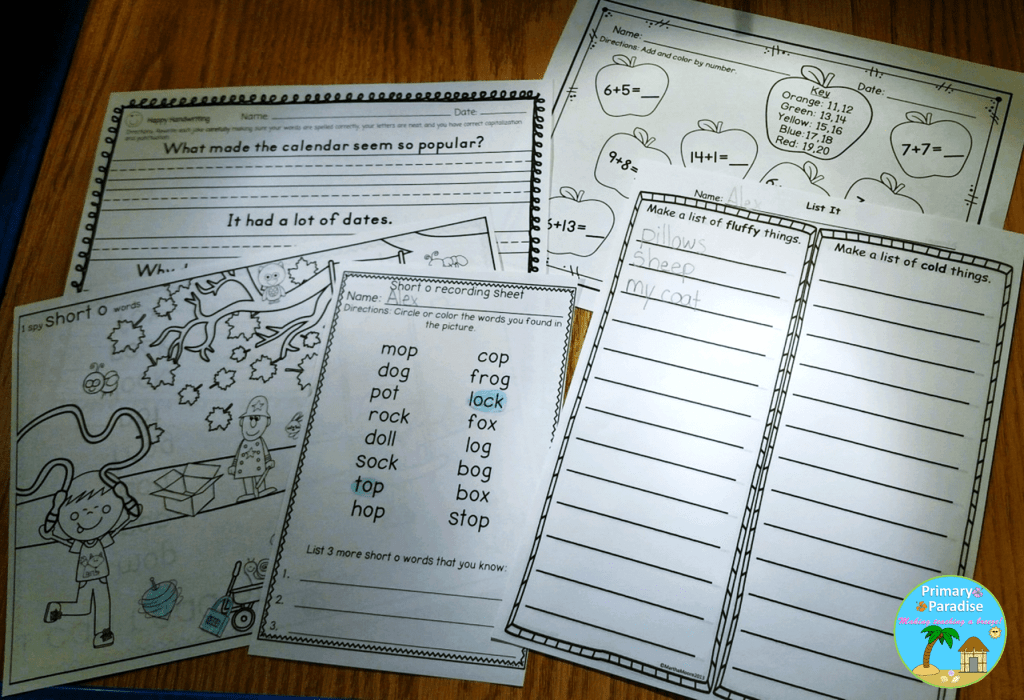 On the May Do side of their folders, I am able to give students individualized practice for things that they personally need to work on. I also like to give them fun practice pages and logic puzzles like color and add, word searches, etc. Some of mine and my students favorites are my handwriting joke and fact packs for those kiddos who need handwriting help, my eye spy short vowels pack for those who need to review vowels, my listing and writing early finishers pack, and my rhyming early finishers pack. It's nice because students very quickly get used to the idea that not everyone is working on the same thing, and that's okay. When they activities in their may do folder are on their level and fun, I rarely hear, "I'm done! Now what?"
#3 Free Journal
As you can probably tell, I'm all for easy and simple, and the free journal is such a fun and simple early finisher activity.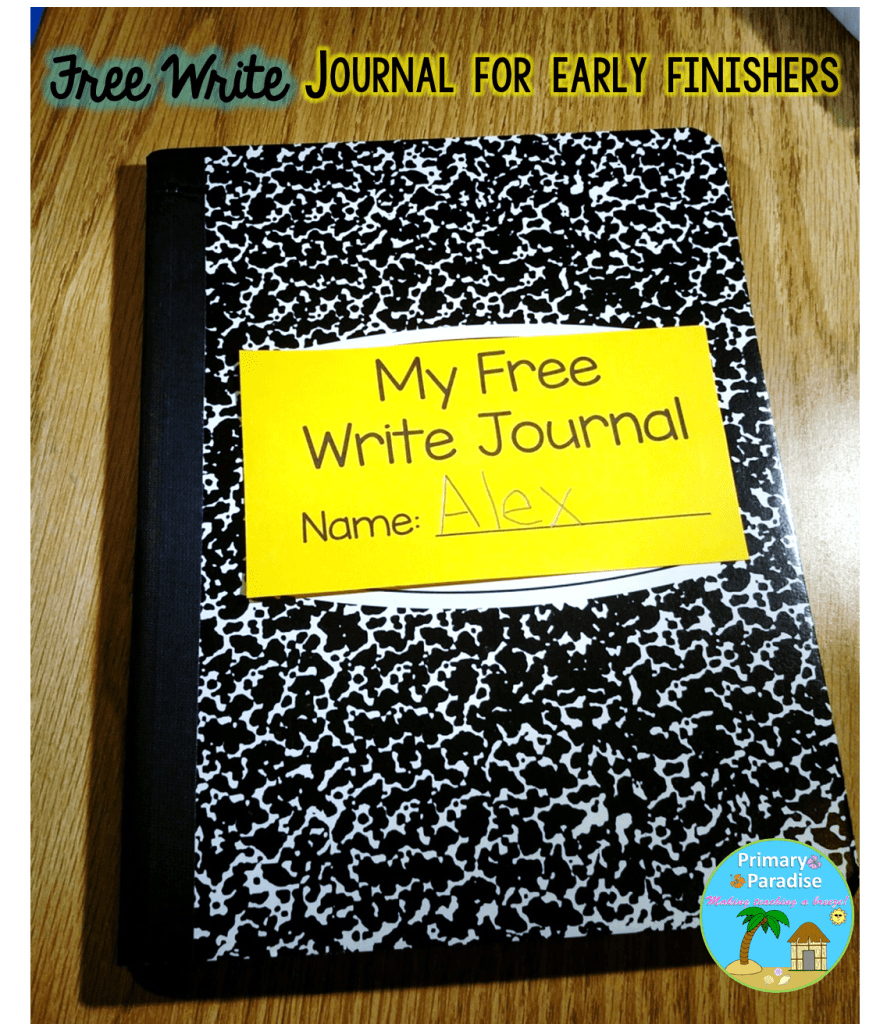 The free write journal is exactly how it sounds. Students each have a journal and a free to write (just about) anything they want in the journal.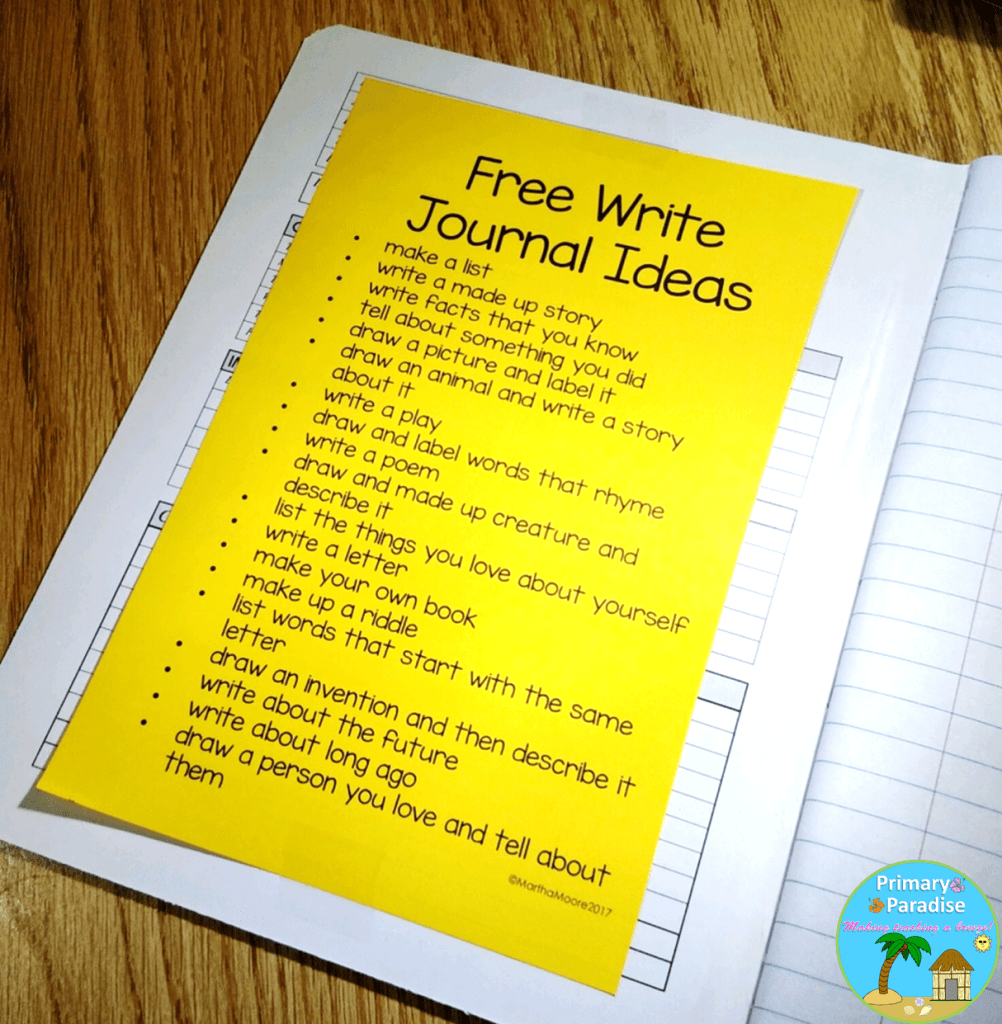 I attach a list to the front cover to give them ideas (grab it free here), but students are welcome to write about anything they choose. They're even welcome to draw as long as they either label their picture or write about their drawing. It always amazed me how much some of my most reluncant writers enjoyed their free write journal when they felt completely unrestricted. I didn't grade their writing in here, but I would go through and see what they were writing about once a month, and I would always find something in there to leave a positive comment on, which always brightened their day.
#4 Helper Bins
This is one that not every teacher will be comfortable with, and not every classroom, or even every student will be able to handle, but it can be such an empowering experience for your students while saving you some work!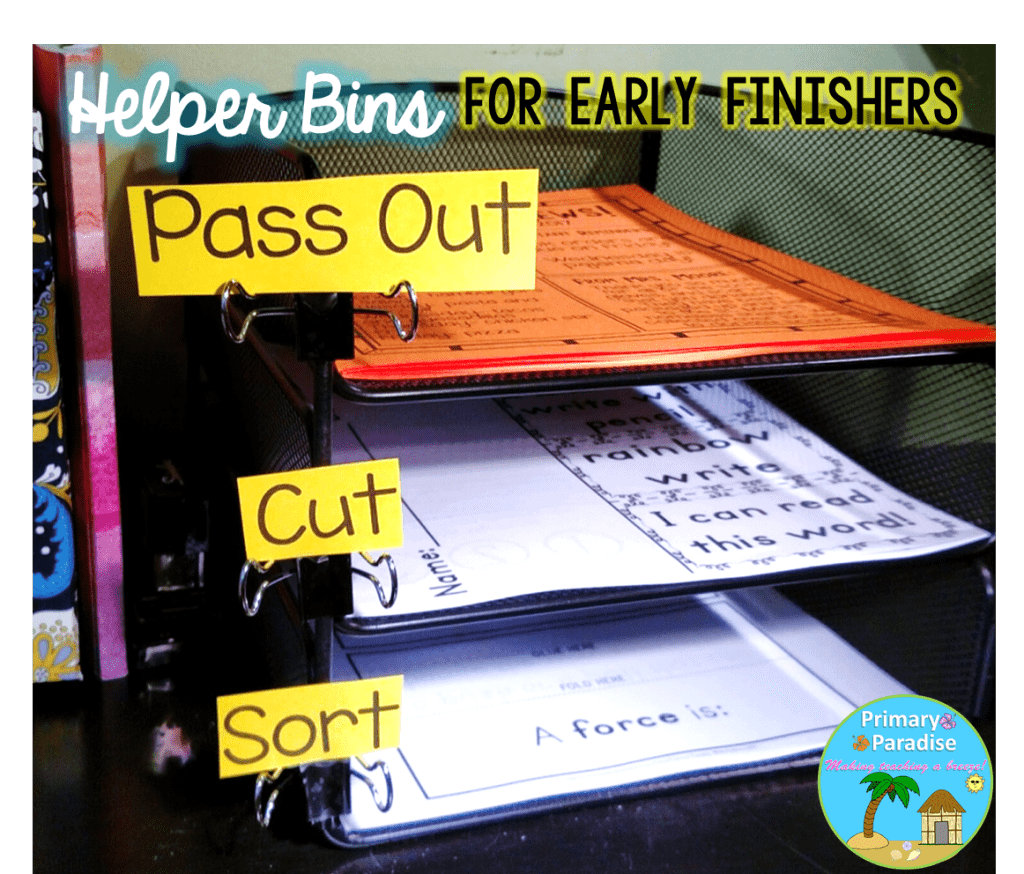 Here's how helper bins work. Any tasks that students in your classroom could handle such as passing papers back to student mailboxes, cutting out flippers or interactive notebooks, or sorting class books, are available for early finishers to complete. You make a bin for each task, and then students who finish early are able to go to the bin and complete the task. You might choose to have the student pick a task and then come to you for further instruction (which takes a whole lot less time than cutting or passing out all yourself).
Some points to consider:
This will take some teaching time to teach students how each task needs to be completed and if there are any rules.
Some students might not be able to handle this, so you might need to make this option only available for some students until others prove themselves responsible enough. (In my opinion, this is perfectly okay as long as it's done with kindness and sensitivity).
You can use binder clips (see picture above) to label the tasks. When a student picks a task, they remove the binder clip. One all binder clips are removed, no one else can do helper bins at that time.
This doesn't have to always be a choice. You can have this "open" only when you need extra help.
You can stick to just having a bin for students to pass out papers to mailboxes and skip the more complicated options.
Your students will surprise you. Kids are often much more capable and responsible than we give them credit, so I encourage you to give it a try!
#5 Partner Up Flash Card or Sight Word Practice
Finally, I like to let my students practice sight word or math flash cards in pairs when they finish early.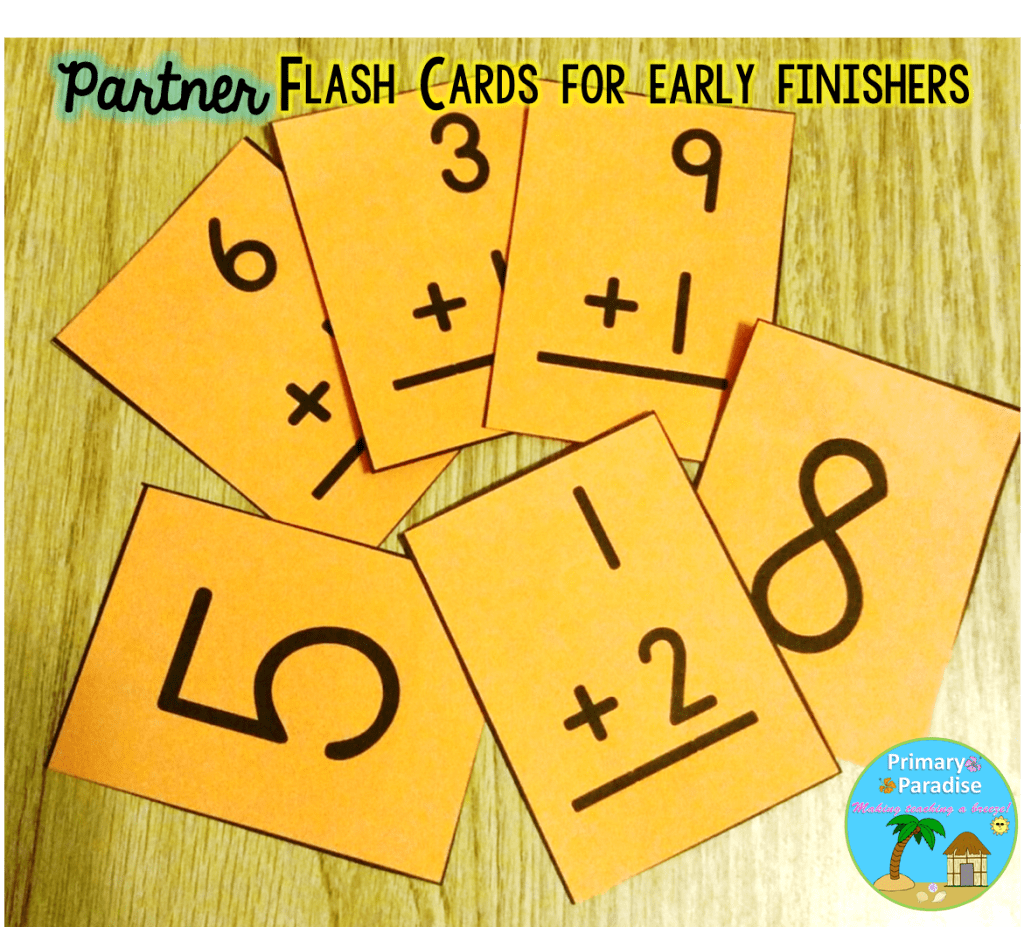 Here's how I made this work in my classroom. When a student finished early and wanted to practice flashcards, they would take out their flashcards, place them on the top of their desk, and then pick another early finisher activity to work on in the meantime. When another student finished, they could go over to a student with flashcards on their desk and ask to play. (The first student had to say yes- sort of like partners for Daily 5). They would then go pick a quiet spot and quiz each other. They had to whisper. Sometimes, when I had students who really, really struggled with volume control, I'd have them use a white board to write the answer, so there was no talking necessary.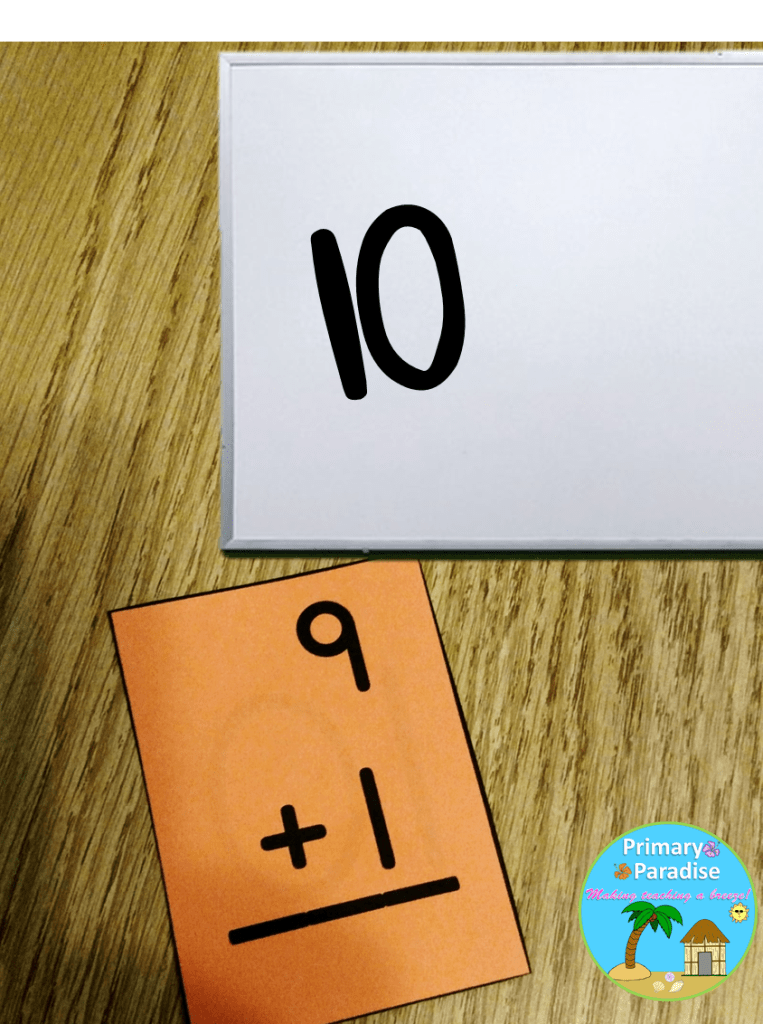 We mostly did math practice because the answer was on the back, but you could also do sight words, spelling words, and more!
Grab some simple addition flash cards for free.
So there you have it! Some simple and easy early finisher ideas. What do you allow your early finishers to do? I'd love to hear from you!
If you enjoyed this post, make sure to like, comment, and share!