We are the Dinosaurs Marching, Marching! We are the dinosaurs! Whaddya think of that? If you have little kids or teach little kids, chances are you sang that catchy tune just like I did! If you're already a Laurie Berkner fan, you're in for a treat today, and if you're not, than you need to immediately head over to her Facebook, website, youtube, or instagram, give a listen, fall in love, and then head on back to read more.
I've always loved to play Laurie's music in my classroom because it's so catchy and positive, but I've developed an even deeper appreciation since having my own daughters. You can only listen to "The Wheels on the Bus" so many times before losing your mind, and Laurie's wide variety of songs never gets old! The former pre-school teacher turned "the queen of children's music" has an amazing way of connecting with kids and parents alike! That's why I was thrilled when I heard that she had released a book based on one of our favorite songs, "We are the Dinosaurs!".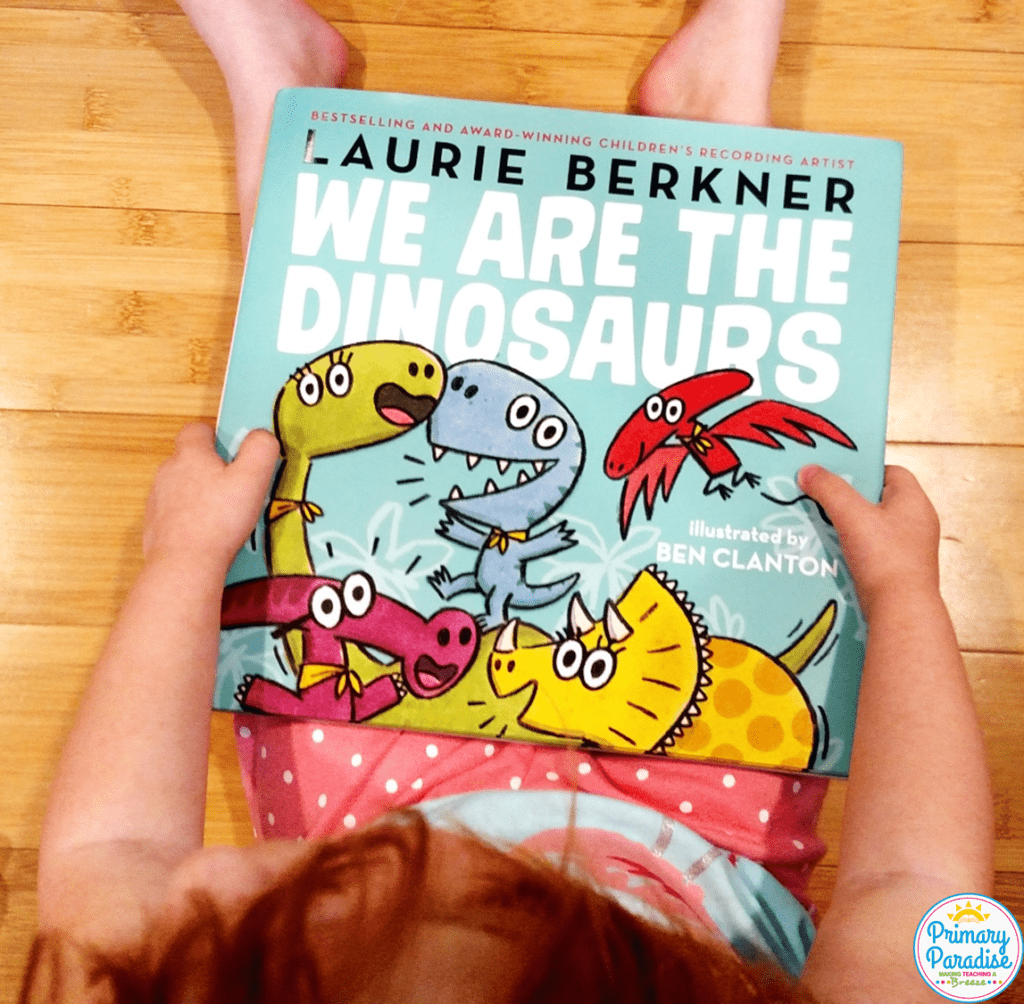 I was given the book "We are the Dinosaurs" in exchange for an honest review.  I only share products that I use and love! All thoughts, ideas, and opinions are my own. This post contains affiliate links.
Using We are the Dinosaurs to Teach Dialogue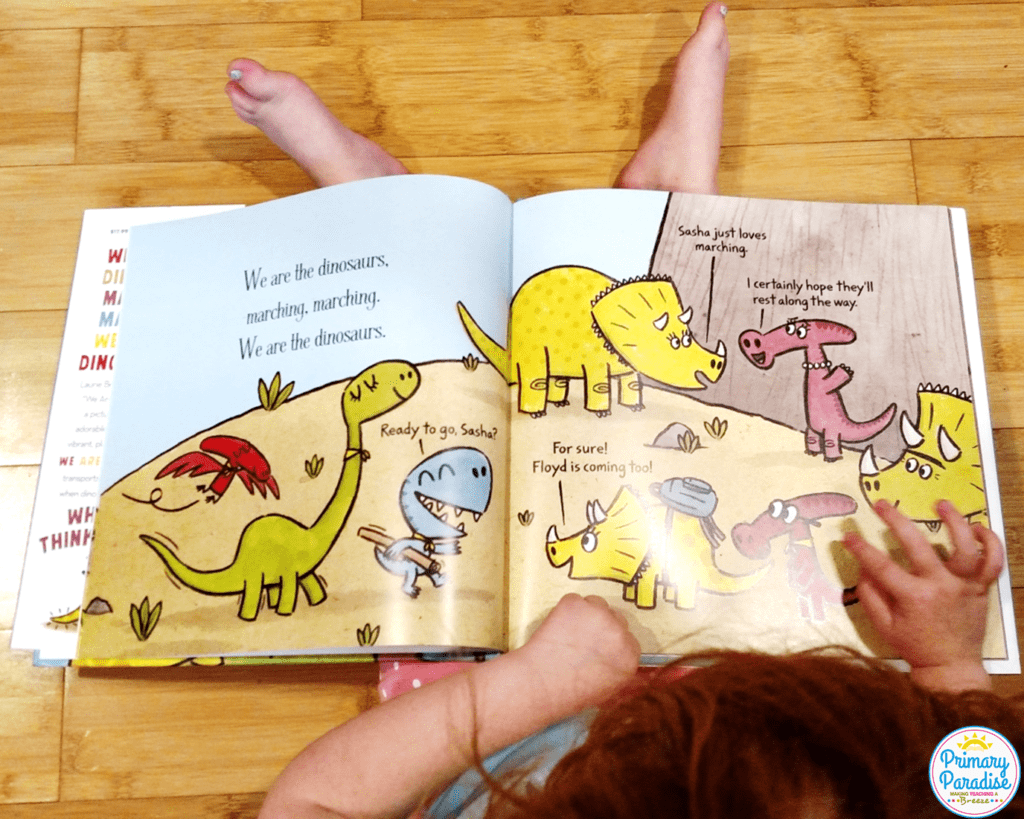 The book is beautifully illustrated by Ben Clanton and the story is guided by the lyrics to the well known and catchy song. I couldn't read it without singing them! The first thing that caught my eye was the fun background dialogue between the dinosaurs and I realized this book would be the perfect book to use to introduce dialogue in lower elementary classrooms! So, today I'm going to share a fun lesson idea along with a freebie to use with the book
First, read through the book with your class without reading any of the dialogue; just stick to the main text. Then, reread the story again with the dialogue and have the students discuss how it adds to the story and brings the dinosaur characters to life!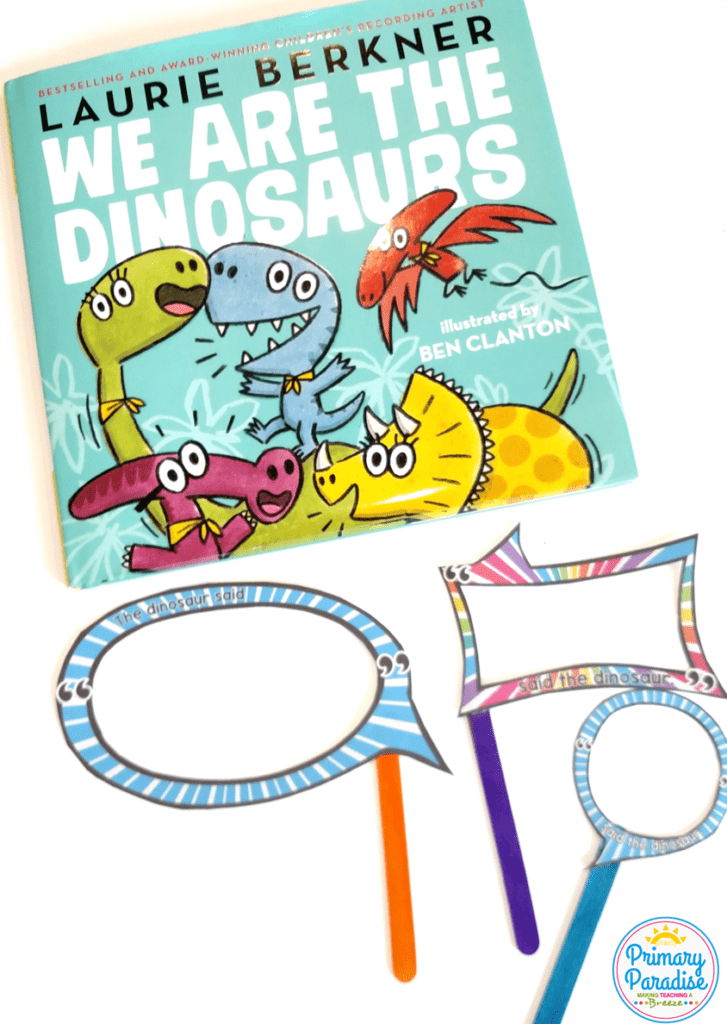 Next, you can use the speech bubbles included in the freebie to have students identify different dialogue throughout the text. This is a great opportunity to teach students about quotation marks as well.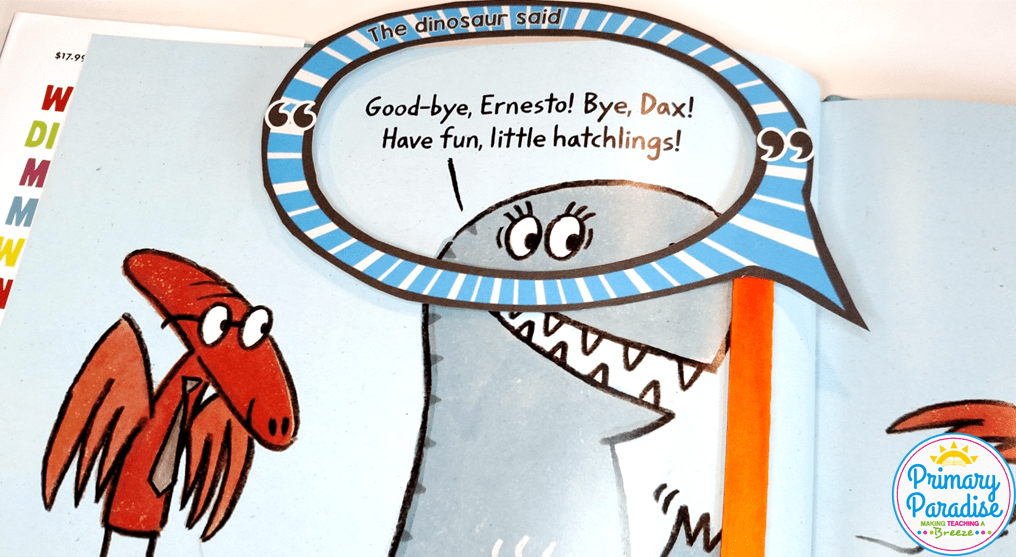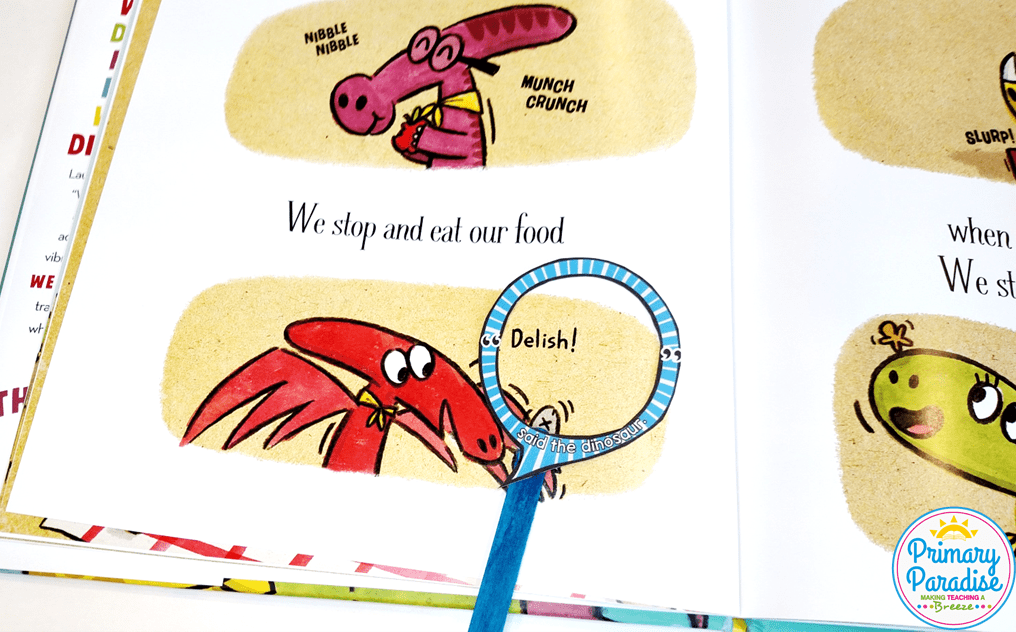 Once they've mastered identifying the dialogue, you can have students pick some dialogue in the book to illustrate and write using the printable pages. Multiple choices are included for easy differentiation.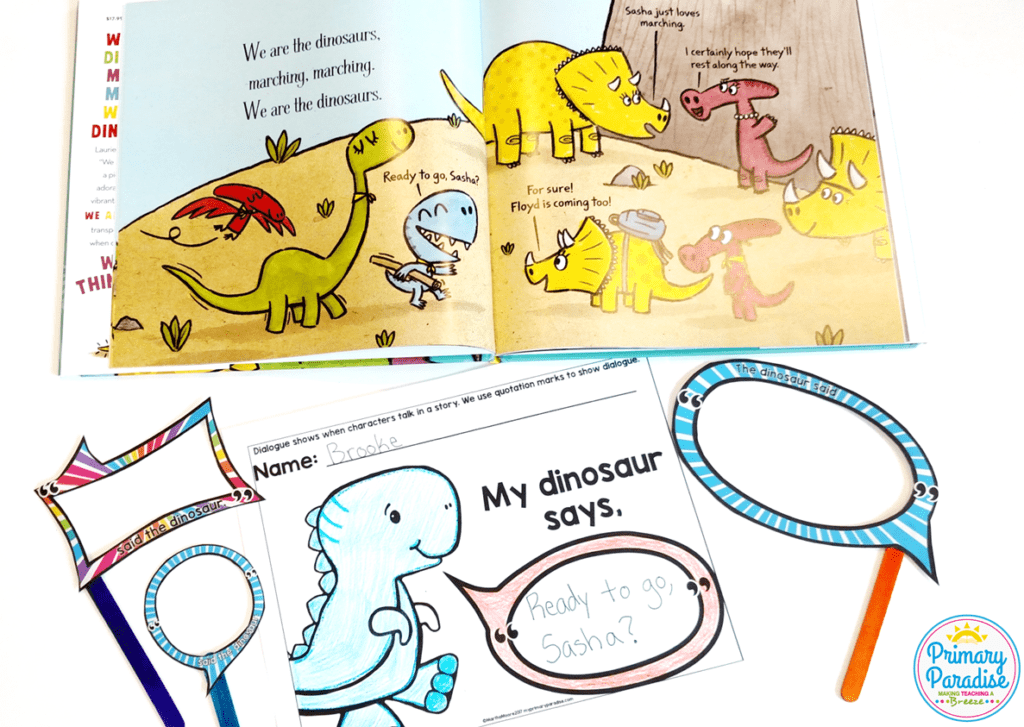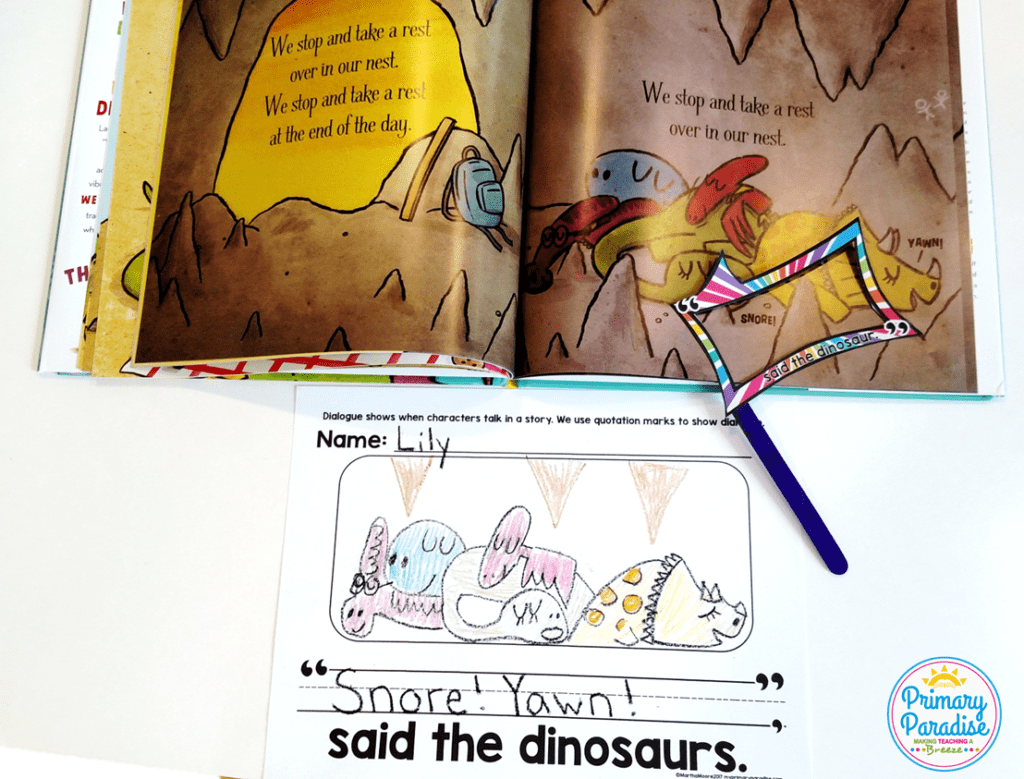 This book is a fantastic read, and also a great tool for teaching dialogue in your classroom!
I highly recommend this book for both your classroom and your own children. It will quickly become a favorite! (My daughter is reading our copy as I type this post.)
(Click here or the picture below to grab this freebie.)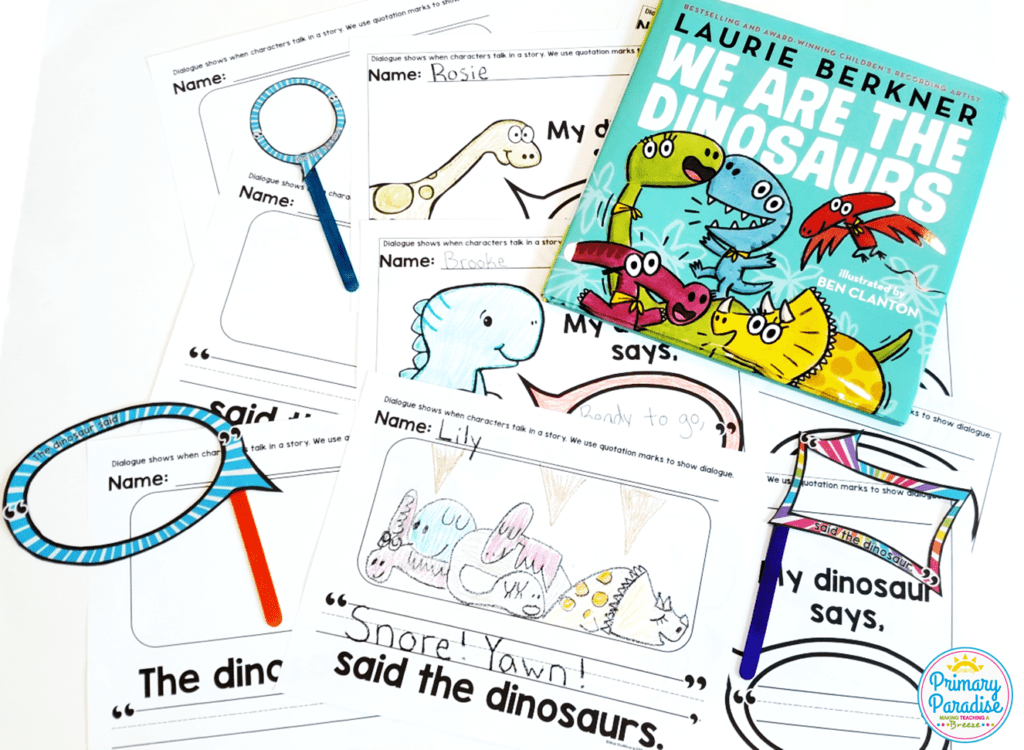 And, if your children are Laurie Berkner fans, make sure to catch her in concert the next time she's in your area. The band puts on a fantastic kid and adult friendly show, and all of them are just amazingly kind and friendly!
(Click the picture below to see upcoming concert dates.)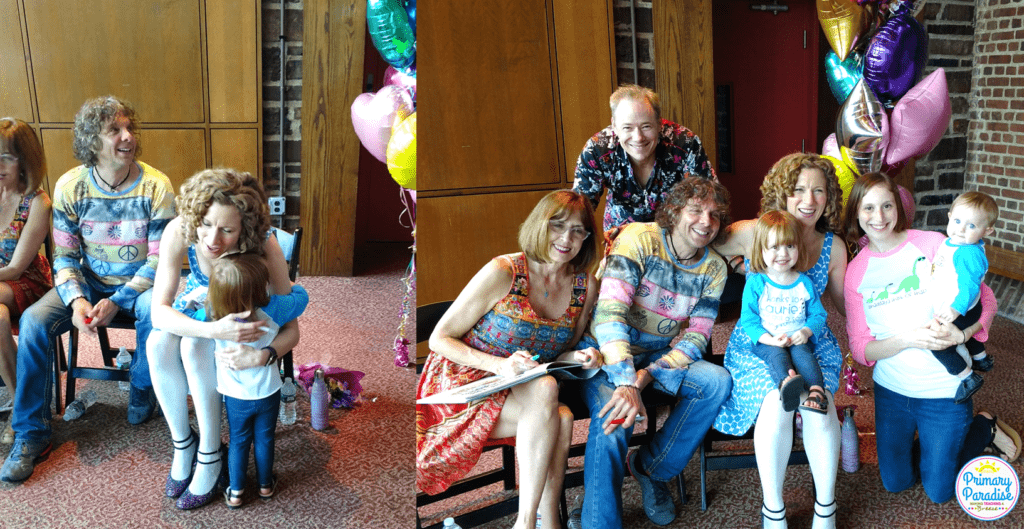 If you enjoyed this post, make sure to like, comment, and share!