As teachers, it's important to plan ahead and stay organized, but sometimes that can be such a struggle. How do you keep track of it all? Today, I want to share my top 4 planning tips with you!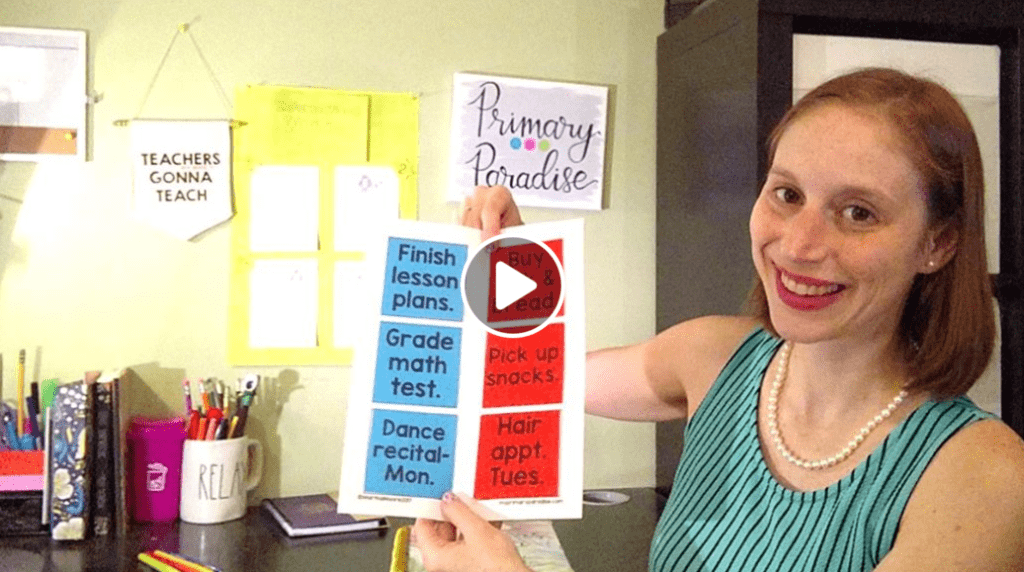 This post contains affiliate links.
Pick what works for you!
When it comes to planning, there are so many options. I think that's often part of the problem. It's easy to get overwhelmed and not know where to start. My main piece of advise is to pick what works for you.
Are you a paper and pencil person, digital, or do you prefer a combination of the two? There's no right and wrong.
I know some people who swear by a paper planner. It's what works for them. Studies show how physically writing things down helps you remember them, so that makes sense!
However, others are all about digital options. In a time where you always have your phone on hand and your phone's calendar is easily accessible, it makes sense to go digital!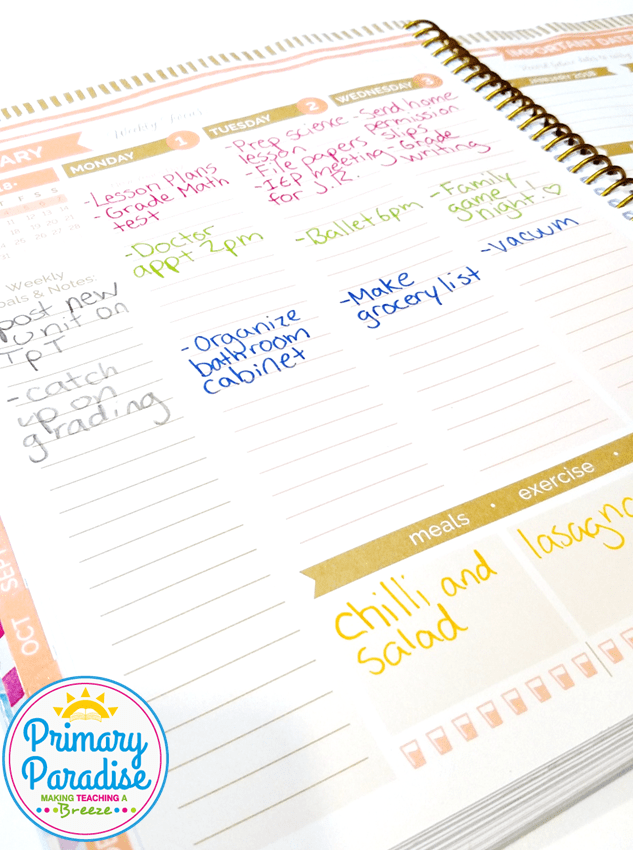 I personally prefer a combination of the two. I've always needed a visual spread of my week, and a running to do list doesn't work for me. So, I use my bloom planner to write down daily to do lists and tasks. I like to color code my tasks as well. It makes it easier for me to prioritize what needs to get done and when.
However, having two little ones, I also have a lot of appointments to keep track of, and I have learned that I'm terrible at looking ahead. Often times well visits sneak up on me! So, I use my calendar in my phone to set reminders for well visits and reoccurring events such as writing a check for my daughter's nursery school on the first of each month.
I struggle for a long time with trying to figure out if I wanted to use paper or digital tools for planning because I felt like it had to be all or nothing. Once I figured out that a combo of the two worked for me, My stress level (and forgetfulness level) went down, and my productivity went up!
todoist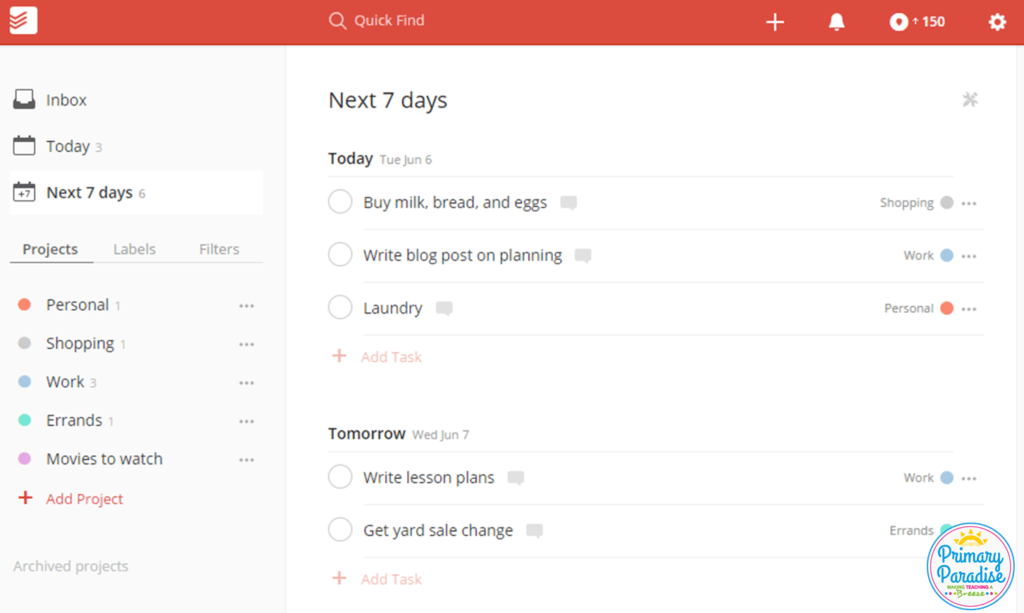 If you are looking to go the digital route, I highly recommend the app todoist which can be used on your phone, computer, or both! Although I decided that a paper planner was the best way for me to stay organized, I used todoist for a while, and it's a really great app. The app is free (although you can upgrade to premium) and it allows you to quickly and easily make to do lists. The beauty of the app is it's easy to use interface. It's incredibly intuitive and allows you to quickly create tasks, sort them into different categories (which you can create), and schedule when you need to complete that task. It also tracks your "karma" which is how many tasks you complete on time. Are you motivated by "gamifying" things? This app is for you!
Paper & Pencil doesn't mean a fancy scmanchy planner
If you decide to go the paper and pencil route, don't feel like you need to spend a lot of money on a traditional planner. Again, you'll want to play around with what works for you.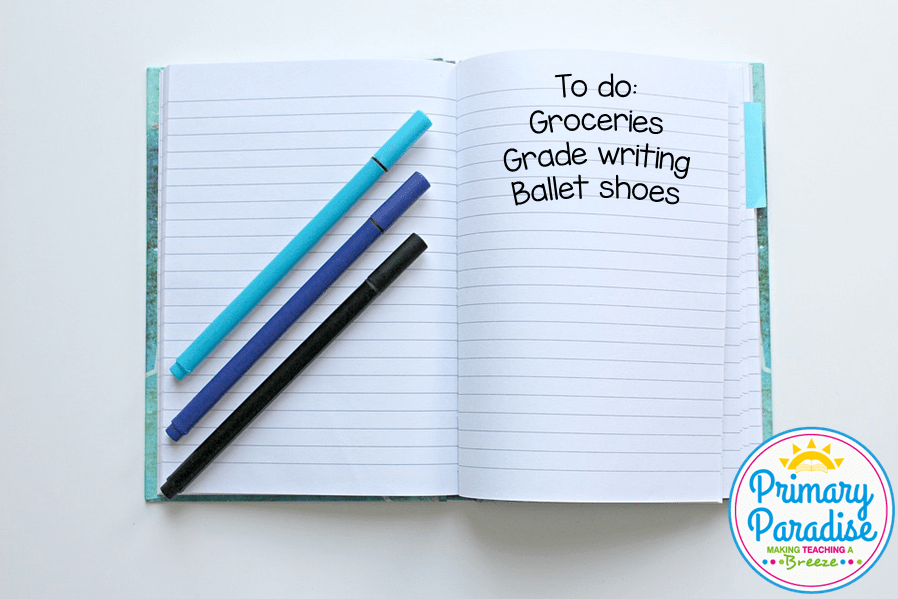 One option is simply using a little pocket notebook to write a continuous to do list. One of my former principals swore by this method. He carried one of these little notebooks with him at all times and just kept a continuous list of things to do. (And here's a super cute option if you want something prettier.)
A second option is to print your to do list items on post it notes using this editable template and then you can take off the post its as you complete each task.
(Click here to join my K-2 Teacher Group on Facebook and download this editable post it note freebie template for PowerPoint!)
And a third option is to create a dry erase to-do list (or simply use a dry erase board) to keep track of your tasks.
Be Consistent in Planning

Whatever you choose, the key to staying organized when you're planning is to be consistent. If you decide to use paper and pencil, use it consistently the same way so you don't get confused. Just because your grade partner is using a fun, new app doesn't mean you need to as well!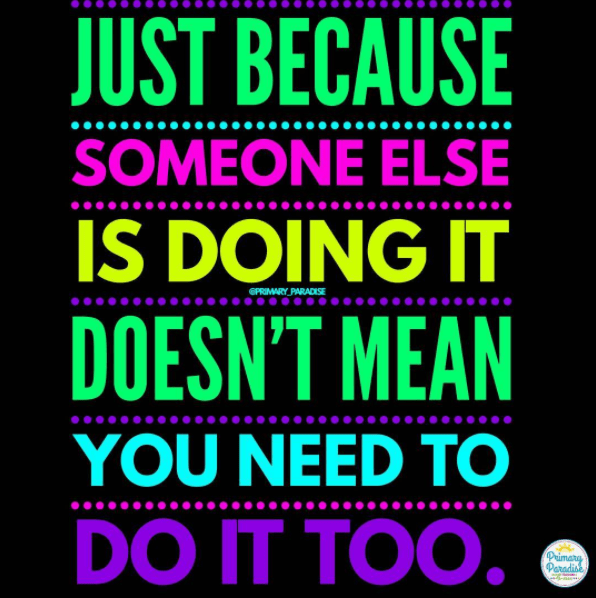 It's also important to consistently write down the tasks you need to complete. If you're anything like me, your head is a busy place, so it's important to write ideas down as they come. I know if I don't write something down, it's a good bet that I'll never remember it again.
Be Realistic in Your Expectations

Are you like me? I tend to think I can accomplish all the things, all the time. I used to plan to complete about 100 tasks each day. Then I would get so frustrated when I realized it wasn't going to happen. I'd end up giving up, hopping on Facebook, and getting nothing done.
I've learned to be more realistic. If you have 20 things I need to complete, take the time to really prioritize what MUST get done. Add that to your list first. As teachers, we have SO much on our plates. It's easy to get bogged down, but more realistic expectations, often lead you to actually accomplish more.
 Be Flexible & Adjust as Needed

Above I said to be consistent. However, I also think that your needs and what works for you will evolve over time. So, it's important to be willing to flex and change! If using an app works for you, great! But, if you find you're struggling with consistency, it might be time to try paper and pencil, or a combo of the two. Don't feel boxed in to a particular format if it's no longer working for you.
The bottom line is to think about what you really need. Use that as a baseline to streamline your planning!
How do you plan? Paper and pencil, app, both, or something else? Let me know below and watch my LIVE Facebook video on this topic here.
If you enjoyed this post, make sure to like, comment, and share!