Hands on math centers that are low prep, engaging, and won't break the bank? Yes, it's possible! I'm excited to share how you can create these math centers for your K-2 classroom.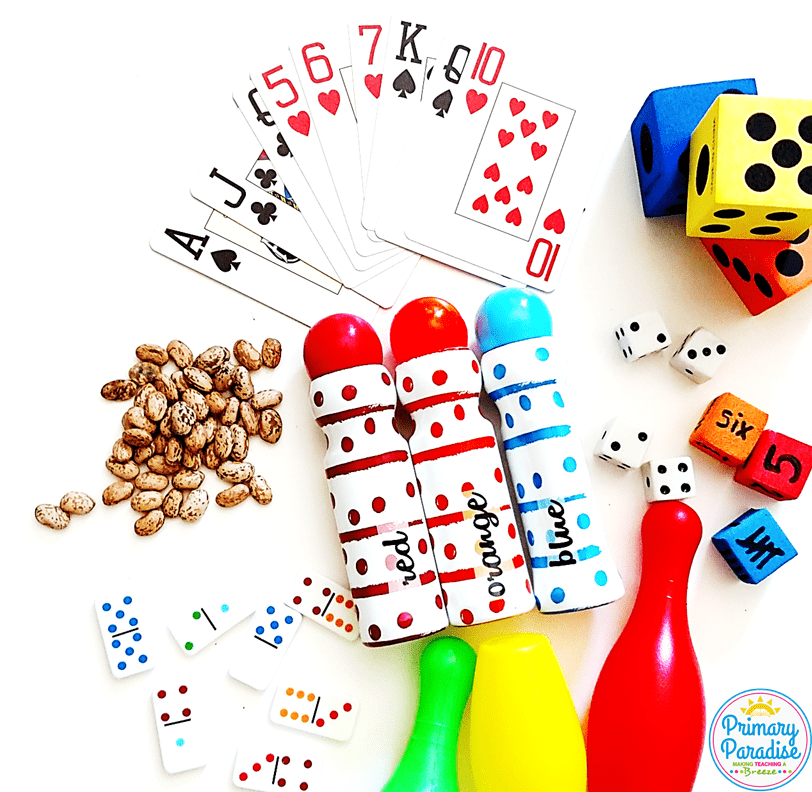 This post contains affiliate links.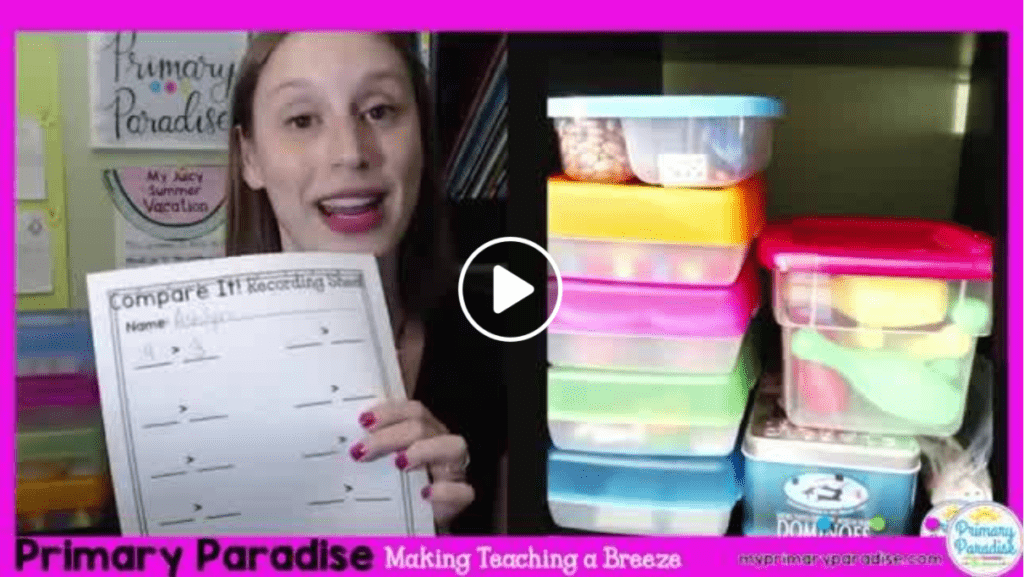 I recently shared about how you can make these cheap, hands on centers for word work and writing and use them all year long. That post was such a hit, so today I'll be sharing some ideas for math centers!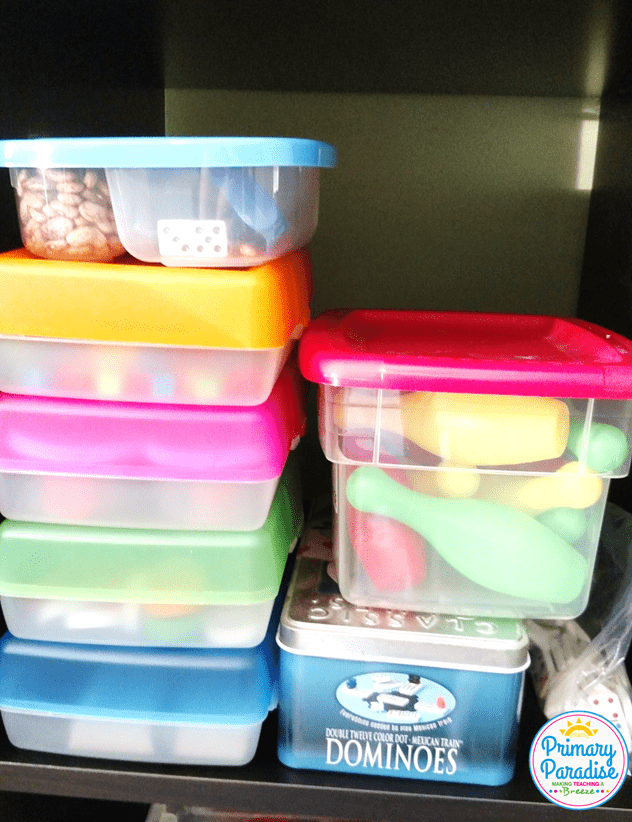 First. let's talk about storage. Storage doesn't have to be fancy or expensive! I'm a huge fan of pencil cases for center storage. Students can grab their case and get to work. These are from the Dollar Tree, but you can often buy them even cheaper during back to school sales, so that's when I recommend stocking up!
I do believe that accountability is important when it comes to math centers, so I recommend using recording sheets, or having students record their work in a journal. Not only does it keep them accountable, but it also lets you see what students are able to complete independently.
What is the point of Math Centers?
Just like with word word and writing centers, the point of math centers is to practice key skills. Math centers are a little trickier because the skills will change more frequently, but these center materials can easily be adapted based on the skills your class is focusing on. Additionally, research shows that spiraling through math skills, and constantly returning to key math skills helps to solidify learning. So, I'm going to share the materials I recommend and the different ways you're able to use them in your classroom.
Playing Cards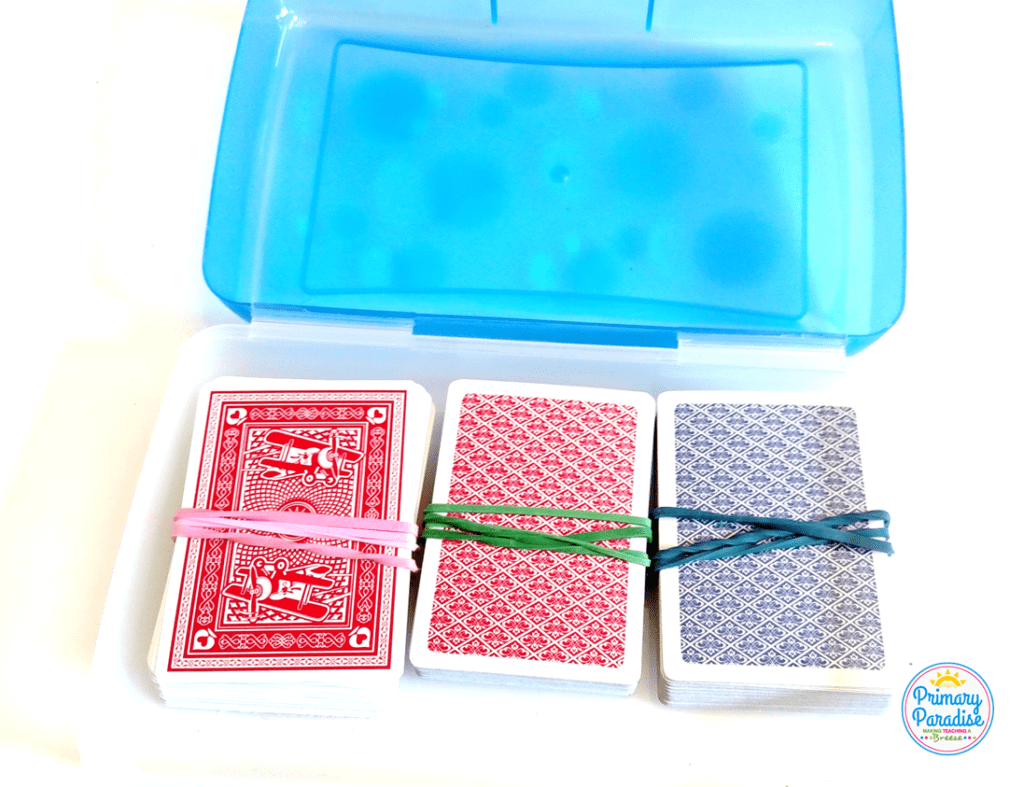 Playing cards are such a valuable center tool! They're cheap and can be used in so many ways!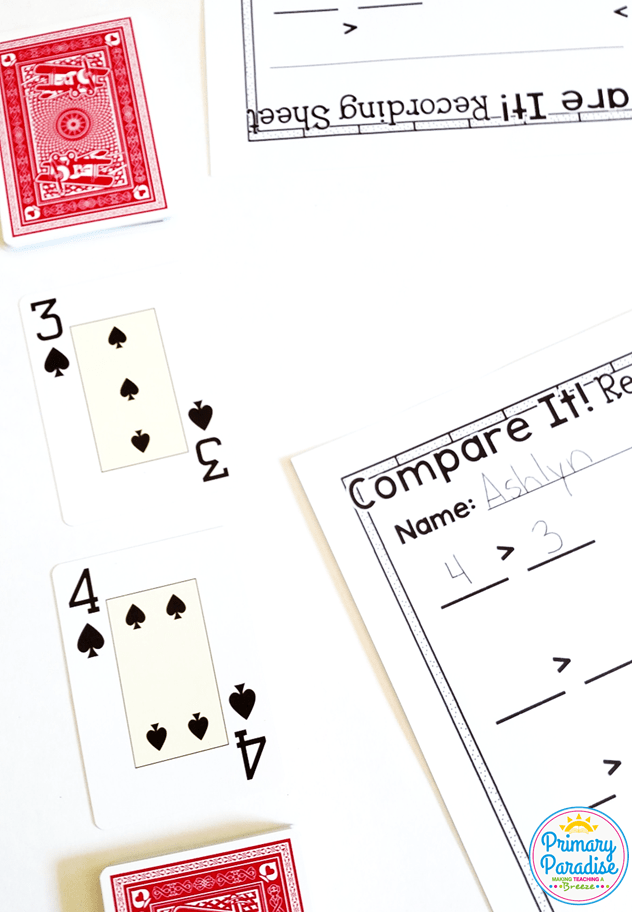 Did you play War as a child? Well, that just so happens to be one of my favorite classroom games! For obvious reasons, we refer to it as Top It, instead of War. This game can be played alone, but its best played in pairs. Each students places down one card at a time, they compare, and the student with the higher card keeps them both. This is the perfect game to work on comparing numbers! Add a recording sheet, and you also have a great way to keep students accountable.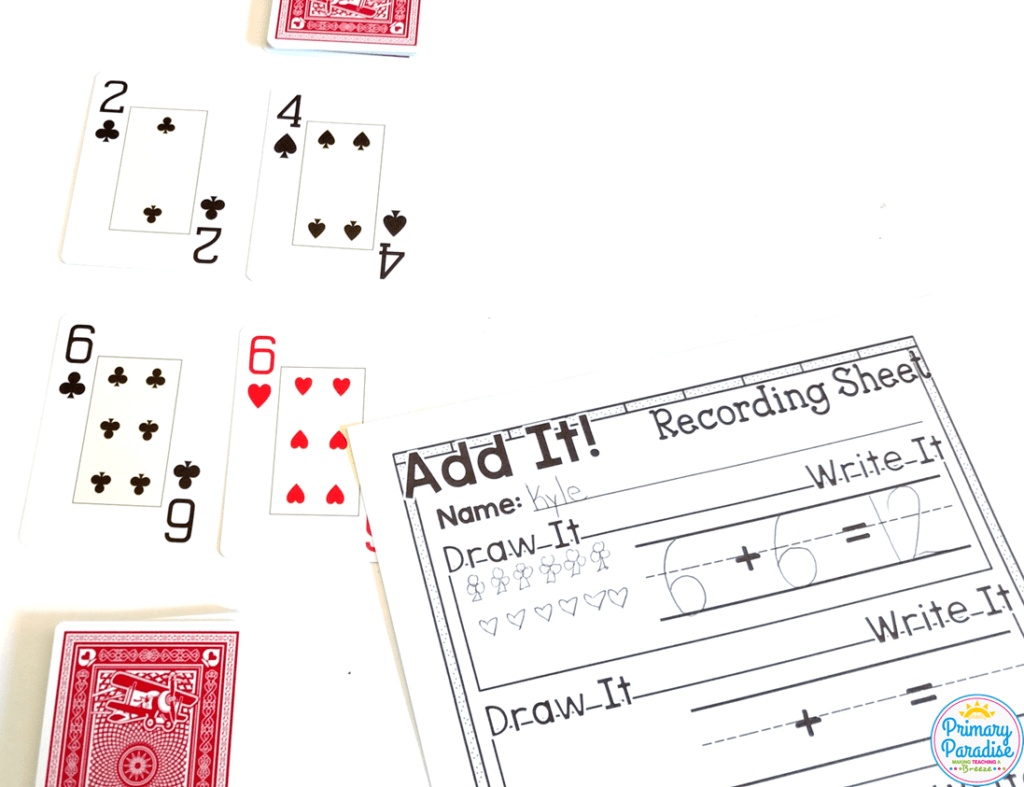 If you want to make it more challenging later in the year, have students play Addition Top It! The game is played the same way, except each student pulls out two cards, adds them, and then the higher sum wins. You can also play a subtraction version and you could even do multiplication! This game is not only extremely fun for students, but they're practicing so many key math and social skills. I like to buy my playing cards 2 for $1 at The Dollar Tree.
Dice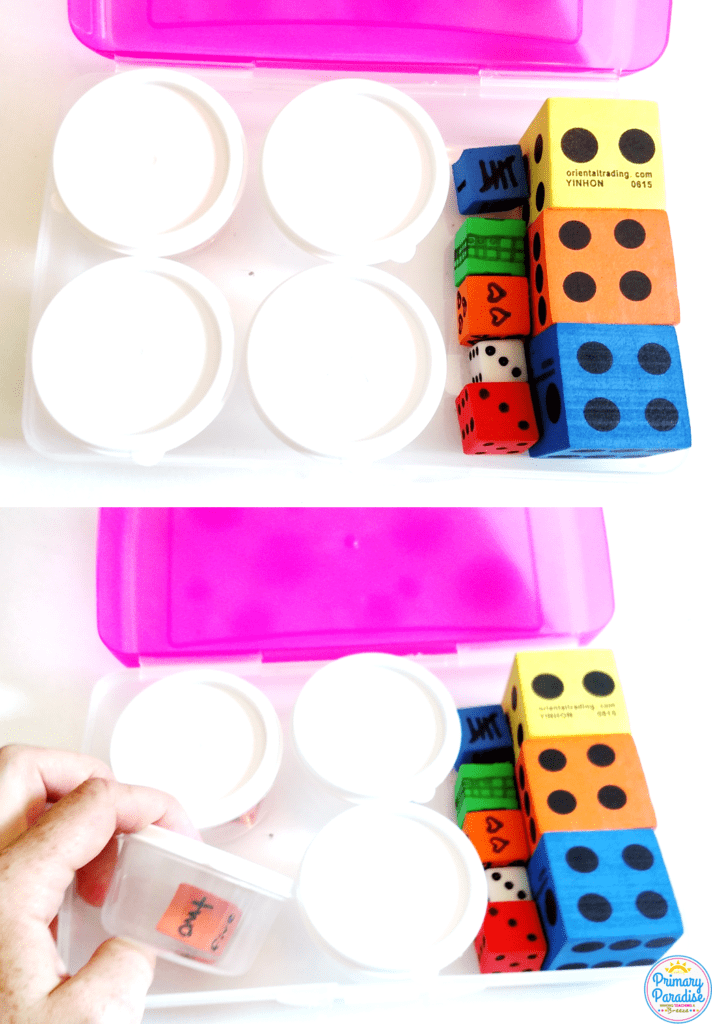 I've written a few times about my love of dice. In my opinion, they are one of THE best learning tools around because they can be used in SO many different ways. You can keep them in little plastic storage containers so students just shake them to roll, and you can even make your own unique dice with foam blocks!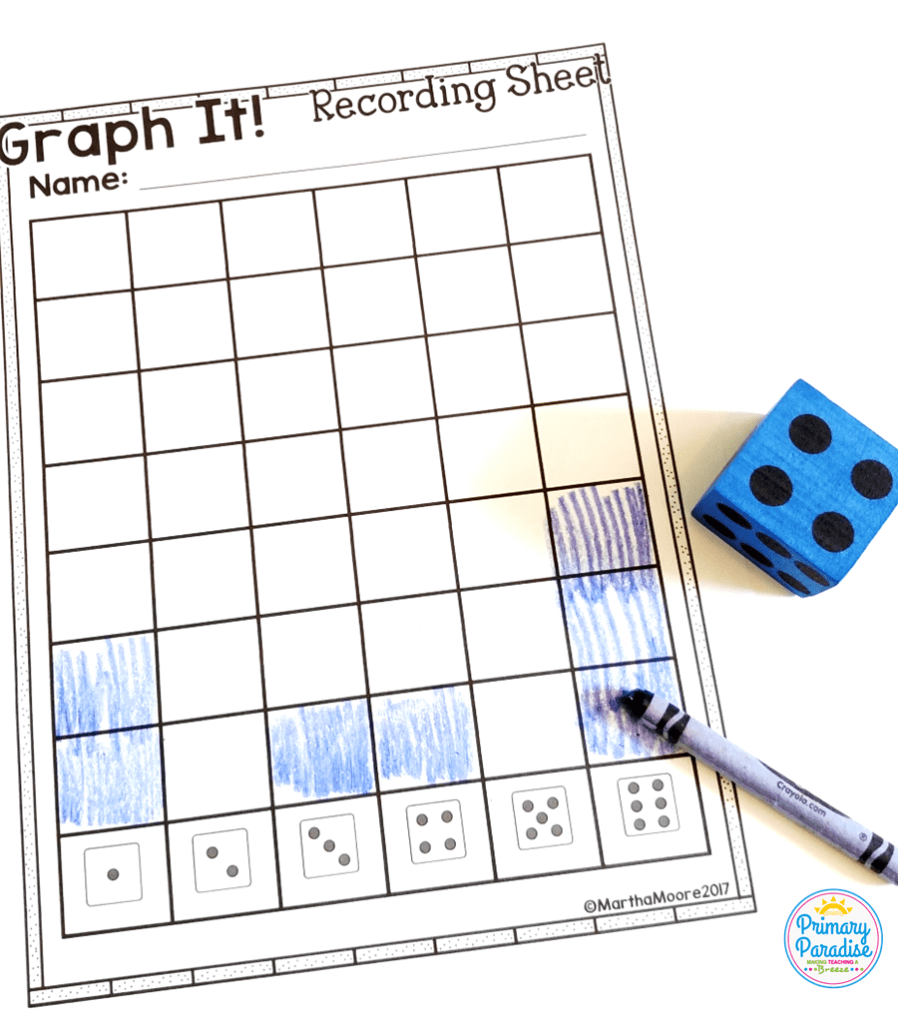 Give your students a die or two and a recording sheet and have them practice virtually every math skill- counting, adding, subtracting, graphing, making ten- the list goes on and on!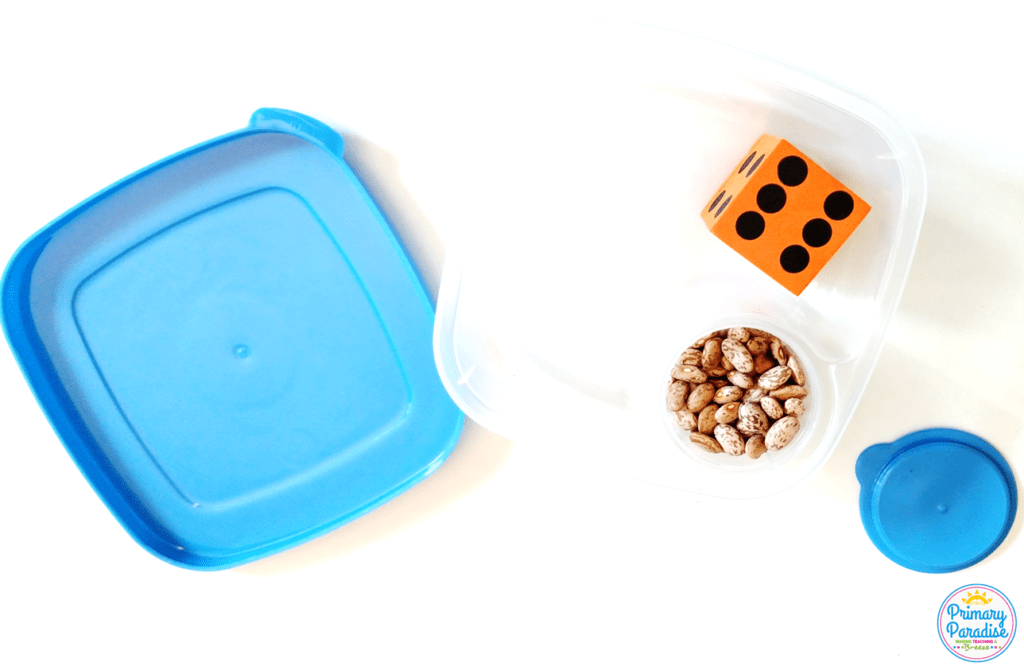 I also like to make it more hands on and concrete by using beans as well. These salad containers are from the dollar tree, and the small cup is the perfect size to hold beans. Students can roll the die in the container.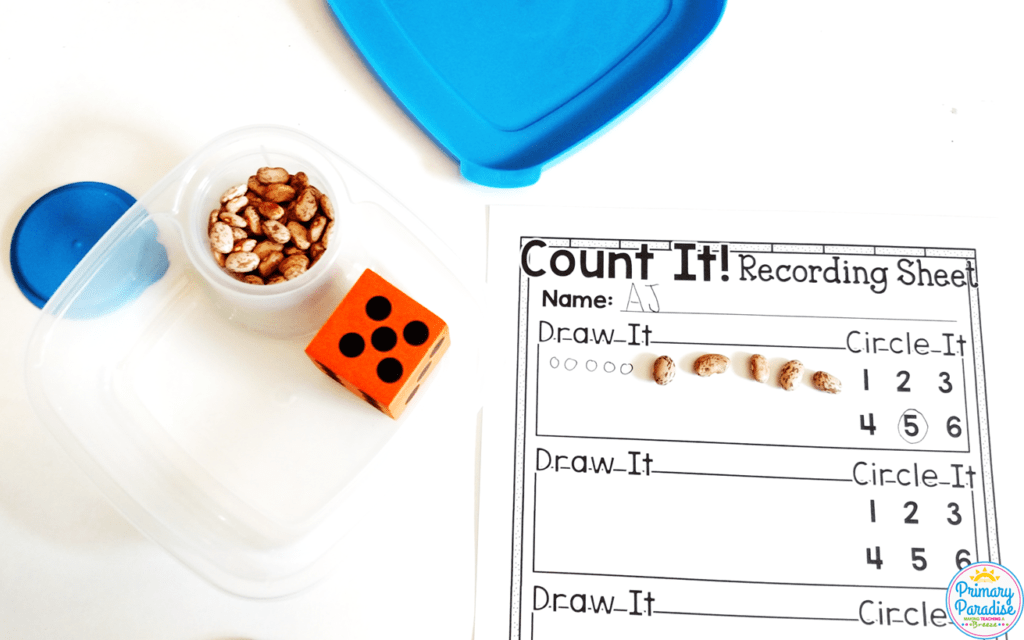 Students can roll, pull out that many beans, count, draw, and circle how many. This is a fantastic center for the beginning of the year in kindergarten, and even as a review in first grade.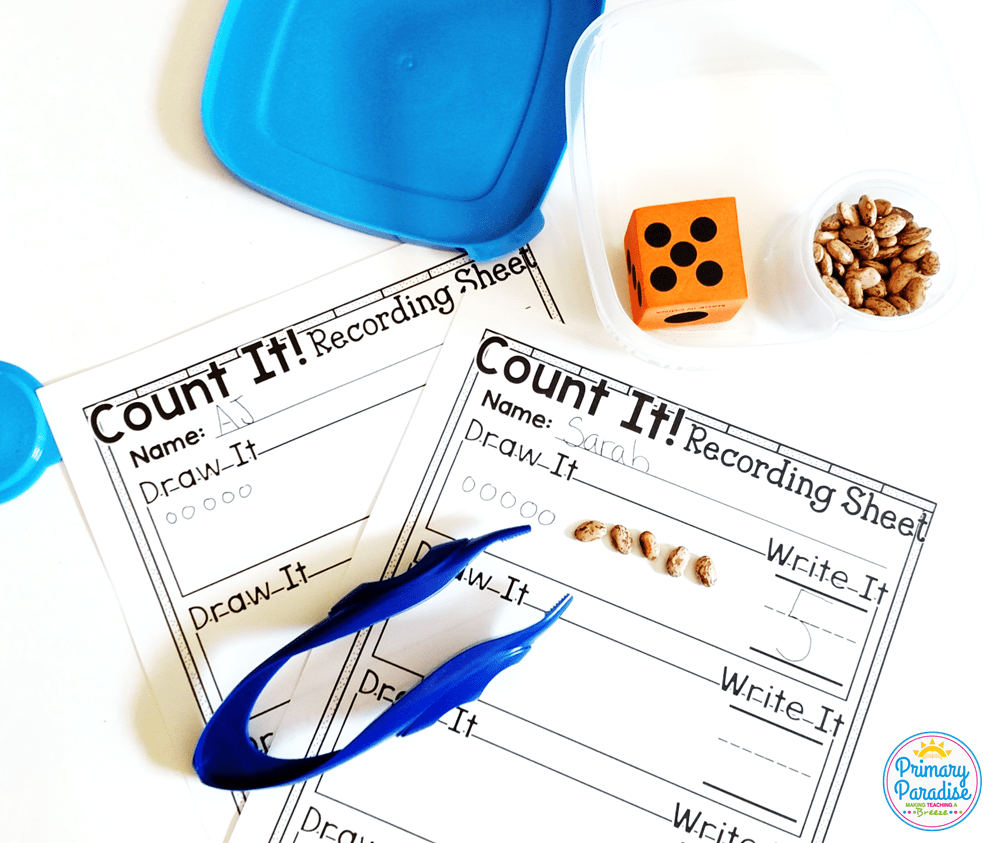 Add large tweezers to give your students some fine motor practice as well! As they are comfortable with numbers 1-6, you can add another die so they are practicing numbers 2-12.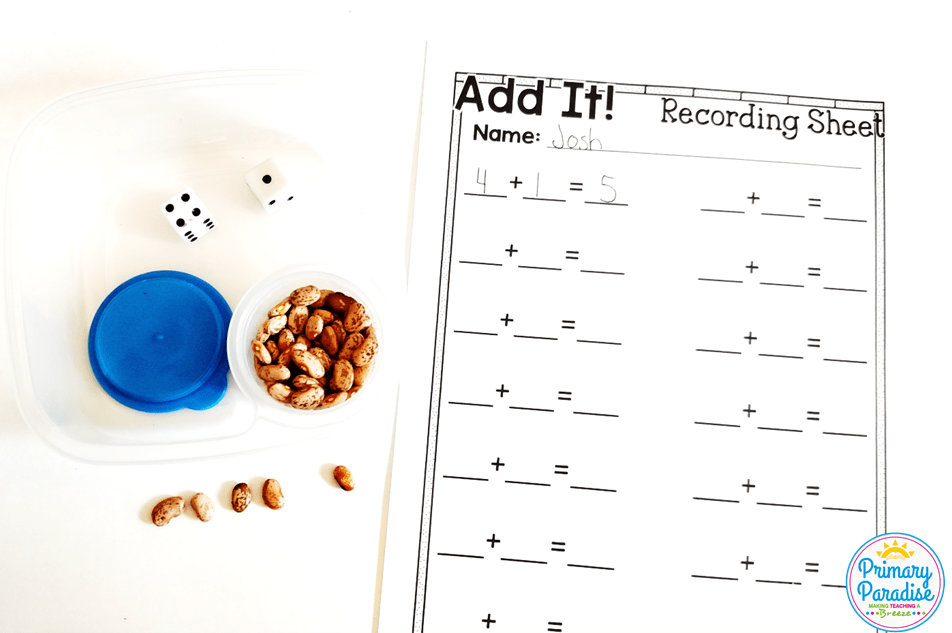 Then, you can move on to addition and subtraction! As students get more and more comfortable with the skills, around second grade, you can take away the beans so they're doing the computation in their head.
Beginning of the Year Ideas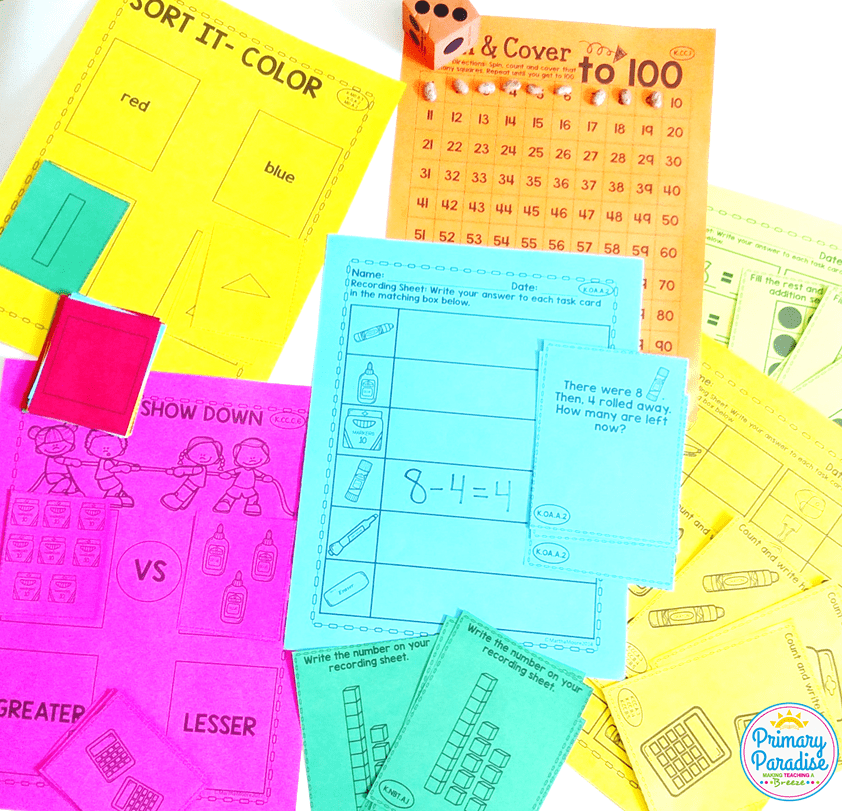 At the beginning of the year, I like to review the previous year's standards. It really helps me know where my students' strengths and weaknesses lie. My first and second grade low prep back to school review centers are perfect for this!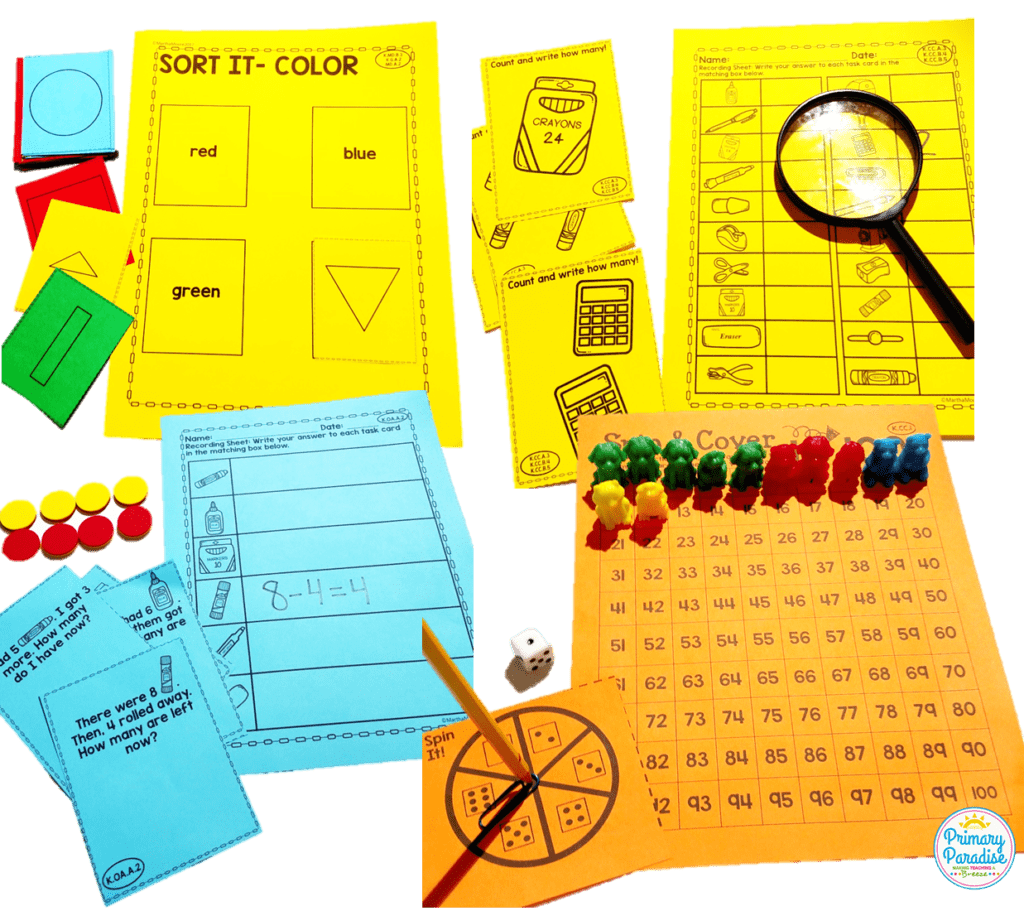 Bottle Caps
It's not secret that I'm a huge fan of recycling bottle caps, so why not use them for math centers? They can be used for number matching and recognition (freebie here), addition, subtraction- you name it! Simply have students pull out 2 caps and then add or subtract on their recording sheet!
Dominoes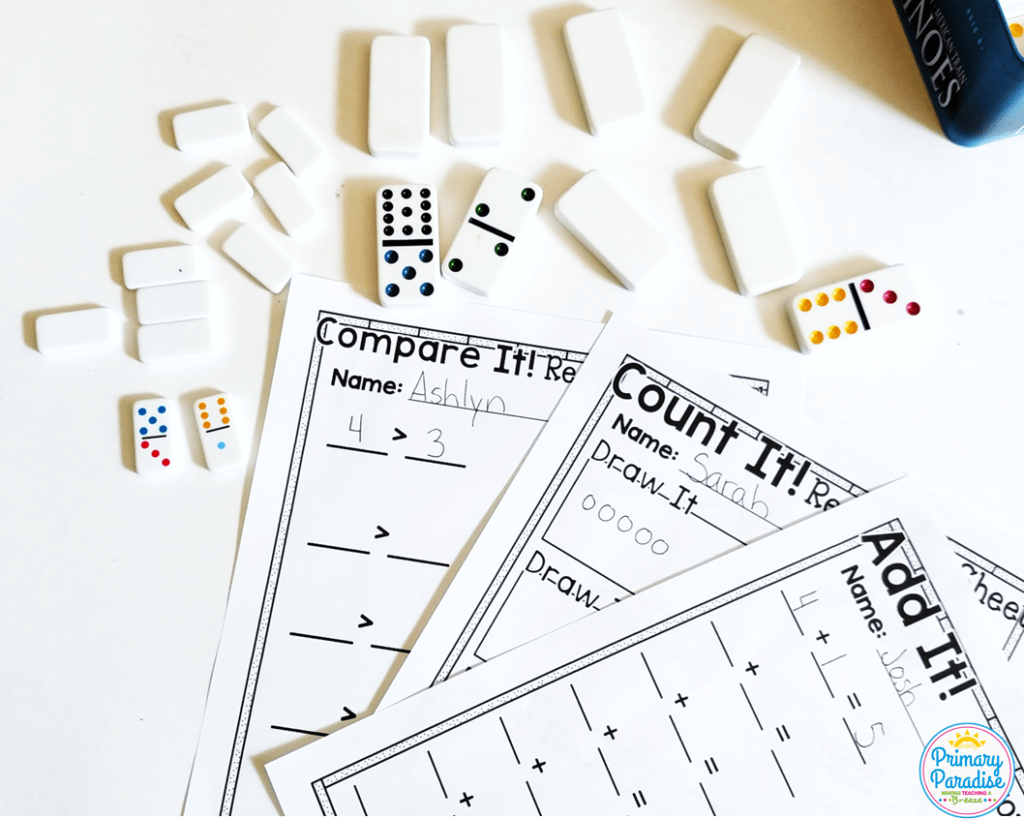 Dominoes are another fantastic tool for math centers! They're almost as versatile as dice. You can have students simple count the dots on one domino, compare the dots on one domino, add the sides together, or ever practice adding 3 and 4 numbers by adding more than one domino together! My students always loved the mini domino sets, which you can purchase from the Dollar Tree, but we used regular size dominoes as well.
Dabbers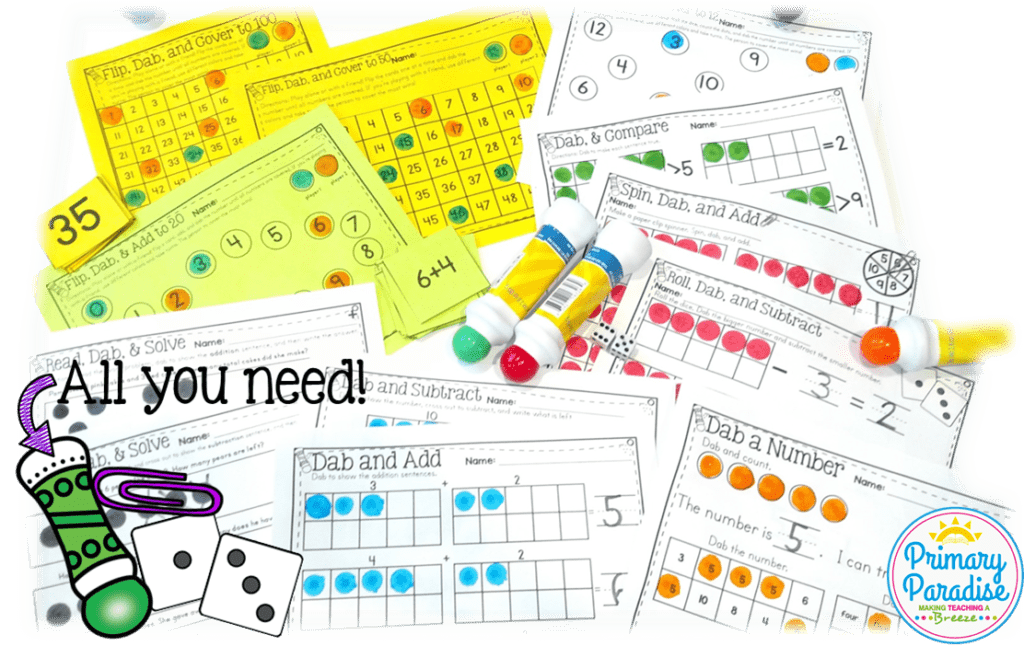 It is definitely no secret that I love dabbers (here are my all time favorite). My Dab & Learn Math games are perfect for centers and cover a variety of math skills for kindergarten, first, and second graders! You can read more about them here or check them out on TpT here. Oh, and did I mention they're editable?
Sorting Bins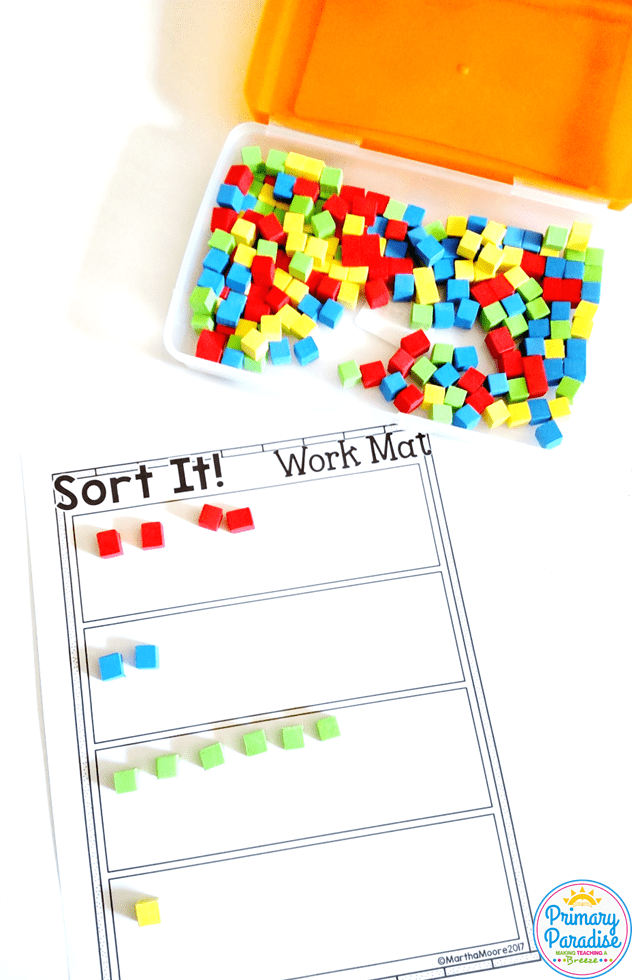 Want to make use of the math manipulatives you're currently not using? Sorting bins are perfect for this! This is such a fantastic activity for kindergartners, but even first and second graders can benefit from sorting practice. it's a life long skill that you can make more challenging by requiring them to sort by different attributes! This is also a great prerequisite to graphing!
Bowling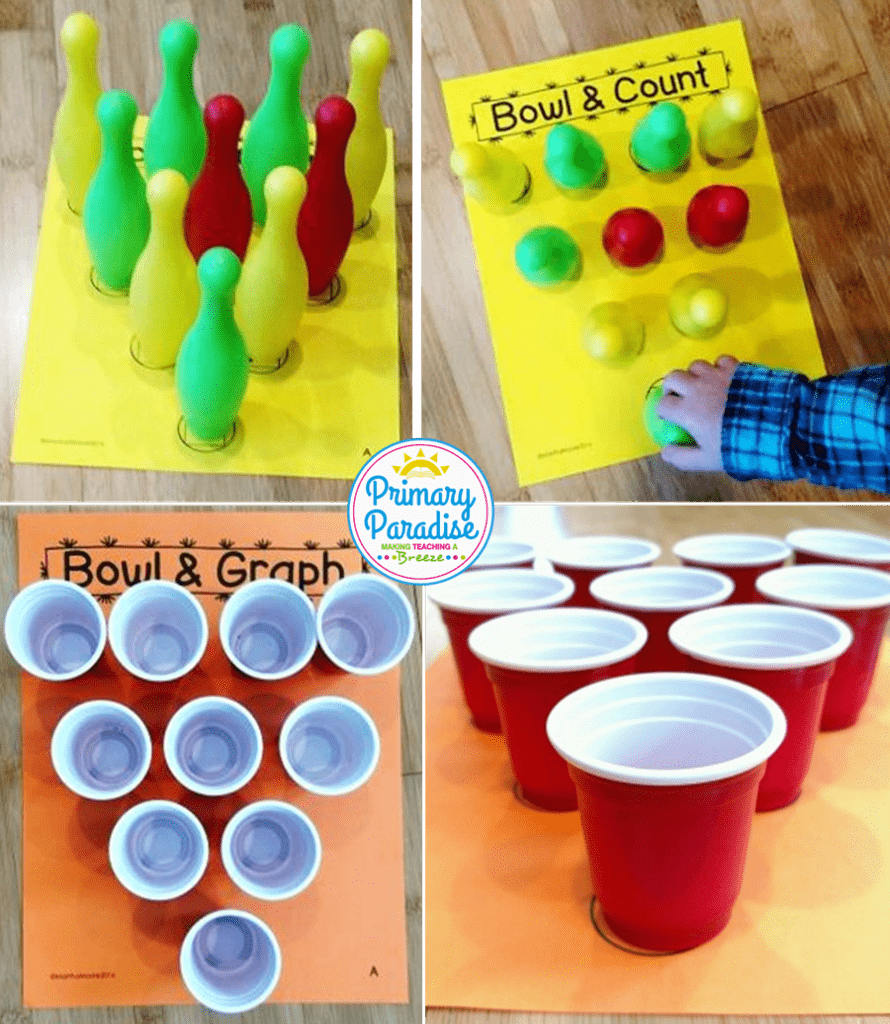 This is one of my favorite center options for two reasons: 1. Once students know how to play, as you change out the skills, you don't need to reteach. 2. It is the PERFECT center for those kiddos who really need to move.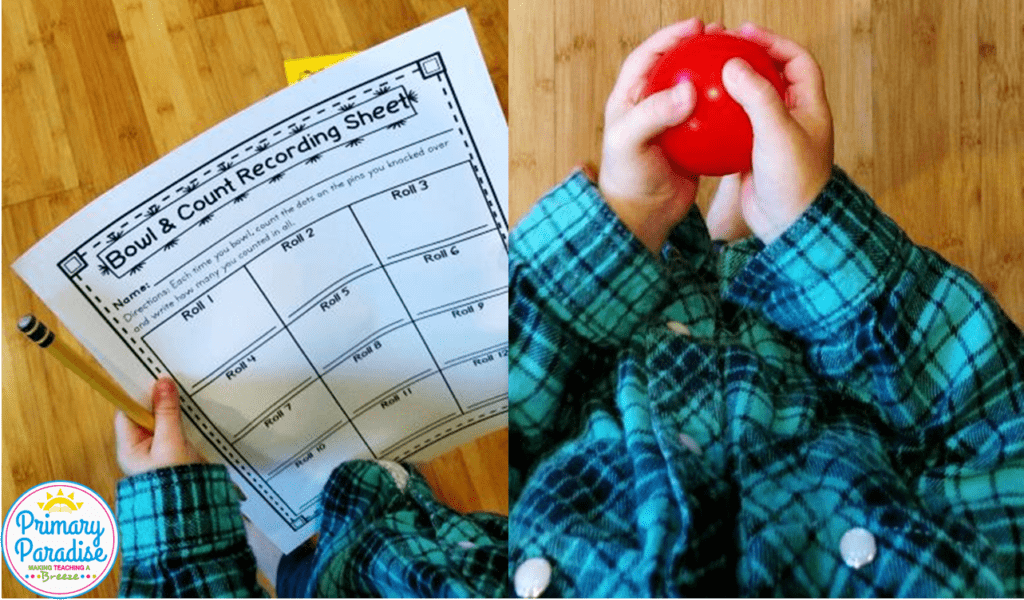 My Bowl & Learn Math Centers are a fun, hands on way to practice a variety of math skills! I purchased little bowling sets from the Dollar Tree, but you could also use toilet paper rolls or small cups.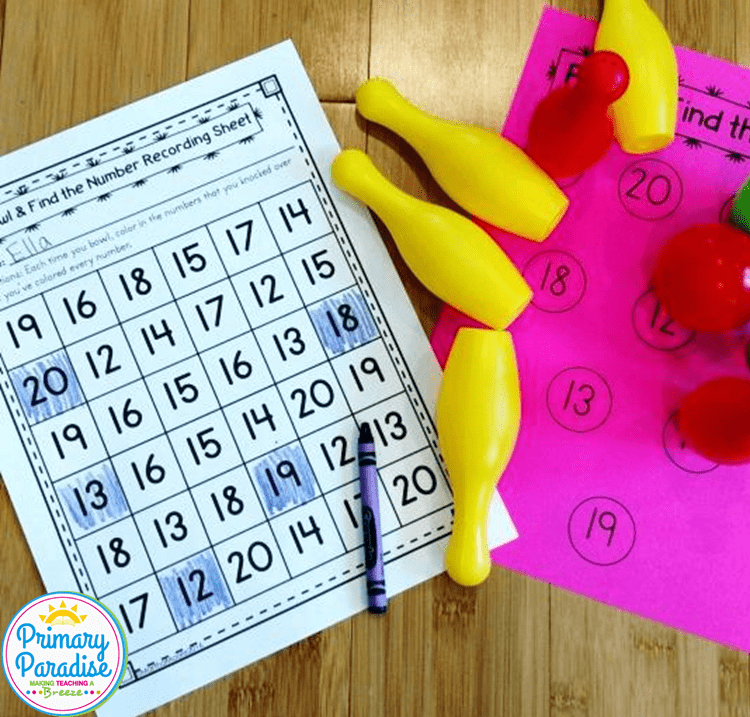 These centers cover a variety of skills, from number recognition, addition, graphing, shapes, and more! There are also a variety of recording sheets as well.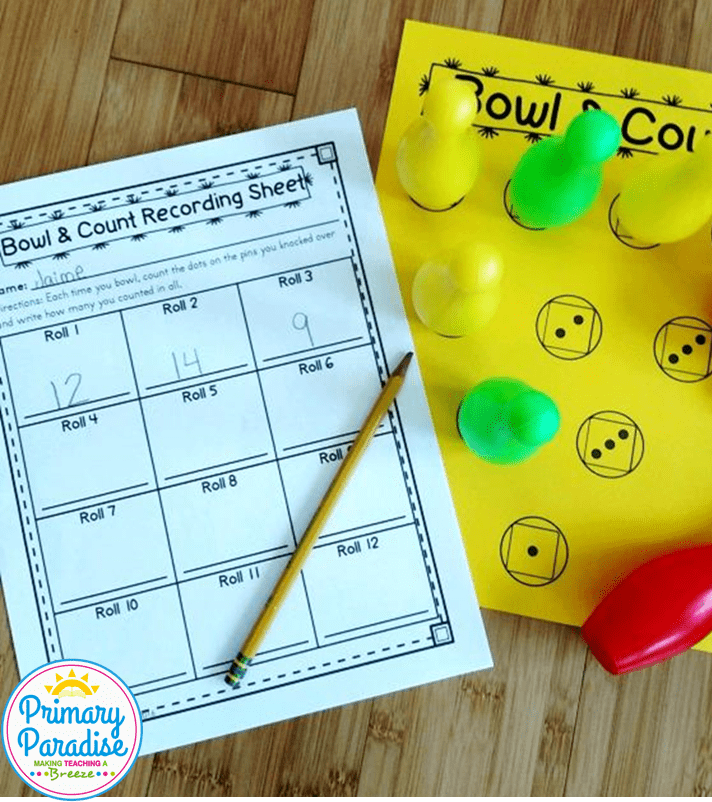 The Bottom Line
When it comes to math centers, I highly recommend using tools that students can use over and over again. If you teach your students proper use of materials at the beginning of the year, and then simply change up the skills you're working on, it will make everything run so much smoother!
If you enjoyed this post, make sure to like, comment, and share!