Popsicle sticks are an inexpensive classroom tool that can be used so many ways, from pulling student names to art projects, and beyond! Pinterest is FULL of ideas, but I'm excited to share 4 NEW ways to use popsicle sticks in your classroom.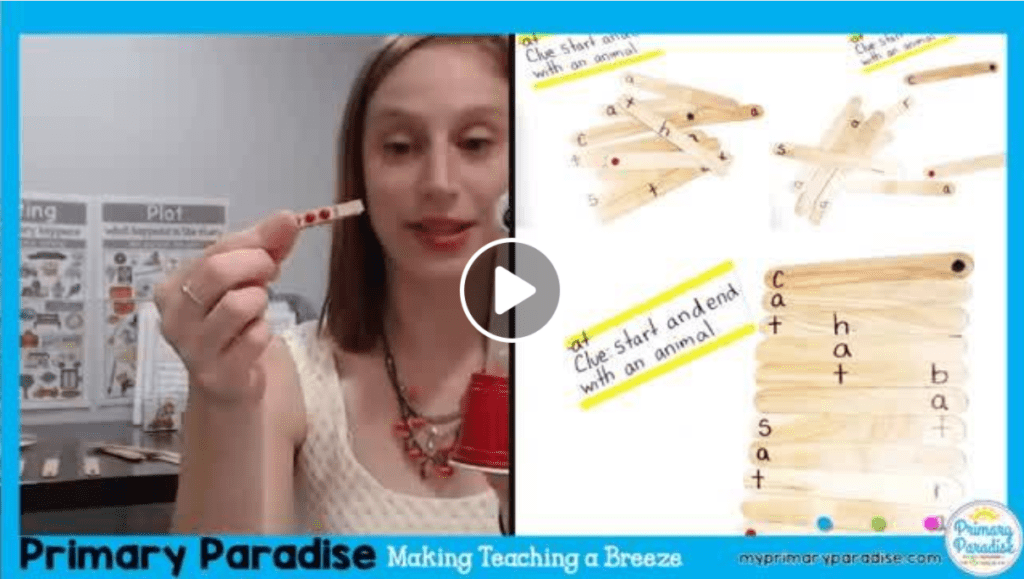 Materials You'll Need: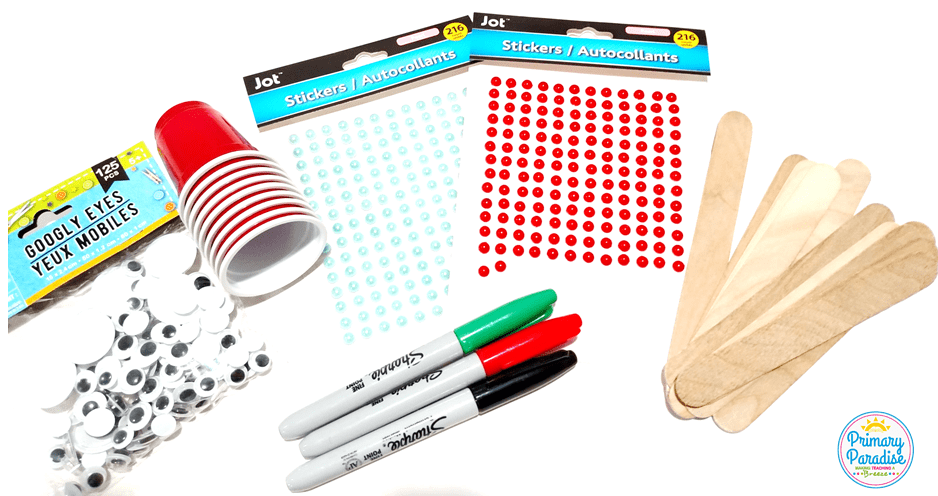 This post contains affiliate links.
These are the only materials you'll need: popsicle sticks (obviously), a black, red, and green sharpie, rhinestone/gem stickers, small cups, and googly eyes. I purchased all of these items at the Dollar Tree, but you can also find them on Amazon.
Tactile Counting Popsicle Sticks

Touch is such an important sense that is often overlooked when it comes to learning. Many students, especially young students, benefit from tactile activities to help cement their learning. These tactile counting still are a fabulous tool for students who are learning to count, identify numbers, practice one to one correspondence, and compare numbers!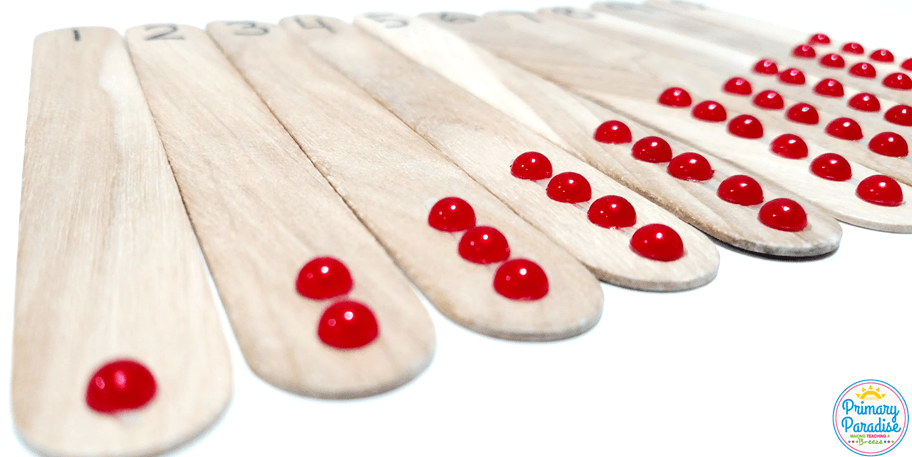 To create these, you will need 10 popsicle sticks, gem stickers (I found these at the Dollar Tree) and a sharpie. Simple place 1-10 gems on each stick and write the number in sharpie at the top. Students can touch and count the gems as they're identifying numbers, ordering numbers, and more.
Quiet Popsicle Stick Fidgets

 Although fidget spinners are all the rage, they're not necessarily the best classroom fidget option for your students. Most students who need a fidget tool need something to keep their hands busy with extra sensory input. This helps students calm down, focus their energy, or gives them something to do to keep their attention on their learning. These simple quiet popsicle fidgets are a fantastic option. Simple place a row of gems on the one or two sides of a popsicle stick. The student can tap, rub, or squeeze the stick/beads for that quiet sensory input that they need. The price is right, and students won't be trying to spin them on their forehead during your lesson (hopefully, anyway).
Popsicle Stick Help-O-Meter

If you have a student, or a few students, in particular who often need extra help, or maybe students who struggle with blurting, following you asking for help, or are particularly needy, having a quiet signal can be a life saver. This silly, cute, and easy to make help-o-meter fits the bill. Simply add 1 and 2 gems to the popsicle stick and a large googly eye on top. Then, cut a hole in the bottom of a small cup and stick the popsicle stick through. Give students a mini clothes pin (I added red gem stickers so it's easier to see). The default position is under the first gem. This means all is well, I don't need anything. When the student needs help, but it's not an immediate need, they move it to the 2 gems. When the students needs immediate help, they move the clothes pin to the eye which means "I (eye) need you right now."
Popsicle Stick Word Puzzlers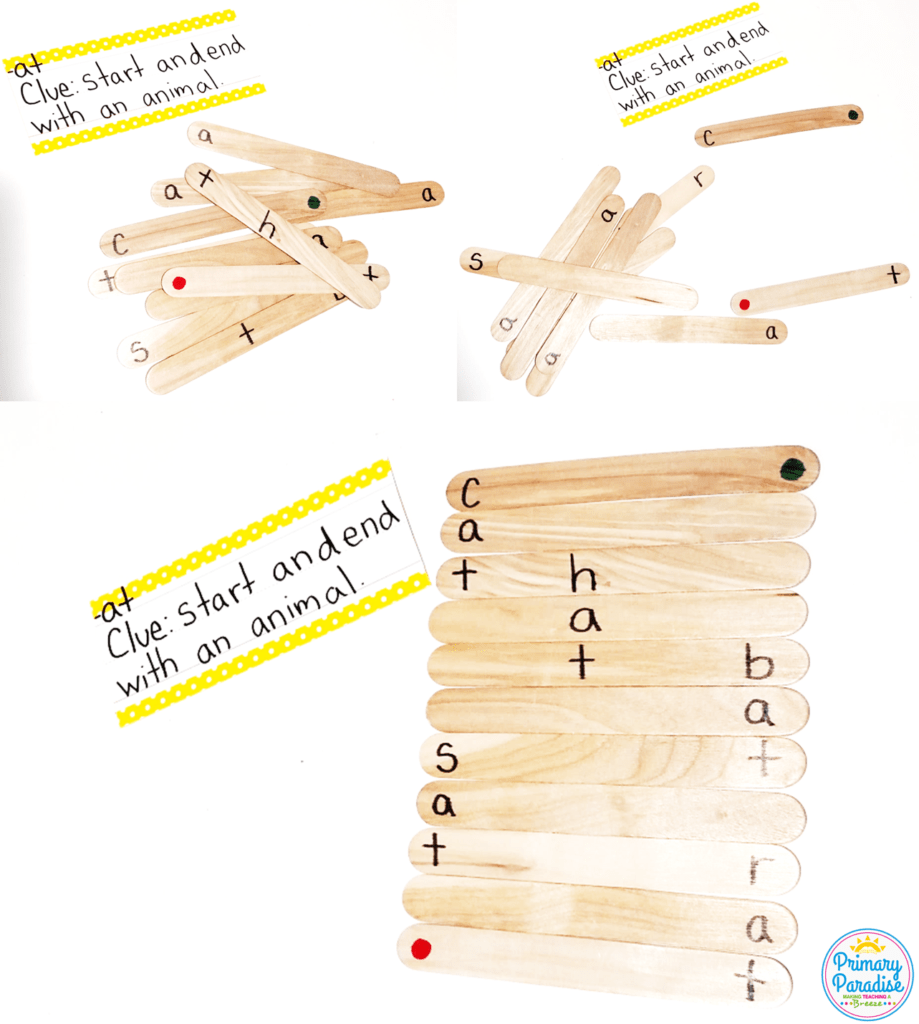 These word puzzlers are inexpensive and super simple, but pack a lot of educational punch! They allow students to practice phonics skills and logical thinking skills at the same time! Here's how to make your own and how they work.
Pick a phonics skill. You could do any skill you want, but to keep the explanation simple, we'll focus on CVC words. For this puzzle, I'm focusing on the -at word family. Pick 5 words to practice, and line up your sticks as pictured above. For CVC words, you'll need 11 popsicle sticks.
Write the first word vertically all the way to the left- CAT- one letter on each stick. Draw a green dot on the C stick. This indicates that this is the starting stick. Then, write your second word on the middle, starting on the T for cat. The last/first letters will overlap.
Then, write the next word all the way to the right. The next word goes all the way to the left again, and the last word goes all the way to the right. Put a red dot on the very last stick (this indicates that it's the ending stick.
Next, you can write a clue to help students with the puzzle. You can get creative, but it should be something that will help them figure out the order.
Mix up the sticks, and students can complete the puzzle! You could do this together with them at small group, or have them write or draw the words in order on a recording sheet.
The activity is super engaging because it's a little tricky! The popsicle sticks only work one way (with the exception of the vowels, which 2 could switch spots). You can create your own with any words, just be sure to model how to complete them before turning your students loose.