Like most of you, I've spent much of this year trying to gain a deeper understanding of the Common Core Standards. I've also worked very hard to teach some topics that I previously didn't include, or I only taught briefly, or I wasn't teaching "the common core way".
Don't get me wrong. I actually LOVE the new standards, and after attending a workshop on teaching the Common Core Math standards, I was overwhelmed excited and ready to do some revamping.
One standard that I really needed to improve upon was this one:
CCSS.Math.Content.1.OA.A.1 Use addition and subtraction within 20 to solve word problems involving situations of adding to, taking from, putting together, taking apart, and comparing, with unknowns in all positions, e.g., by using objects, drawings, and equations with a symbol for the unknown number to represent the problem.
With unknowns in all positions… okay then I'm up for the challenge. After going to my workshop and learning about the importance of this and how it ties to mathematical thinking, I knew I wanted to make sure I taught it and taught it well. I have previously taught this with addition, but honestly, never taught it with subtraction.
After we had learned about basic subtraction– the zero rule, all rule, one rule, think doubles rule, and using counters, I introduced what I called Mystery Number Subtraction with a story:
"I had 6 apples. I ate some. Now I have 3 left. How many apples did I eat?"
To my amazement, my students hands shot up in the air. "3! It's 3 because we know the double 3+3=6!"
Cool! I tried another one. "I had 8 legos. I dropped some under the couch. Now I only have 7 left."
Before I could even finish my question, all my students hands were up and shaking with that "Pick me! Pick me!" excitement. They quickly explained to me that I had to have dropped 1 because they know the one subtraction rule.
And so it continued! Mystery number subtraction was a snap! For the ones that we couldn't use our rules, we simply got out our counters to figure it out. They were even able to explain why they were doing what they were doing! Yay!
Since they were doing such an awesome job, I decided we should do a project to finish up our unit on mystery subtraction. I couldn't fine one anywhere! Even Pinterest failed me, so I came up with my own project.
Enter Hungry Bill…
Here's what we did: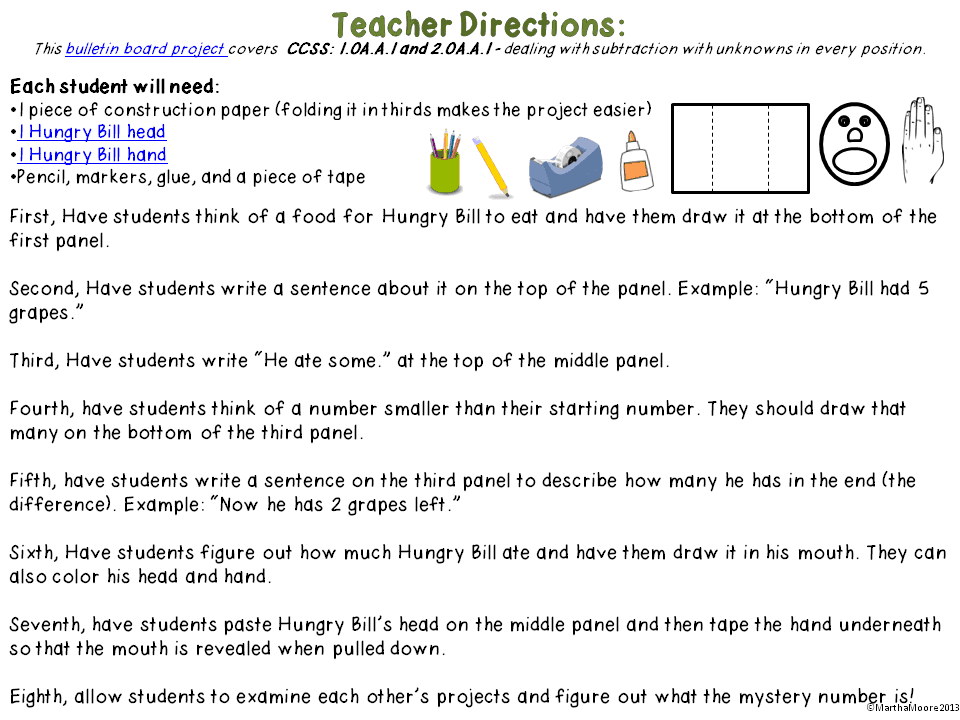 Here's what their project looked like. (This is my sample. Unfortunately I can't take pictures of student work.)
I thought this was such a cute, fun project, so I wanted to share it with all of you, especially since I couldn't find anything out there like it. If you'd like to try the Hungry Bill Mystery Number (Missing Subtrahend) Subtraction Project, just click on the picture below to download it from my TpT store for free. 🙂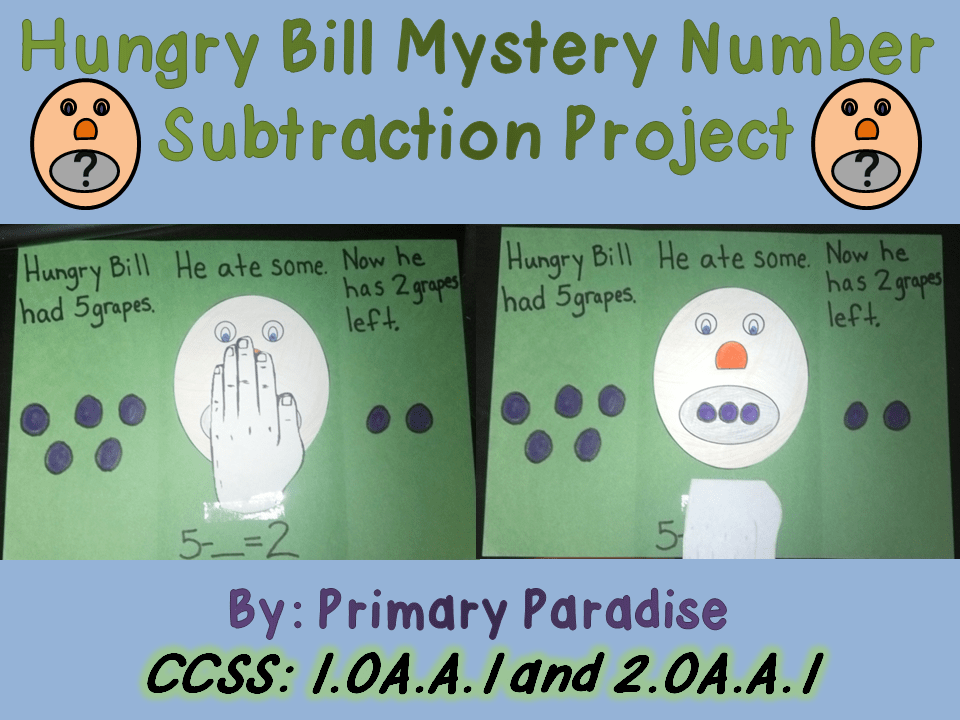 Enjoy your Monday off, and Happy MLK Day!
Martha from Primary Paradise