Hi friends!
I have some exciting news! We are inching closer and closer to Valentines Day. A few of my blogging buddies have gotten together to do something special to spread the love to all of you fabulous teachers out there!  I have joined up with 13 teacher bloggers to bring you the 14 Days for the Love of Teaching FREEBIE blog hop. It is exactly what it sounds like: 14 days of fabulous Valentine's day freebies!
We hope to make your planning a little easier, and bring some educational fun to the classroom. The blog hop will begin on February 1, at Ms. Smarty Pants. Click below to check out her blog! 🙂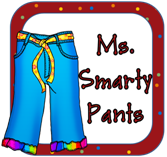 Make you sure you stop back to grab your freebies starting on February 1st! I am lucky number 14, so make sure you stop back early on V-Day to nab your freebie! 🙂
Happy Monday!
Martha from Primary Paradise