Did you miss my freebie post last week? I decided to take a much needed break in light of Easter, but now I'm back with 5 more FAB freebies for you!
Before we get to the freebies, do you like giveaways?? Welp, just so happens I'm running one right now that ends tomorrow! Click here to enter to win my 15 MORE Writing Lesson for Primary Grades Packet!
Let's dive right in. 🙂
Number 5.
I don't know about you, but I'm SO ready for summer. That's probably why I really like this subtraction center from Kamp Kindergarten. I also love anything that uses clothespins. This fun center will have your students feel like they're having fun in the sun while working on their facts!
Number 4.
My exact words when I came across this freebie from Jungle Learners were "Oh my gosh! So cute!" This is a fabulous little center where students need to mend the broken bones by matching the addition sentence to the sum. I would recommend pairing this with a toy stethoscope and a clip board, and your kiddos will LOVE it!
Number 3.
Here's a great freebie from The Teaching Bug for all of those early finishers. Print, laminate, and put together these adorable word wall spinners, and now your earlier finisher is engaged in a product learning activity (instead of hearing that dreaded I'm dooooone!)
 Number 2.
Here's a great one freebie from Love2TeachKG dealing with even and odd. I used to love teaching even and odd in first grade, but now the common core standards don't mention it until 2nd. I still liked to sneak it in every once and a while though. (shhh! ;))
Number 1.
I don't know about you, by my kiddos have always loved color-by-anything: color-by-sum, color-by-difference, color-by-sight-word, they love them all. That's why I love this color by word for April pack from KTP on TPT.
I hope that was worth the wait, and I'd love to hear which freebie is your favorite and how you intend to use it. Feel free to leave a comment below!
Have a a wonderful weekend!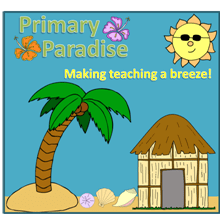 Martha from Primary Paradise
Want to receive the top 5 freebies and other great posts via email? Scroll up to the top and enter your email under "Don't Miss Out, Follow Me!"
Do you have an awesome freebie that you would like featured as one of my Top 5 Freebies of the Week?
Click here to fill out the form!