It's that time of year again when the weather starts to warm up, clothing starts to get a little smaller and less bulky, and visions of bathing suits start dancing in my head.
This is the time of year where I always decide to "get serious" about working out. I've also been a thin person, but I've never been "in shape". I normally have the hardest time getting motivated to work out, but I recently have figured out a few little tips that seem to work for me… at least so far ;), so I figured I'd share them with you.
First, find something you actually enjoy doing. If you hate running, don't run. I personally can't run because it kills my hip. When I started exercising, I really thought about what I like to do, which honestly isn't much when it comes to physical activity. However, I absolutely LOVE to roller skate, so I went on Amazon and bought a pair of skates.
Aren't they cute? I absolutely love using these. I am lucky enough to have an outdoor roller hockey rink at the park by my house, so I skate there every morning.
That bring me to my second point: timing. Pick a time that works for you. I personally know  that if I plan to exercise when I get home from school, it's SO not happening. I make myself get up a little bit earlier every morning so I can go skating first thing. Since it's something I like, I don't mind getting up a little earlier. Bottom line: if you're a morning person, exercise in the morning. If your a night owl, exercise at night.
Third, don't over-do it. In the past when I've decided to exercise, I've tried to do it every day for a long time. That quickly fizzles out. This time, I've decided to exercise for just 20 minutes at least 3 times a week. I try to do a little more if I'm feeling motivated, but I've learned that it's better to exercise for a short period of time 2x a week than to exercise not at all which tends to happen when I over do it.
Fourth, track yourself. I am not one of those people that writes down everything I eat or weighs myself everyday. All that does is stress me out. I do, however, like to write a little "e" on my calendar on days that I exercise. When I get to 10, I give myself a little treat like buying something small or taking some time me time to do something I really love. It makes me feel good to see consecutive "e" days. 🙂
Fifth, and finally, pick a realistic goal and write it down. My goal is to shed about 5 pounds and get back to my pre-wedding weight, but my main goal is to just be more active and healthier. I think it's really important to be realistic with your goals so you, again, don't get overwhelmed and end up sitting on the coach eating oreos instead.
So those are a few ways I motivate myself to work out. What do you do to motivate yourself, and what types of exercise do you enjoy? Let me know in a comment below!
Have a fabulous week!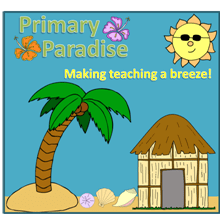 Martha from Primary Paradise