Oh, Saturday, how I love you!
I'm SO glad it's Saturday. I was SO in need of sleeping in a little. I don't know why,  but I've been super tired lately.
This weekend should be a fun one, too. This morning my hubby and I are helping with the ground breaking of our community garden and then I have a wedding of a childhood friend this evening. Fun, fun!
Before be get to the freebies for this week, I wanted to let you know that my Earth Day Packet will be on sale for $3.00 for today, tomorrow, and Monday. This thing has been selling like hot cakes, so if you're in need of some great primary Earth Day activities, click the picture below to check it out.
And if you'd like to create something on your own for Earth Day, hubby's Earth Day Clip Art is on sale for $3 as well.
Okay Here's what you came for! Here are my Top Five Freebies for this week!
Number 5.
I have to tell you, the samples were what made me pick this Acrostic Poem freebie from The Happy Teacher. I love the way that she shows that you can differentiate when have students complete this. Plus, April is National Poetry Month, and acrostics are poems that just about everyone can complete, even if you don't have a poetic bone in your body. 😉
Number 4.
Have you ever had an idea for a game, but didn't feel like making the cards? Look no further! This opened ended card game template from Word to the Wise (side note, LOVE that name!) is perfect for when you need to throw together a quick game, or if you don't have the artistic ability to create cards yourself. She even includes some fab game ideas!
Number 3.
I think that parts of speech can be so tricky for kids when they're first learning it. I have some tried and true tricks of the trade (hmm let's put that on my list of "blog posts to write"), and one of them is practice, practice, and practice! This sort from Tiffany Teaches is perfect for that practice, and it has a fun buggy theme!
Number 2.
I love teaching syllables, and this adorable syllable sort from Curriculum Castle is fabulous for a two reasons. First, it has a fun jelly bean theme and I <3 jelly beans. Second, it includes pictures on the word cards so students won't get stuck if they can't read the word! Love it!
Number 1.
I am always most impressed with those creatively simple ideas that make you think "Why didn't I think of that?" This fun reading activity from Cynthia over at 2nd Grade Pad is just such an idea. She let's kids know that they can even read a cereal box! Not only would this make a great center, paired activity, or early finisher choice, but it might be just the thing your reluctant readers need! (Cereal not included ;))

I so hope you enjoyed these! I know I am in love with these fabulous freebies!
Before I go, I just realized I've reached 200 blog followers! Woohoo! I'm going to plan something awesome this week to celebrate, so keep an eye out!
Have a great Saturday!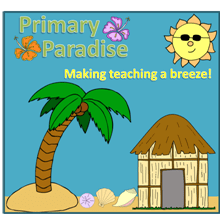 Martha from Primary Paradise
Want to receive the top 5 freebies and other great posts via email? Scroll up to the top and enter your email under "Don't Miss Out, Follow Me!"
Do you have an awesome freebie that you would like featured as one of my Top 5 Freebies of the Week?
Click here to fill out the form!