Happy May! I am SO excited that it's May! The weather's getting warm, and the end of the school year is so, so close!
Don't forget to stop by tomorrow for a BIG announcement. Hint:freebies, giveaway, and teacher appreciation. 🙂
Now, here are my Top 5 Freebies of the Week!
 Number 5.
I love this short and sweet game from Molly Lynch. It is great mental math practice, and you could always change up the rules but having them add a different number, or even subtract. This would be great for centers for early finishers!
Number 4.
I know I've mentioned before that I LOVE teaching syllables. It's just such a FUN skill that most students really enjoy. This adorable Little Red Riding Hood themed syllable sort from Christina Mauro would be a great center. The best part? The could listen to the book on tape, do the sort, and then use the pieces to retell the story!
Number 3.
I thinking teaching landforms is SO much fun, and this adorable land form student book from For the Love of First Grade would be a great tool to help students keep track of what they've learned about each type of landform! Check it out!
Number 2.
If you're feeling patriotic and your kiddos are working on irregular plural nouns, this freebie from The Teacher's Aide is perfect! It would make a great center for your 2nd graders who are working on  this tricky skill.
Number 1.
When I was growing up, my best friend (who is still my best friend) always loved ladybugs, so ladybugs have a special place in my heart. This adorable craftivity from Janet Rainey can be used to have kids write about the life cycle of a ladybug, or write a poem about a ladybug. It's super cute!
There ya have it! Make sure to stop back tomorrow for some teacher appreciation awesomeness!
Have a fabulous weekend!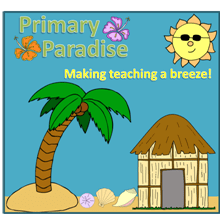 Martha from Primary Paradise
Want to receive the top 5 freebies and other great posts via email? Scroll up to the top and enter your email under "Don't Miss Out, Follow Me!"
Do you have an awesome freebie that you would like featured as one of my Top 5 Freebies of the Week?
Click here to fill out the form!