Hi All!
This weekend is going to be nuts! It is performance weekend for the children's play at my church, and the kiddos have been working hard for months. It's finally here, and I'm so nervous excited to see how it goes! I'll be backstage manning the props and making sure they hit their cues. Fun, fun!
Anywho, let's get down to it!
Here are my Top Five Freebies of the Week!
Number 5.
I am definitely a fan of simple, useful freebies. These clock numbers from Nayjat Murillo would be a great guide to put around your classroom clock as your 2nd graders are learning to tell time to every 5 minutes. I love that they're bright and colorful as well!
Number 4.
If you're looking for some bar and picture graph practice pages that your students will love, look no further than this freebie from 180 Days and Counting. I love these simple graphs with cute pictures and simple questions for Kinders or beginning of the year Firsties.
Number 3.
If your class is working on the at word family, this write the room freebie from K is for Kinderrific is perfect for you! I love the cute gumball theme, and I think students will think the activity is sweet!
Number 2.
As teachers, the amount of things we have to keep track of can be a bit overwhelming. That is why I LOVE these sign in sheets from Innovative Teacher! They can be used for so many different things from field trips to show and tell to back to school night.
Number 1.
This FREEBIE from Second Grade Smiles is one of those ingenious, practical resources that I just love. The 4 spelling homework grids could be used throughout the year, and the ideas of ways to practice your spelling words are fun and creative like "Write your words in chalk" or "Make up a cheer for the five trickiest words". I also think you could cut out just the grid part, laminate, and stick it in a word work center. Your students will never get bored with these fun ideas.
*Don't forget to leave feedback for these wonderful ladies who have shared their resources. :)*
 I hope you enjoyed my Top 5 Freebies this week! I really enjoy hearing what you think about them, so I'd love for you to leave a comment below!
I will be back (hopefully) tomorrow with an exclusive blog freebies AND a sneak peak into my theme for next year.
Now I'm off to watch the kiddos rock that stage! 🙂
Wish us luck!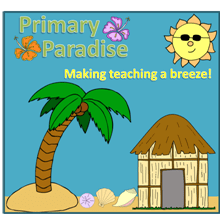 Martha from Primary Paradise
Want to receive the top 5 freebies and other great posts via email? Scroll up to the top and enter your email under "Don't Miss Out, Follow Me!"
Do you have an awesome freebie that you would like featured as one of my Top 5 Freebies of the Week?
Click here to fill out the form!