I am so excited for this weekend!
First, I'm going yard saling for stuff for next school year. I can't wait to find some awesome treasures! I'll make sure to post a picture of anything good. 🙂
Second, I'm having lunch with my 3 sisters and my dad to celebrate my dad's birthday. Yay! Happy Birthday Dad!!
Third, the play is OVER so Sunday is just church, relaxing, and getting ready for the week.
Don't you just love weekends? And speaking about things we love about weeks, you're probably here for my Top 5 Freebies of the week, so here they are.
Number 5.
When the end of the year draws near, I know I always want to create something that helps my students remember all of the great things they've learned and experienced. I love this free memory book from One Room Scholhouse because it allows the whole class to create one giant memory book! It would be great for students from Pre-K (teacher could write the words) to 2nd or 3rd! There is also an editable version!
Number 4.
Even though most of us aren't in school for the 4th of July, I think it's a really important holiday for our students to learn about. Why not learn about it at the end of the year? This 4th of July Writing Freebie from Lisa Lillienthal is a great resource to do just that.
Number 3.
Miss DeCarbo has a ton of wonderful word building activities in here TpT store. I love this little word build pack that uses summer words. These would be great for those hectic last few days of school. It keeps your students thinking and working, but allows them to start getting excited for summer time with the summer themed pictures and words.
Number 2.
If your kiddos like to play I Have, Who Has games, they will love this summer themed 1st grade sight word version from Merinda Powell. The adorable graphics remind them that summer is just around the corner, and they might not even realize that they're still reviewing key skills! Win-win!
Number 1.
One Word: Craftivity. What could be more fun at the end of the year than having your students complete a toadally adorable craftivity. You could have them write about what they plan to do this summer, their favorite part of the year, or you could have them write about why your grade is great, create a bulletin board, and leave it up to welcome your new students next year! The title could be "____ Grade is Toadally Awesome!" Whatever you choice, your students will love this freebie from Teresa Williams.
There you have it! I hope you enjoyed this week's freebies! I'm planning to revamp the submission process, so I'm not going to post the link below. I need to make a few adjustments. I'll post more on that later this week.
Now I'm off to make my yard sale game plan and hunt for some awesome deals. What are your plans for this weekend? Leave a comment below and let me know! 🙂
Thanks for stopping by and have a fabulous weekend!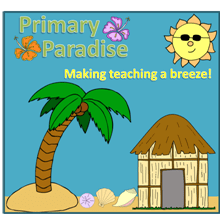 Martha from Primary Paradise
Want to receive the top 5 freebies and other great posts via email? Scroll up to the top and enter your email under "Don't Miss Out, Follow Me!"