Hi All!
I hope you're enjoying your last few days/weeks of school! Students at my school have 21 days left (but who's counting ;)).
I wanted to let you know that I've decided to make some changes to how you can submit a freebie to my Top 5 Freebies of the Week. I am no longer using a google doc form. Instead, you can submit right here from my blog! Just click the "Top Five Freebies Entry" on the top of my blog.
That will take you to this screen. Just fill out the boxes. Each box is required.
Now, the second to last box asks you to upload a photo collage of your freebie. This is new. I had been doing this myself, but I've decided that I am going to start having you guys do it. It honestly just tends to be too time consuming since I'm doing 5 a week. Also, it allows you to show off your favorite parts of your freebie. 🙂
Here's the easiest way to make a photo collage of your freebie. You can do it a different way, of course, but here's what I normally do.
Open up your freebie and view the PDF full screen like this.
Take a Print Screen and then paste it into a photo editing program. I use MS Paint, and it works just fine.
Use your selection tool, and select the cover page only. Then copy it.
Paste it into PowerPoint.
Repeat those same exact steps with 2-4 more pages you'd like to show from your freebie.
I like to put a black border on the edge of any white pages. I just think it looks better. Click on all of the pages you want to put a border on, click on picture tools, picture border, and select your color.
Now you can just play around with arranging the pictures in a way that is aesthetically pleasing. Make sure your cover page and name is visible.
When you're happy with how it looks, click on all of the images, click on picture tools, and click on group. This basically makes them come together as one big picture.
Once you've grouped the images, you just need to save it as a picture. Right click on your collage, click save as picture, name it, and you're ready to upload it!
Now all you do is fill out the Entry Form, and you're ready to go. I know it might seem like a lot of steps, but when you actually do it, it's really not that bad. I hope you'll try it out! I'm already looking for freebies for next week!
Have a great day!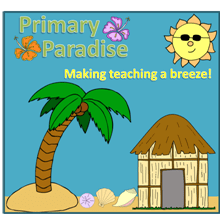 Martha from Primary Paradise