Hey everyone! I hope you've had a lovely week. I am finally officially done school now and ready to enjoy some ready, rest, and fun! What have you been up to this week? Leave a comment below.
And now…
Number 5.
Your kiddos will love to bite into this adorable freebie from Crayonbox Learning. It features a cute watermelon shaped word book with 16 summer themed words, alphabetization writing sheet, watermelon cut and paste activity, and a watermelon sentence writing activity. Perfect for some summer fun!
Number 4.
If you're in a grade that focuses on plants, this guided reading freebie from Comprehension Connection is just what you need. It accompanies the book A Tree is A Plant. This is a great way to incorporate science and reading into one lesson.
Number 3.
I love this freebie from Christina DeCarbo because it's perfect for any classroom that has iPads or any other kind of tablet. These posters will teach your students how to take care of the tablets and how to use them carefully. Perfect for back to school!  There are 7 posters included within this pack. 🙂
Number 2.
This cute freebie from Marci L contains everything you need for a research report in the classroom. It hits many of the Common Core Writing & research Standards. All your students need to add is their research! What a great activity for summer time.
Number 1.

I love technology! That's why I love this awesome PowerPoint/SMARTboard game show from Tiny Toes. Each category of the game is one of the State Standards and clearly marked. This PowerPoint game can also be played on your SMARTboard.
There you have it! Thanks for stopping by, and don't forget to leave feedback on these awesome freebies!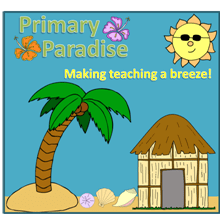 Martha from Primary Paradise
Want to see YOUR freebie here next week? Click here to fill out the simple entry form! 🙂
Want to receive the top 5 freebies and other great posts via email? Scroll up to the top and enter your email under "Don't Miss Out, Follow Me!"