Is it really already July? That just does not seem possible! Summer needs to s-l-o-w down. I still have 2 months of summer since I've only been out of school since the end of June, but I know some of you have already been out of school for over a month.
Speaking of July, did you know that I'm celebrating a Christmas in July Blog Hop with some of my lovely blog friends? Click the button below to grab some freebies and enter to win 17 products!
Also, my whole store is 20% off today and tomorrow. It's a great chance to stock up for next year!
Click here to check out my back-to-school resources.
Click here to check out my 3rd and 4th grade resources.
Click here to check out my most popular resources.
Click here to check out my newest resources.
Speaking of next year, here are some freebies you just might want to tuck away for next year. 🙂
Number 5.
Need a quick, easy behavior management idea? Try these free punch cards  from Grade One Snapshots! Simply print out a copy for each student and use your hole puncher to note each time a student does the specified behavior or task. The student can then trade the punch card in for a chosen tangible or intangible reward. (If you're like me and have a fun shaped hole punch, the kids might like it even more!)
Number 4.
For those of you with kids, have you started to hear the inevitable summer "I'm BORED" yet? If you have (or even if you haven't) check out this awesome free writing packet from TheWriteStuff.
Number 3.

I love these adorable pre-primer sight words flash cards from Pirate Girl's Education Invasion. They would be great for kindergarten, or for first graders who are still reviewing these important words. I also love the fun, apple theme!
Number 2.
I love this simple and cute workstation from One Room Schoolhouse. Students can practice making numbers 5-10. Just print, laminate, and cut. Students match the addition problem to the correct sum. This would be great for kindergarten or early first grade.
Number 1.
I. Love. This. Freebie! Here's one for my upper elementary friends from What I Have Learned (love that name!). This foldable will help to strengthen understanding of place value and expanded notation. It comes in six different versions, and is, well, GENIUS! I plan to practice having them make these both ways, folded first and opened first. I love this creative freebie!
There you have it! Thanks for stopping by! Please make sure to go and leave some feedback for these fabulous freebies!
Have a lovely weekend!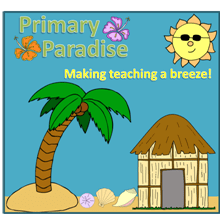 Martha from Primary Paradise
Want to see YOUR freebie here next week? Click here to fill out the simple entry form! 🙂
Want to receive the top 5 freebies and other great posts via email? Scroll up to the top and enter your email under "Don't Miss Out, Follow Me!"