After this past week, my kiddos could certainly answer that question with a big YES! This week we learned what the setting is, what makes up a setting, and why on earth it matters so much! My kiddos rocked it, so I'm here to share what we did.
I know that spending an entire week on setting might seem like a lot, but I really want my students to understand (as a reader and a writer) that every aspect of the story matters, so we've spent a week on character (here and here), a week on setting, and will be spending a week on problem and solution, and a week on plot before we move into the all important category of non-fiction texts for a while.
You all know I love a good anchor chart! Here's the one I created for setting.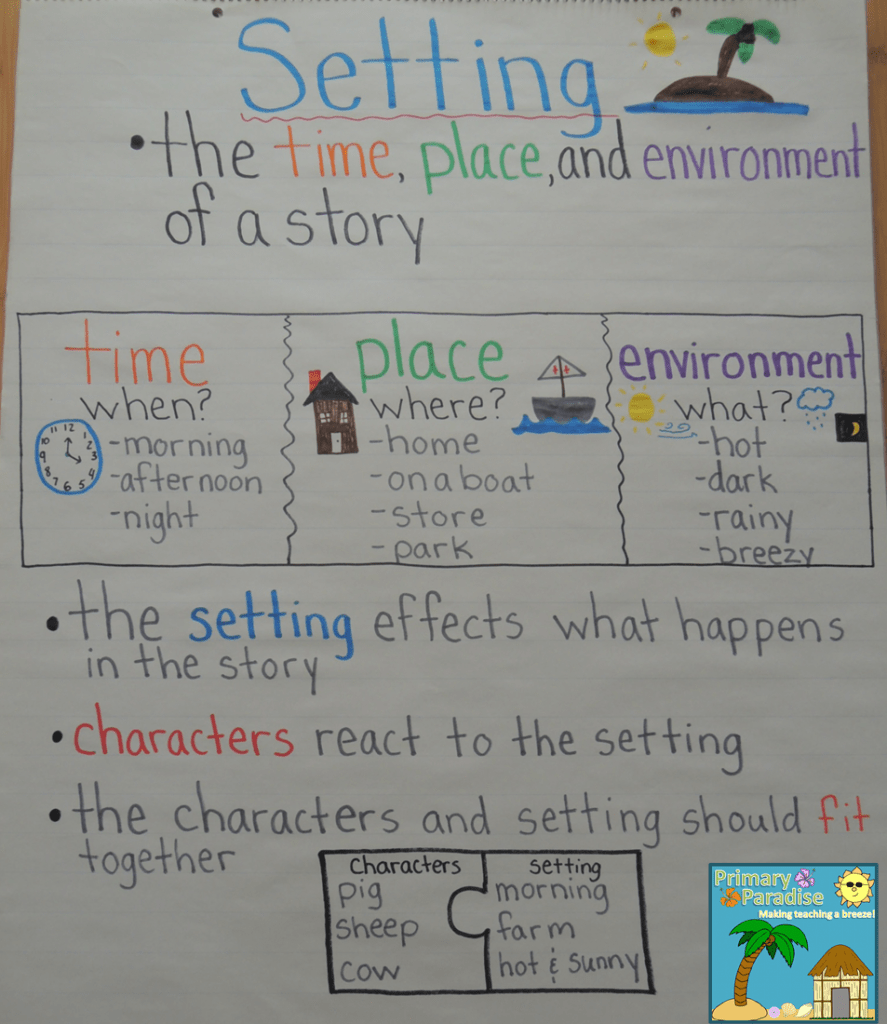 When I taught 1st grade, we said setting was the time and place. Well, in second I knew I had to step it up a notch, so we defined setting as the time, place, and environment. Time is when the story happens. Place is where the story happens. Environment is what the place is like.
We read a different book everyday with a well developed setting, and then charted the setting together.
Here are the books we read.
Owl Moon
This is a GREAT book for teaching setting because of the beautiful descriptive language.
My Little Island
Another great book for setting as it describes a unique, tropical island.
Cactus Hotel
This book details the life of a cactus in a hot, harsh, dry desert. Not only is it great for setting, but students were amazed to learn how long a cactus takes to grow. At the end of the story (spoiler alert) the cactus falls over and dies and lizards and other small animals use it as a home. One of my students said "Aw, that's sad that it died!" and another said, "Yeah, but at least it's still useful!" Such smarties!
Cloudy with a Chance of Meatballs
This book is a classic and is SUCH a fun way to teach setting.
The Moon Ring
This is a great book to show how setting can change throughout a story.
Everyday, after we read, we discuss the setting and charted the time, place, and environment of each story on a chart.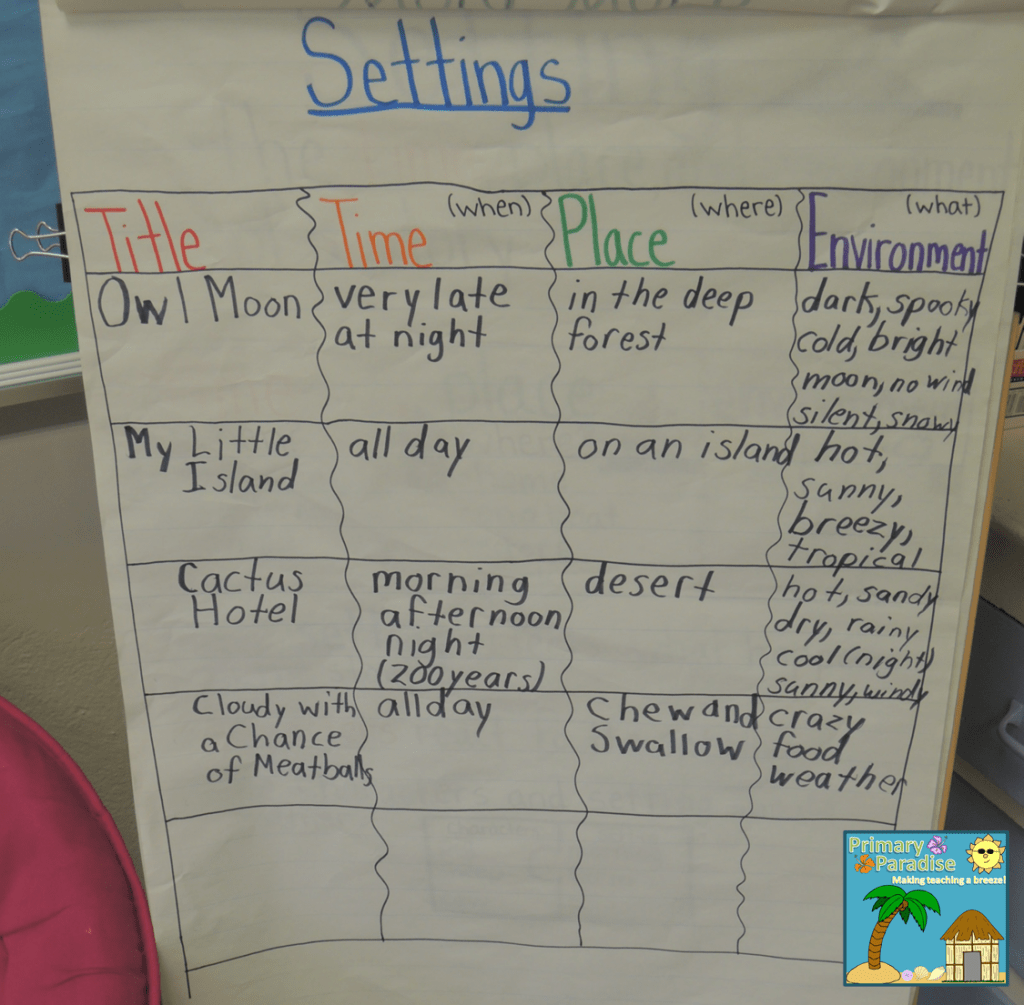 When we read Cloudy with a Chance of Meatballs, I gave my class clip boards and this graphic organizer.
(Click on the picture to download it for free.)

It's nothing fancy, but it did the trick! They LOVED comparing where they lived to Chewandswallow. Unfortunately, I forgot to take a picture of their awesome work.
When we read The Moon Ring on Friday, we didn't chart the setting since there were a bunch, but rather we discussed each setting and how the setting can change.
At the end of my lesson on Friday, I simply asked my students why setting matters.
Here are their responses:
"It matters because it changes what will happen in the story. Like if it's cold and snowy something different will happen than if it was hot and sunny."
"Characters react (he really used the word react) to what the setting is like."
"The setting and the characters need to fit and make sense together."
It was one of those "YES, they get it!" teacher moments!
I then sent my lovelies off to pick a fiction book from their book boxes, and they completed this graphic organizer.
(Click on the picture to download it for free.)

So that's how we learned about setting! How do you like to teach setting?