How do you prevent the summer slide without requiring a lot of time or supplies while making it meaningful and engaging? That'a a tall order, but not impossible! Today I'm going share the BRAINtain program that saves you prep time, is easy for parents to use, and engages students daily!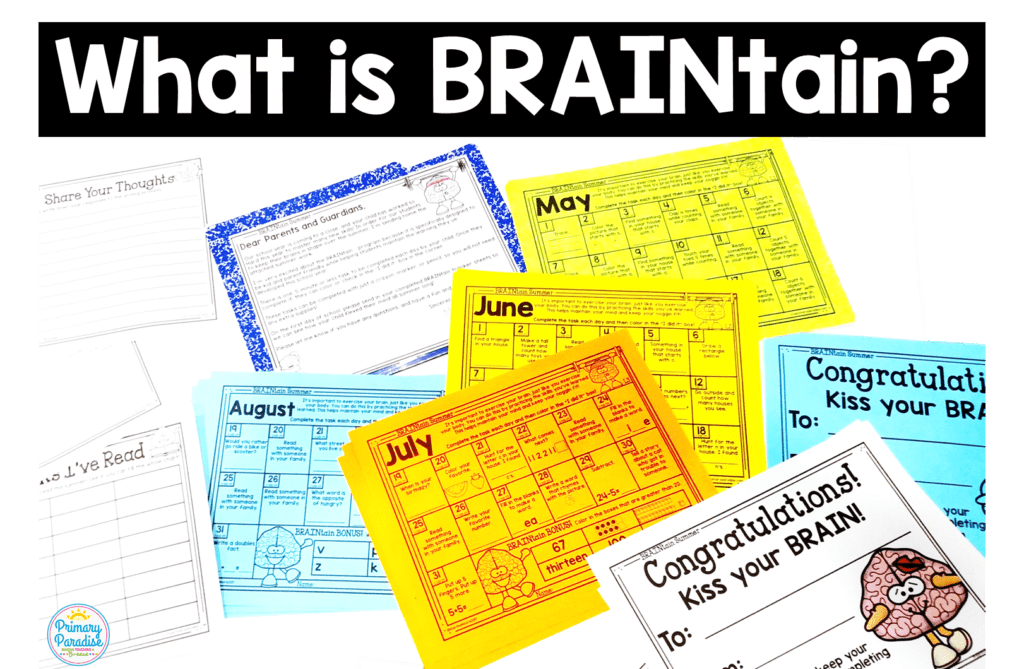 So, what is BRAINtain anyway?
BRAINtain is a combination of brain and maintain because these exercises for the mind will help your students maintain the learning that they have worked so hard to gain this year.
Highlights:
Print & Go- TRULY no prep!
5 minute or less a day
NO supplies needed beyond any writing utensil
a fun and engaging variety of activities
made to easily differentiate
EDITABLE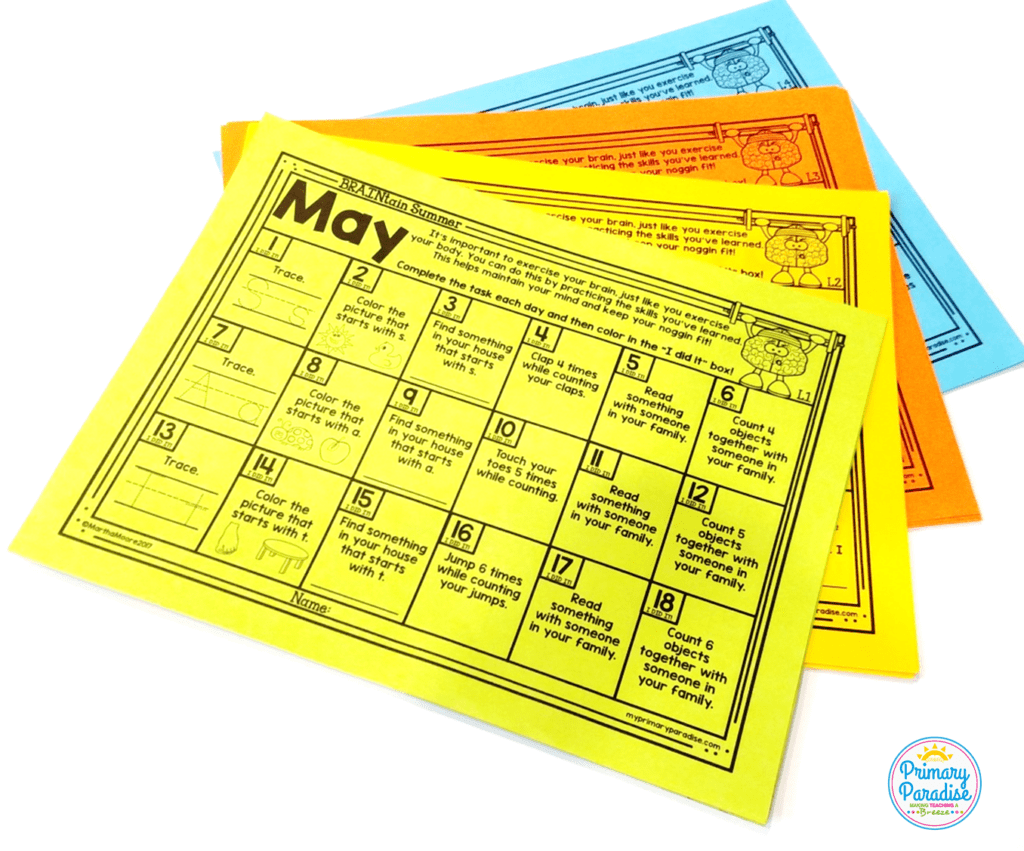 Easy for Teachers:
BRAINtain is designed with teachers in mind. The end of the year is busy and hectic, and you don't need more work. That's why the print and go BRAINtain activities are perfect! Simply pick the level and months or month to send home with your students, along with the parent letter, print them out, and send them home. That's it! No cutting, folding, or gluing needed. You can easily differentiate by sending different levels home for different students, or you can use the included editable versions to completely customize your BRAINtain activities.
Engaging for Students:
Each day, students will simply complete one quick and fun activity. The activities should take 5 minutes or less, so students won't get frustrated. Activities also vary widely, so students won't get bored!
Simple for Parents:
Parents have a lot on their plate, so giving complicated summer work can be a huge burden. Some parents also can't afford lots of supplies. BRAINtain is designed to be fast and easy for parents to complete with their children without the need for lots of supplies. The only necessary supply is any form of writing utensil. Parents also don't need access to lots of books, either. The days where students are instructed to read simply state to read "something" for 5 minutes with a grown up. This could be anything from a menu to a newspaper or the back of a cereal box! The goal is simply to get students reading with an adult.

Check It Out:
There are 4 levels of BRAINtain Activities: L1-L4. You can see what level in the upper right hand corner of each sheet.
L1- designed for pre-k students entering kindergarten
L2- designed for kindergarten students entering first grade
L3- designed for first grade students entering second grade
L4- designed for second grade students entering third grade
Each level includes calendars for 4 months- May, June, July, and August, so no matter when your summer break is, you're covered!
That means you have 16 different options to pick from, in addition to the editable versions!
The calendars are designed to be printed back to back. Less papers sent home means less change that they'll get lost.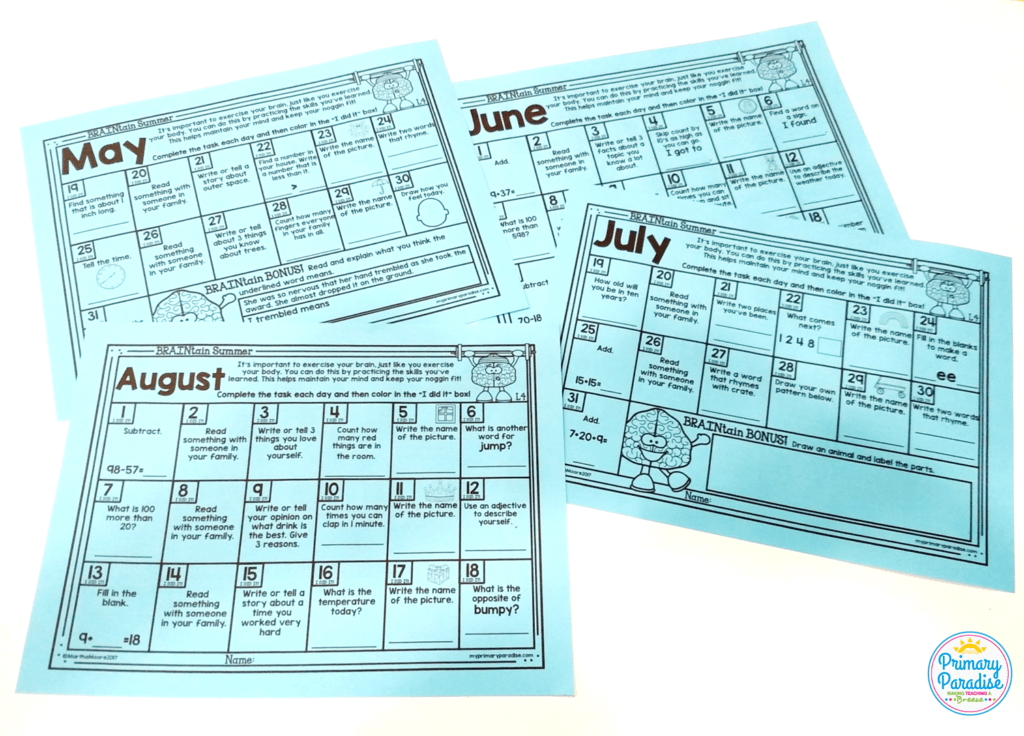 Editable versions are included as well so you can easily customize them to your students' needs! There are multiple versions, so you can simply edit the title or directions, to completely editing the tasks and day numbers!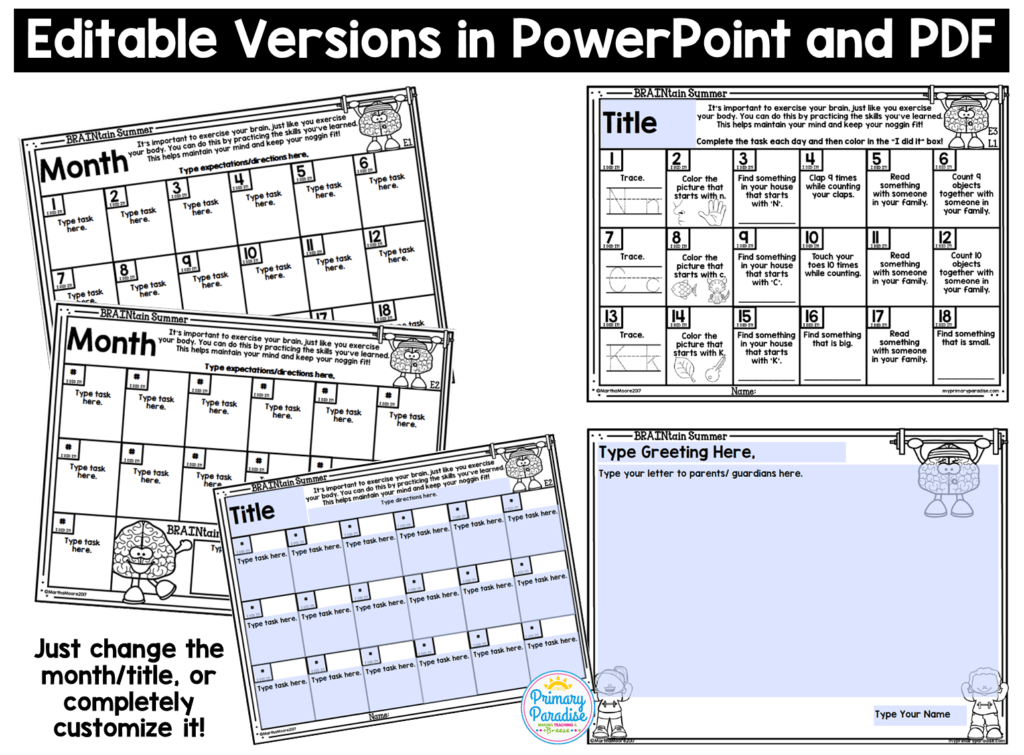 Set Up: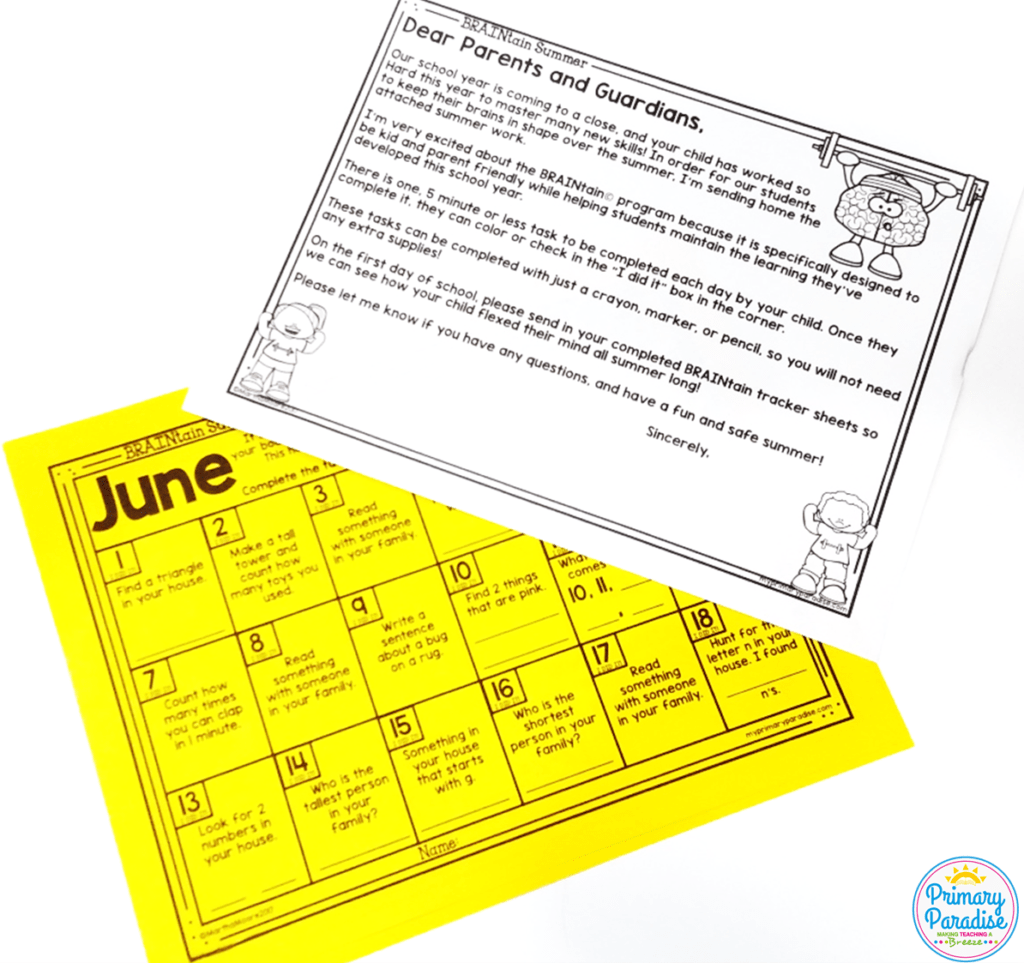 You can simply print out the activity sheets back to back and then send them home, but you can also staple them, along with the parent letter to a file folder for easy organization.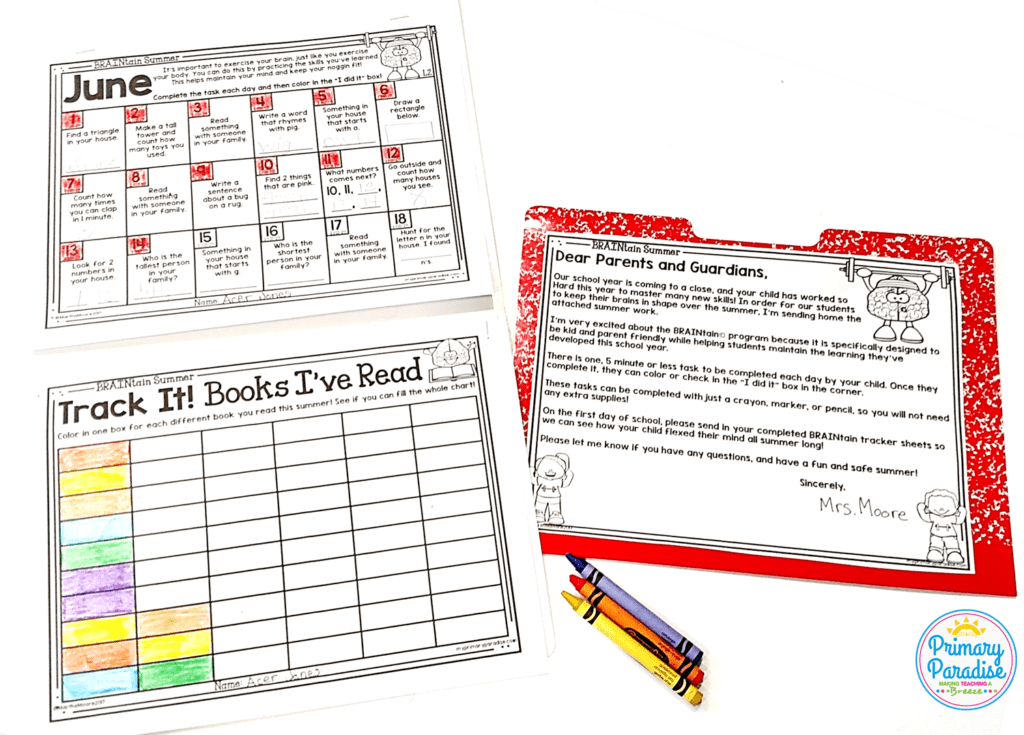 Extras: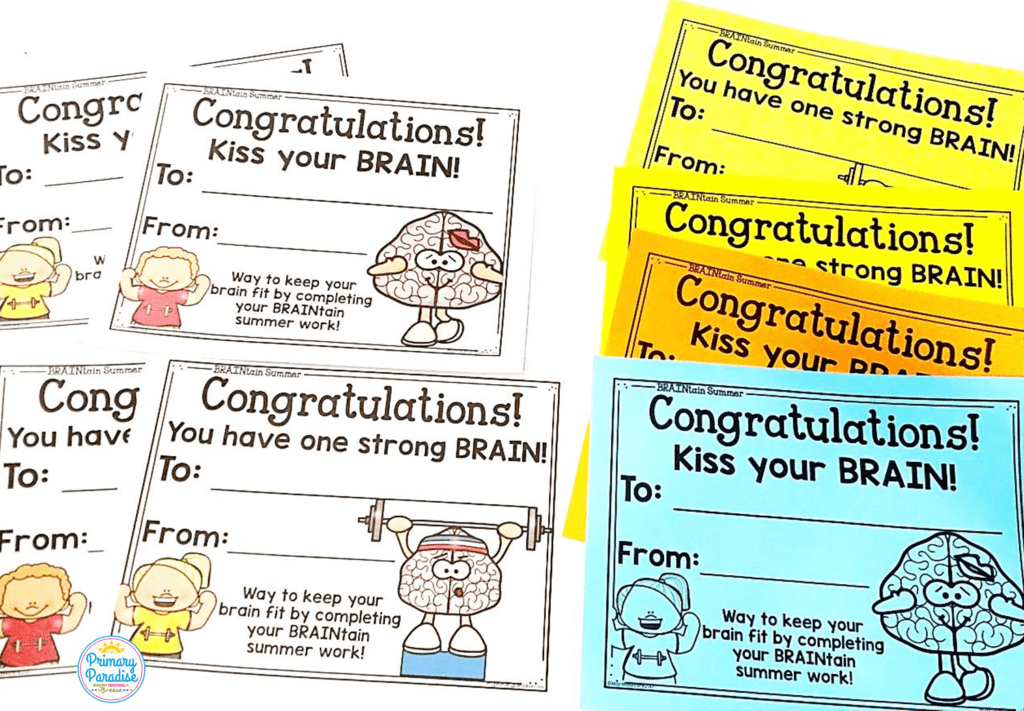 Awards in color and black and white are both included as well as book tracking and writing sheets. Both are optional and not necessary but can add to the fun of the program.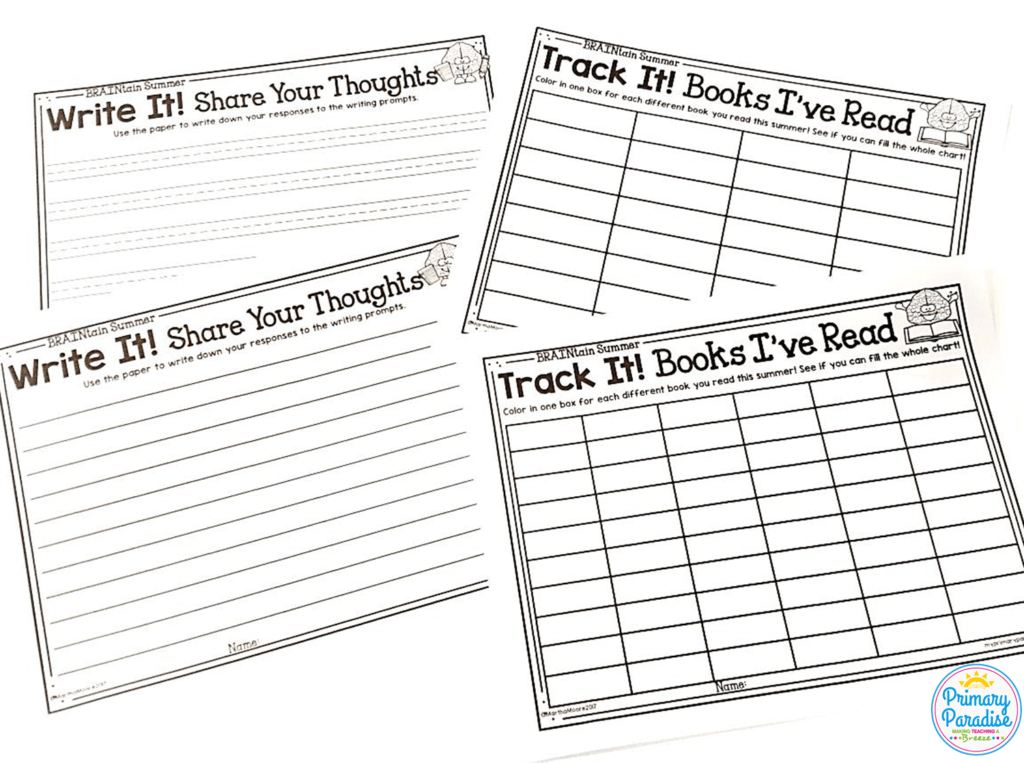 Summer slide is a real issue, and no one wants their hard work during the school year to be erased! BRAINtain will help maintain your students learning and prepare them for the next grade!
If you enjoyed this post, make sure to like, comment, and share!