Writing instruction in lower elementary can be a frustrating experience for teachers and students. Students need to learn how to express themselves using written language, but sometimes that task can seem overwhelming. Today, I'm going to share how you can take the guesswork out of writing instruction in your Kindergarten, First, and Second Grade classroom.
Learn how to streamline your writing instruction, reduce your planning time, easily differentiate, scaffold your students' learning, and do it all while engaging your students!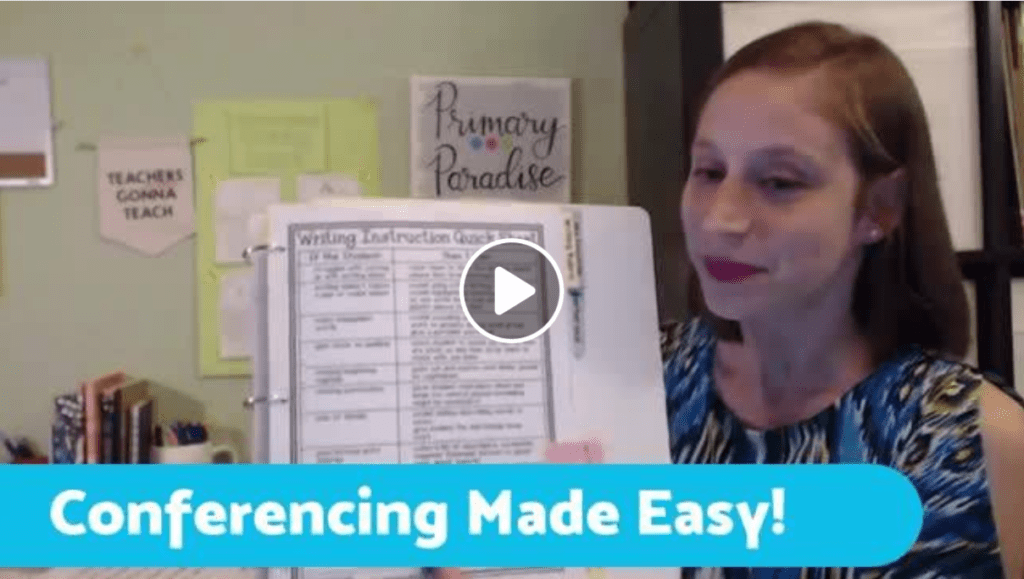 Sound good? Than read on!
Why is Writing so Dang Hard?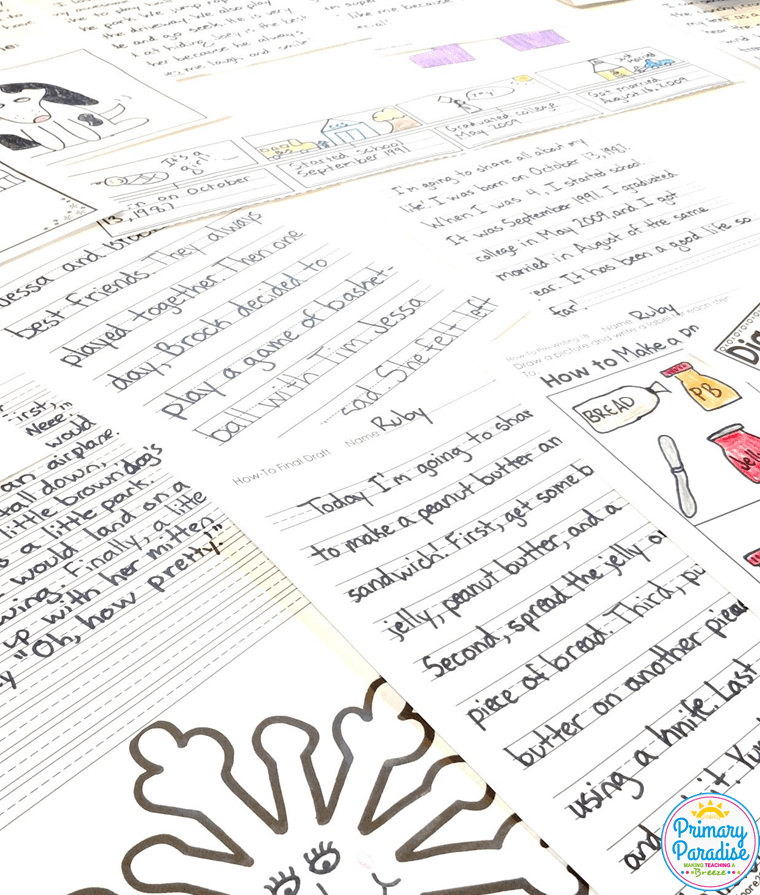 Have you ever asked yourself that? Chances are, if you teach writing, you've had a frustrated moment or two (or three or… a lot).
Writing can be a difficult skill to teach for many reasons:
-It requires the combination of a lot of skills (planning, grammar, sentence structure, conventions, creativity, sequencing, etc,etc.)
-It takes a LOT of practice to get good.
-Young writers often struggle to see their own errors.
-Writers need individual attention to improve.
-Pacing can be challenging.
-Finding and organizing materials can be overwhelming.
-It can be difficult to find great mentor texts.
-It can be hard to know what to teach, when, and how.
I created my year long writing curriculum to address all of these difficulties so teachers and students can stop struggling and start getting it WRITE! This curriculum allows students to practice writing their thoughts, ideas, and opinions in a structured, repetitive, and engaging way.
Students are able to write about a variety of interesting topics and to learn how to produce different types of writing, all at a level that works for them. My goal was to create a resource that would be engaging for students and easy to follow for teachers.
 As Easy as Talk, Draw, Write, Repeat!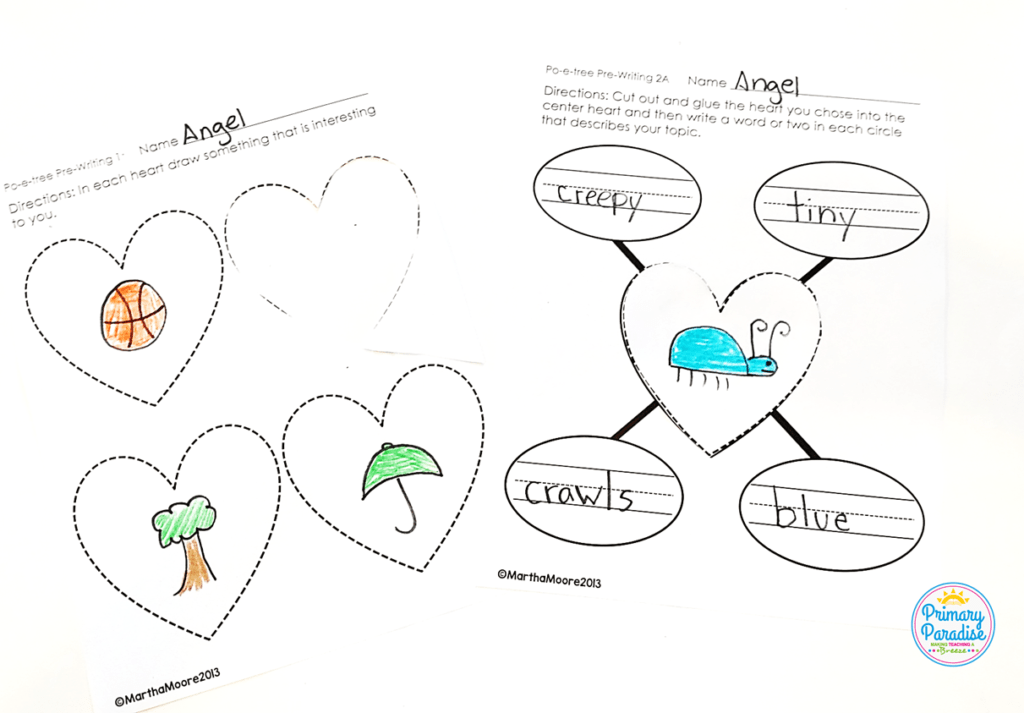 Research shows that talking and drawing before beginning to write greatly helps the thinking and writing process. This is especially true for our youngest writers. When I designed this curriculum, I kept this in mind. Each lesson allows students to think, brainstorm and share ideas, and draw before they begin to write. This ensures that all students can form a plan for their writing with your guidance and support.
How are the Lessons Designed?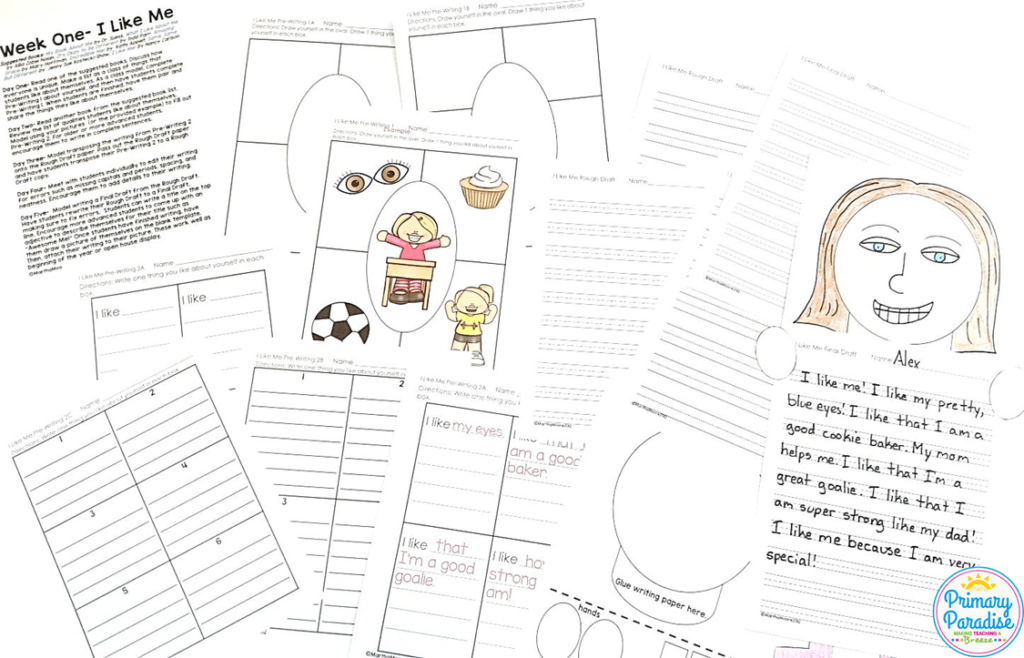 Each lesson is designed to be completed in one week and utilizes the steps of the writing process. I firmly believe that teaching the writing process from a young age helps students become thoughtful and reflective writers. I also believe repetition can be very helpful because it allows students to gain confidence in their abilities. Each lesson varies slightly, but below is a general outline of each week's structure.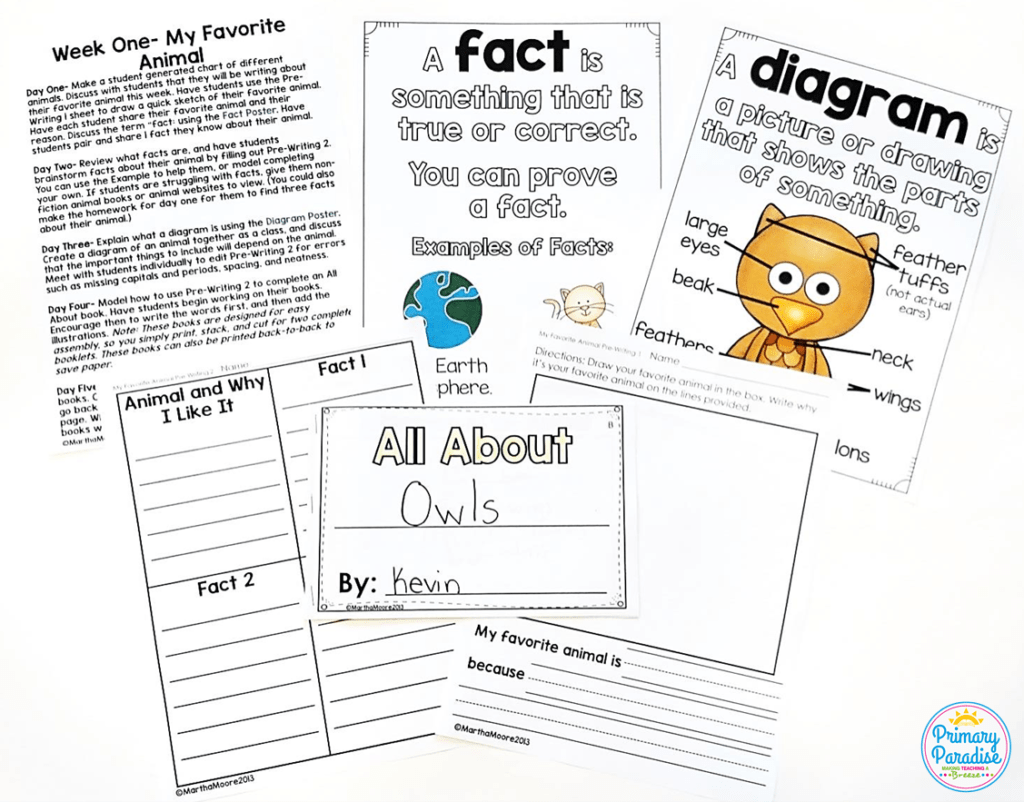 -Day 1: Introduction Of Topic, Brainstorming, and Beginning To Pre-write
-Day 2: Review Topic and Continued Pre-writing
-Day 3: Drafting
-Day 4: Editing With The Teacher and Adding Details
-Day 5: Final Drafting and Celebrating The Finished Product
What Types of Writing Will my Students Produce?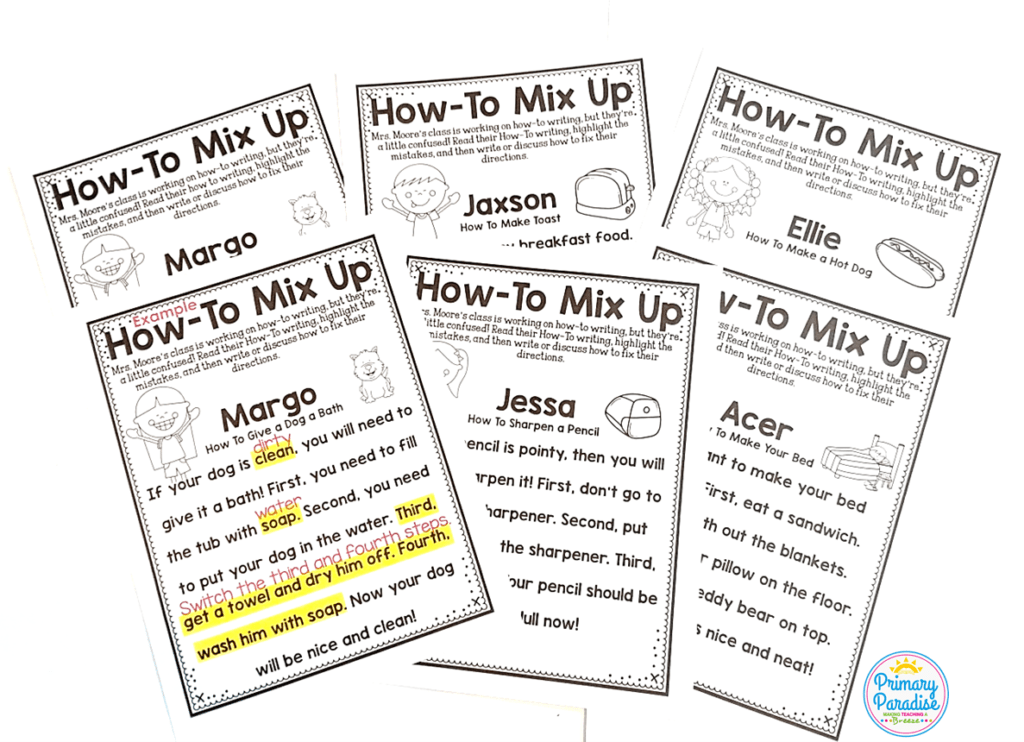 Students will have multiple opportunities to practice different types of writing- narrative, informational, descriptive, poetry, opinion/persuasive, and letter writing. The curriculum is designed to spiral so that students complete each topic and style multiple times throughout the school year. Spiraling allows students to constantly be exposed to different writing types. I find this to be much more effective than a huge unit on narrative, then opinion, then informational because, by the time students get to the last unit, they often forget how to create the first type of writing.
Is Differentiation Built in to the Curriculum?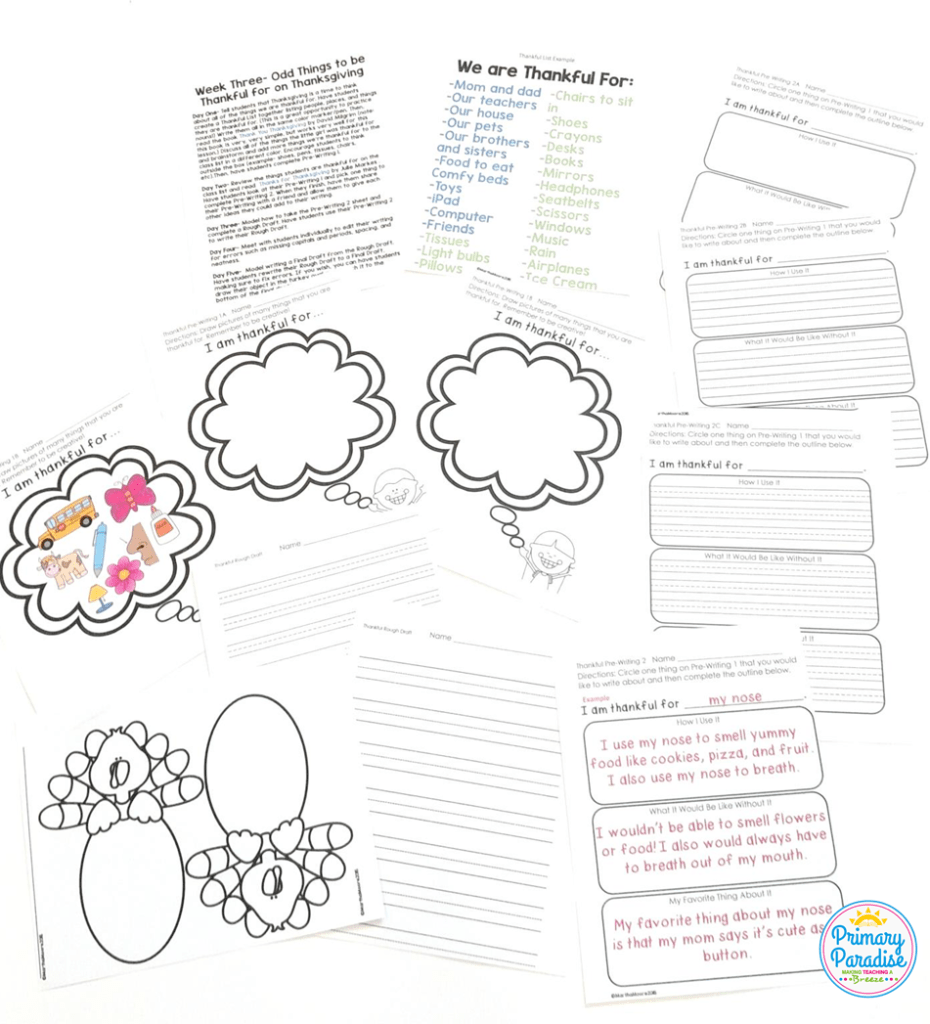 Differentiating for our students' abilities is incredibly important when it comes to any instruction, but especially when it comes to writing. Students can quickly reach their frustration level because it requires such a multitude of skills. When designing this curriculum, it was important to provide built in differentiation. Lessons include a variety of Pre-Writing graphic organizers and drafting papers so you can easily differentiate for your students based on ability. There are also suggestions in the lesson plans for ways to differentiate for your students.
 How Many Lessons are Included?
The average school year is 36 weeks long, but this curriculum includes 45 one week long writing lessons. I've included so many lessons because you know your students best. The extra lessons allow you the ability to choose which lessons to use while still giving you a full year of instruction. You are able to simply skip a lesson that you don't think is a good fit for your students without having to supplement with another writing resource!
What Makes these Writing Lessons Unique?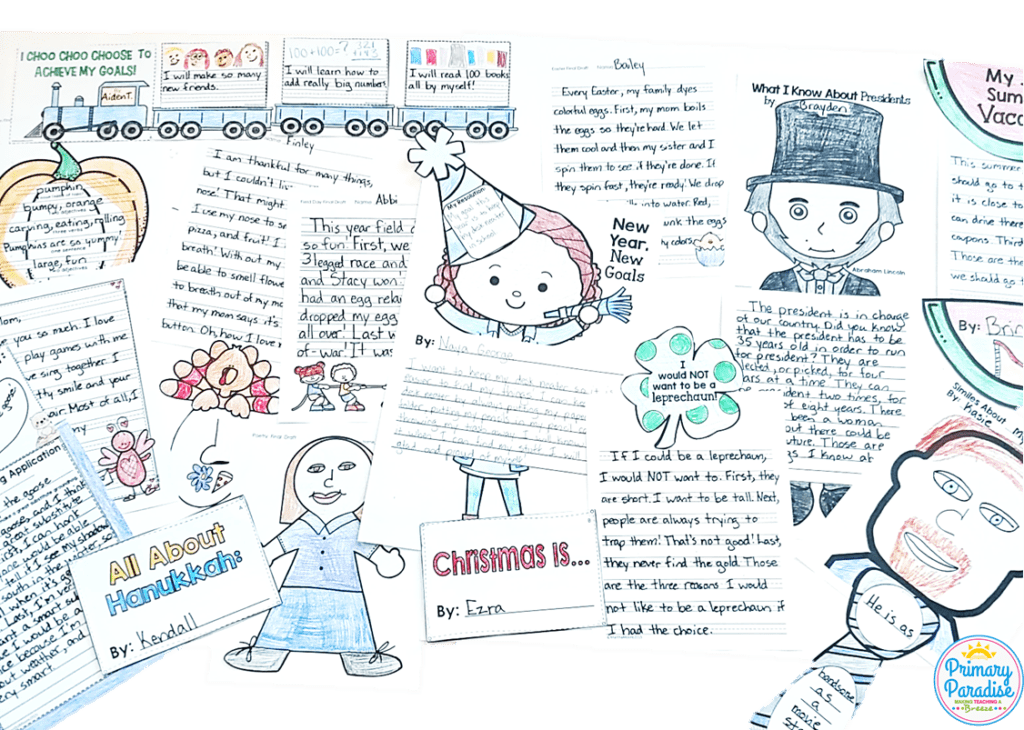 Research shows that students are much more likely to engage with a lesson when the topic is relevant to their lives. Lesson are designed to spark interest in your learners through fun topics, mentor texts, and activities. Students will produced better quality work when they are interested and invested in the topic. Each lesson is designed with your students in mind!
What Other Materials Will I Need?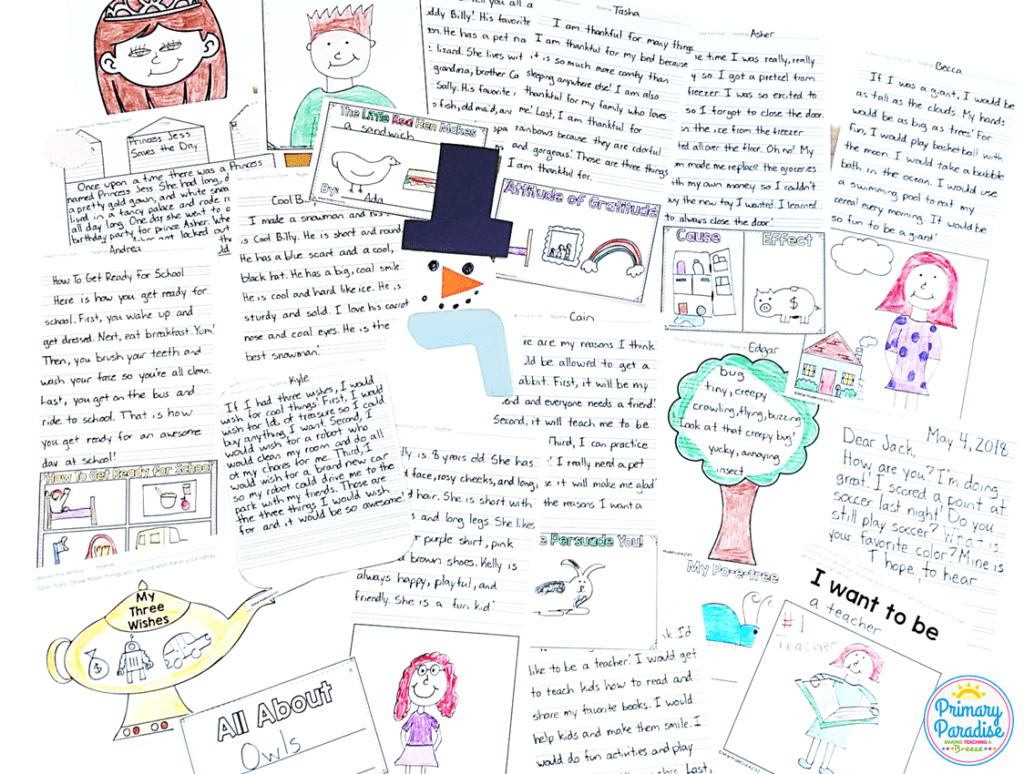 Another aspect that was important to me was creating a resource that required very few extras to implement. Most lessons only require a mentor text or two (suggestions are included). A few lessons ask you to make an anchor chart with your students on chart paper.
 For the most part, those are the only other materials required. There are some optional activities that might require more materials, but they are not necessary for the curriculum. You can also easily substitute similar mentor texts in many cases. As a teacher who has worked with limited resources, making this curriculum easy to use was a high priority!
How Much Prep is Involved Each Week?
Prep work for each week varies, but for the most part, there is very little prep work before the lesson begins. You will need to gather mentor texts and print the Pre-Writing Graphic Organizers ahead of time. Most weeks, that is all that is required. You create your example along with your students so they can observe your writing process. Again, keeping prep to a minimum was important to me as well!
What Does the Scope & Sequence Look Like?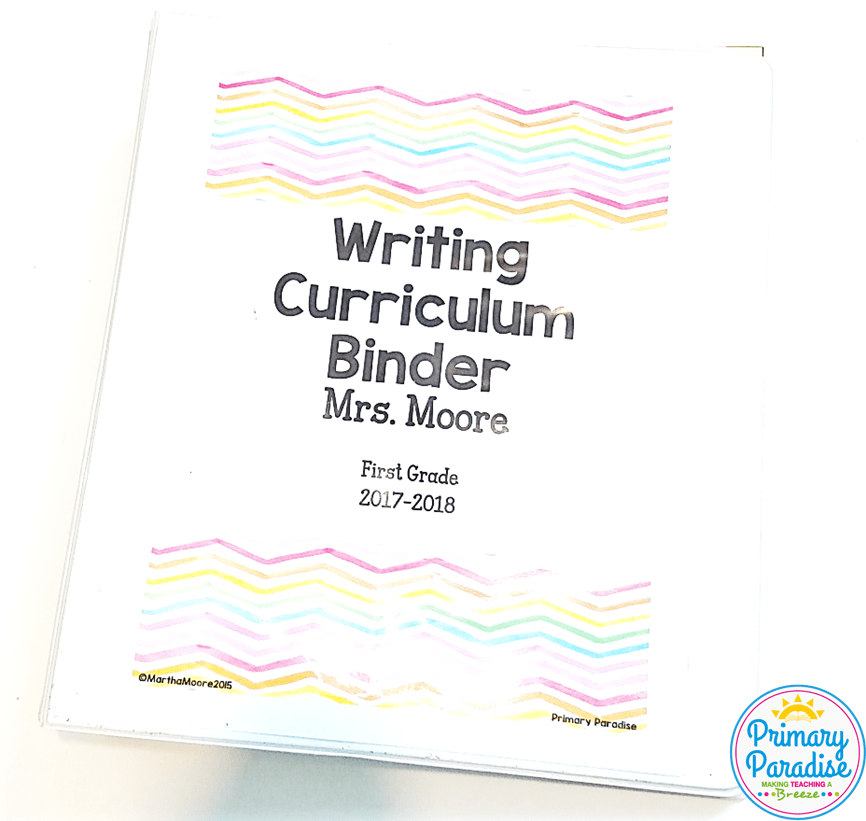 I designed this writing curriculum over the past 5 years in three separate chunks. By design, you can also use each pack included in the curriculum as stand alone resources as well. Therefore, the recommended sequence is not to simply use pack 1, then 2, then 3.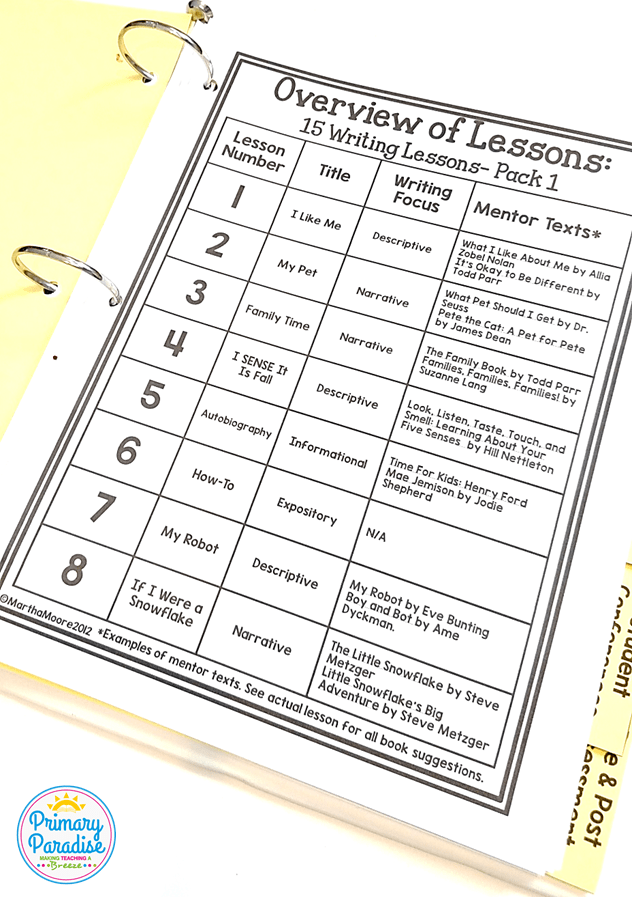 I have included an overview that shows the writing focus and some of the recommended mentor texts for all of the lessons in each pack. This makes it easier to plan your writing instruction.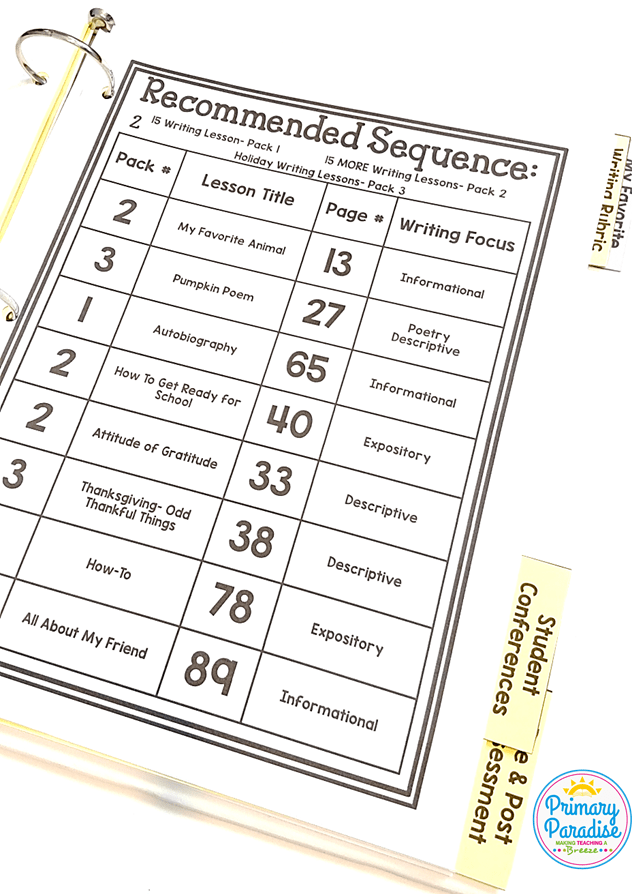 A recommended sequence is also provided that makes it easy to navigate this resource and find the materials you need.
Student Conferences Made Easy!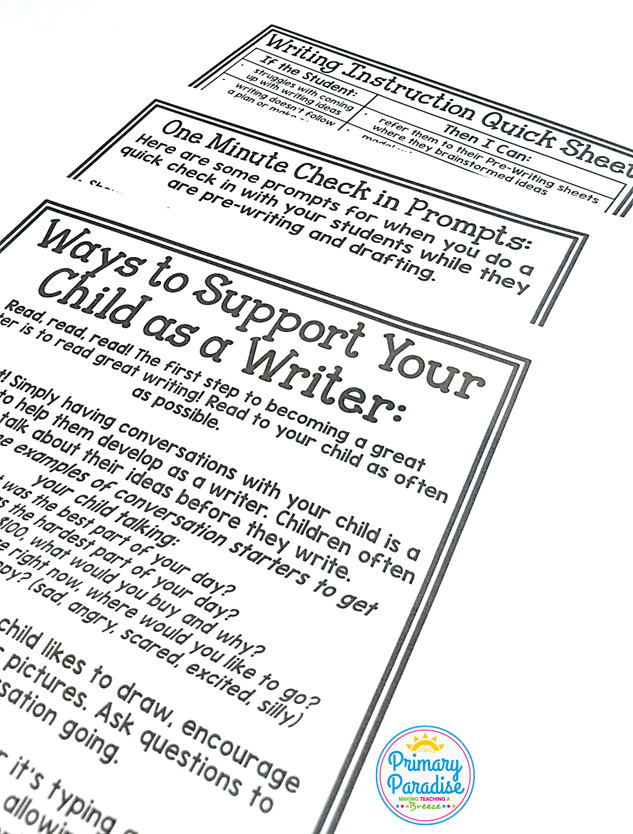 Writing conferences are both essential to writing instruction, and one of the most difficult aspects of it. I've spoken to many teachers while developing this resource, and many of them have shared that conferencing his THE most difficult of writing instruction. This curriculum has one day each lesson dedicated to the all important conference, but don't worry! In the Start Up Guide, I also include resources to make conferencing with your students SO much easier!
How Often do I Really Need to Conference with my Students?
 Most students are not able to easily see their errors when they are writing which is why conferencing is so important. This is especially true for younger students who are still learning the art of writing, grammar, and spelling. The weekly conference time with each student is not a part of the curriculum that you can skip, and your lower level students will most likely need a check in more often than the once a week conference. When your students are brainstorming and drafting, make sure to check in with as many students as possible. Even just a few 1 minute check ins in during the Pre-Writing process can make the conference later in the week much smoother.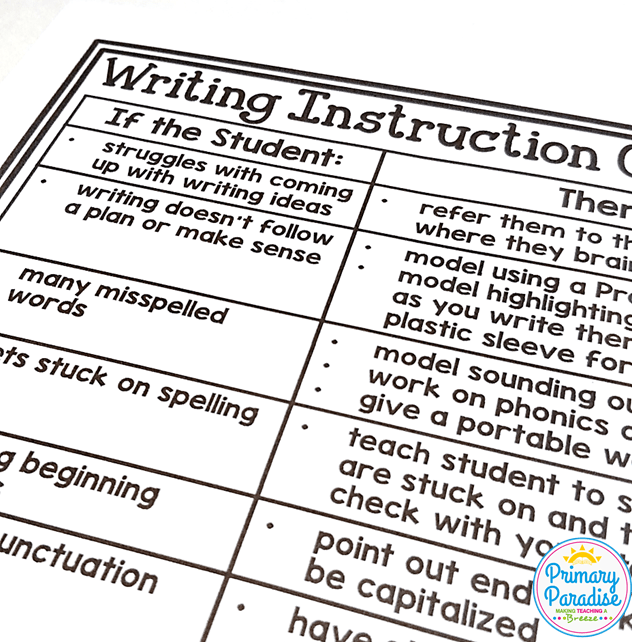 I've included a one page cheat sheet of one minute check in prompts to make checking in easier.
How Long do Conferences Need to be?
The length of a conference will vary by student, by each lesson, and by the length of your writing block. I find that the average conference is about 5 minutes. If a student is struggling, they will need more time, of course. Don't feel like each student, each week needs the exact same amount of time. Also, don't feel as though you need to correct every aspect of a student's writing every time. I find that finding one or two specific items to focus on makes for a less overwhelming conference for both parties.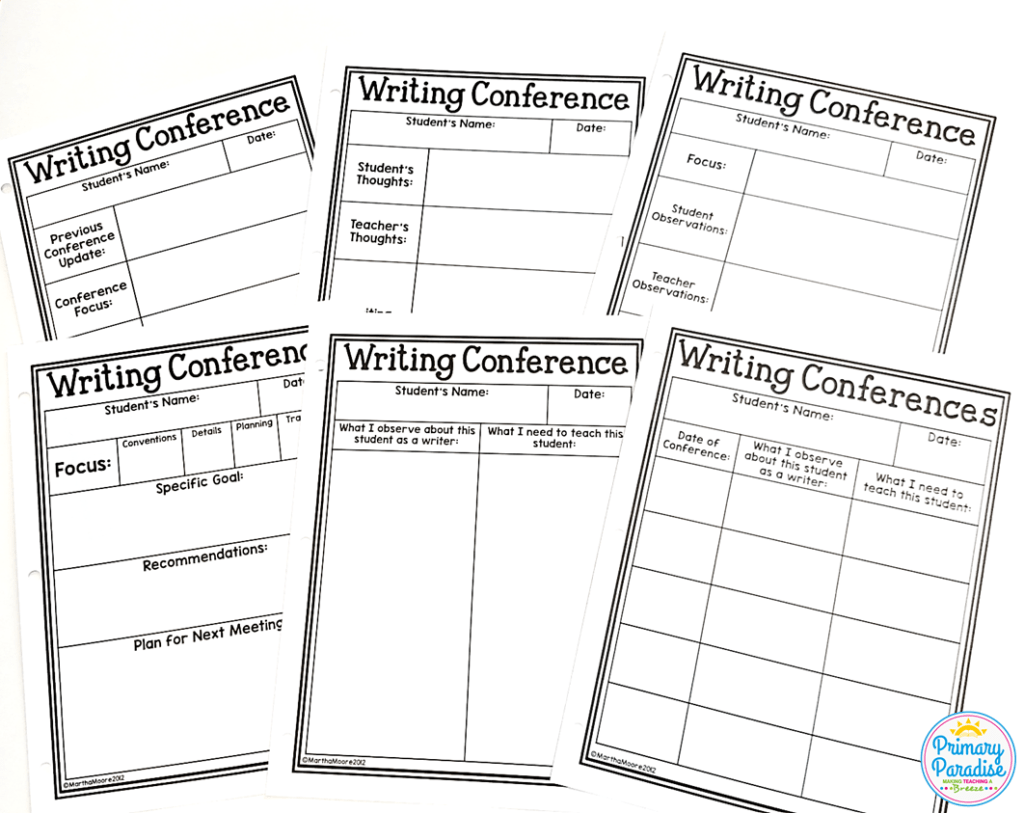 The editing conference sheets in the curriculum will help you to stay organized and keep your conferences focus!The writing instruction quick sheet will also give you a guide so you know how you can best help your students with particular areas that they are struggling with.
How do I Manage the Rest of the Class during Conferences?
One of the most difficult parts about one-on-one student conferences is managing the rest of the class. I highly suggest taking a few class periods at the beginning of the school year to set Conference Expectations. Just as you would for setting up independent centers during guided reading, model and practice expected behaviors. I also recommend having students sign the expectations like a contract.
What Should the Rest of My Class be Doing?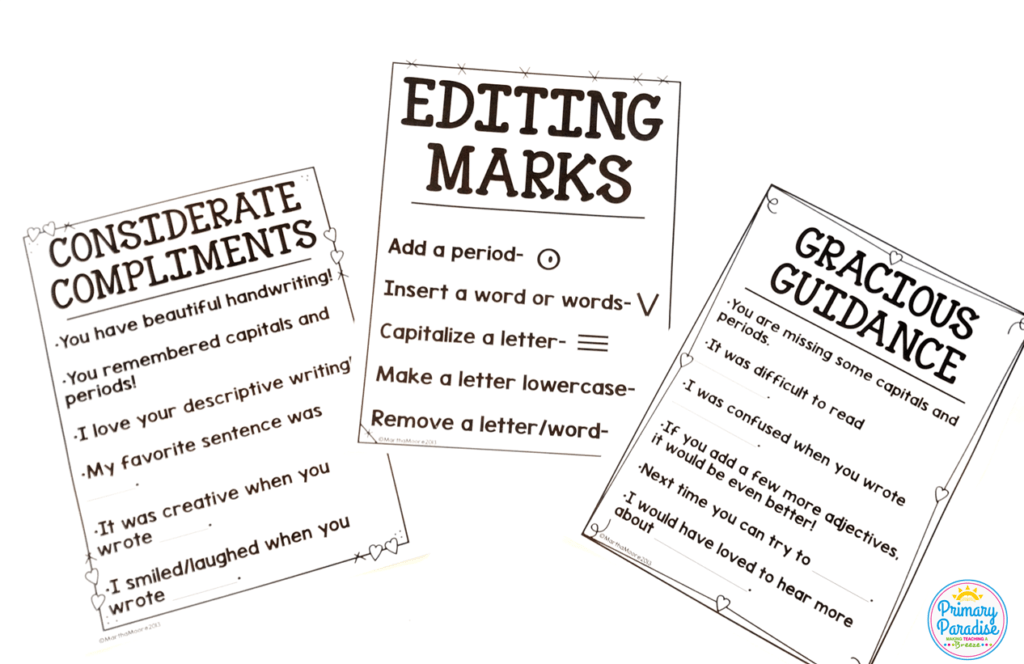 In some lessons, I include a task for students to complete during conference day such as completing the illustrations for their writing. However, that might not always take up the entire time, and some weeks, they do not have a task to complete. Here are some options for engaging your students who are not conferencing with you. What works in your classroom will depend on your students' ability to self monitor and work independently. In the start up guide, I give more details on how to implement all of these choices.
-Peer conferences
-Free writing
-Literacy Centers
-Intervention and Enrichment Activities
That Sounds Awesome!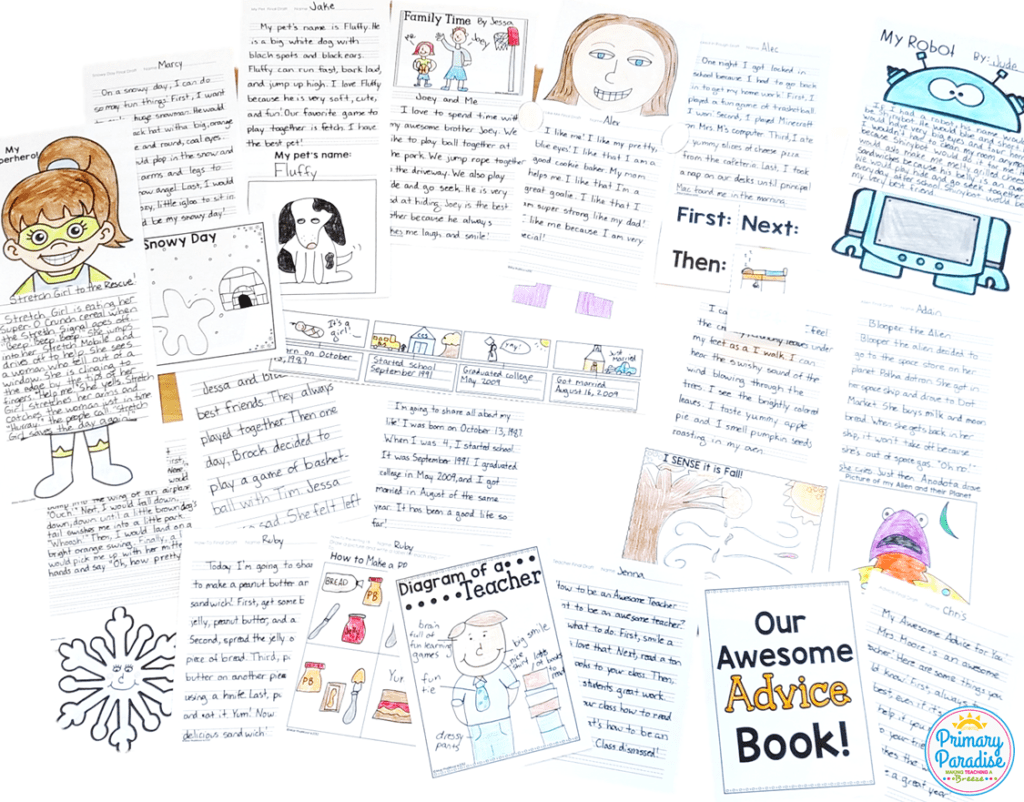 If you've made it through this information packed post, congratulations!
I know that my Year Long Writing Curriculum will be a great addition to your classroom because it will
-take the guess work out of writing instruction
-help you scaffold and differentiate your students' learning
-provide your students with engaging, spiraled writing instruction
-streamline your writing conferences so you can better address your students' needs
Watch this Facebook LIVE video to learn more and to download the Writing Instruction Quick Sheet for free!
If you enjoyed this post, make sure to like, comment, and share!