Hey friends!
How many times have you had a student who was just stumped, stuck, and frustrated with a particular task? How many times have you had student who would make mistakes on tests and quizzes, even though you knew that they knew it yesterday?
Well, I know it happens a lot to my students, and I always wished there was a way to help them relax and just try their best!
This summer as I was perusing Pinterest, I ran across a ton of people who had created "Brain Sprinkles". I think the idea originally came from the fabulous Dr. Jean. I loved, loved, loved the idea of giving kids a little "magical" boost! Since a lot of the time kids who are stumped are stressing, I figured that a little magical brain boost could be just what the Dr. ordered to make them smile!
How To
So, I went to it and create my own Brain Sprinkles by dying some rice, adding some glitter (for fun), and putting them in a fun shaped bottle.
The first time we took a test this year, I introduced my students to Brain Sprinkles and explained that they use magic to give your brain a boost! I then went around and "sprinkled" some over every students head. They were SO excited, and now Brain Sprinkles are requested before every test or quiz. It's amazing how hard they try each time.
Another favorite I found on Pinterest is Shhhh Spray! Other people called it Quiet Spray, but I thought Shhhh Spray sounded a bit kinder. Just take an empty and clean spray bottle, attach a label, and you're ready to go.

I tell my students that Shhh Spray is also magic. We always spray it in the air (not at a specific child) before tests and quizzes as well, and believe it or not, my students ask for this as well (after their brain sprinkles of course).
It's useful when the class is a bit to loud, and it's a great non-verbal cue. A few "sprays" in the air normally quiets my class pretty quickly.
So, if you'd like to add a little magic to your classroom, just click the picture below that will take you to the FREE Brain Sprinkles and Shhh Spray Instructions and Labels available in my TpT shop.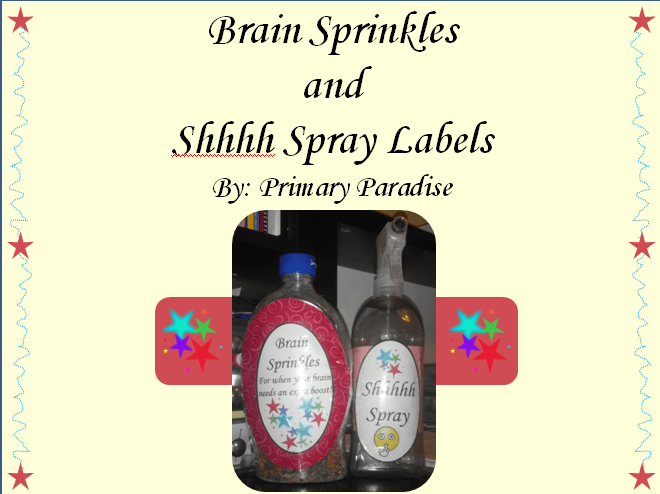 Enjoy making your classroom a bit more magical!