Toys. everywhere. They had taken over our living room, and since we live in a small bungalow, the struggle was real. So, when my husband proposed finishing our very, very unfinished basement and turning part of it into a playroom for our girls, I was intrigued… but doubtful. (Guys, when I say unfinished, I'm being generous.) But, he worked his magic and made a very unusable space usable! Today, I'm going to share our new favorite spot in our house! Our basement playroom!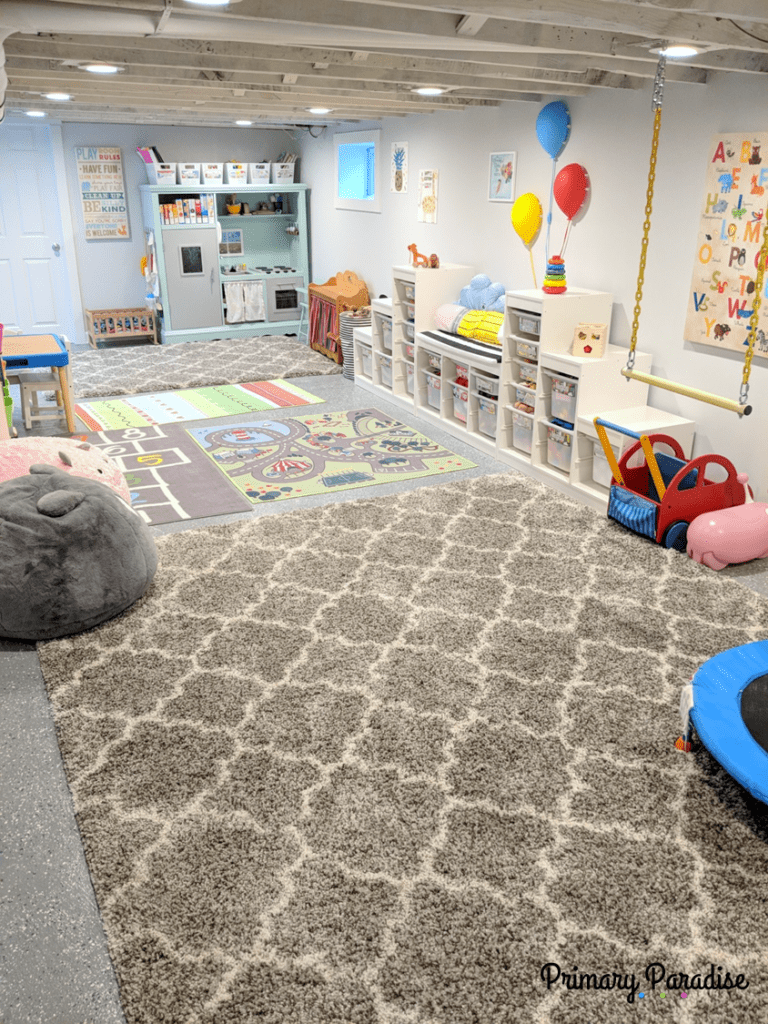 This post contains affiliate links. That means that I'll receive a small commission when you purchase through the link at no extra cost to you.
As a teacher, I had a lot of things I wanted for this space. I wanted a lot of open space for my kids to move, especially during the winter when we're often stuck inside for long stretches. I also wanted book shelves that my children would be able to access and keep organized, a place for us to do projects, and in a few years, homeschool, and lastly, I wanted to label. all. the. things. All of them. Besides the benefits of a text rich environment from an education standpoint, I also just wanted to make it as easy as humanly possible to keep everything organized. With all of those things in mind, I came up with a design, my husband created the room, and we filled the space together! So, let's take a tour, and hopefully this will provide you with some inspiration for your own playroom!
Playroom "Gym" Area
Both of our girls take gymnastics at The Little Gym, so we wanted to provide a space for them to practice their skills and get some energy out! This trampoline was a gift for my older daughter's 2nd birthday, so it's held up well for almost 2 years! The tumbling mat and balance beam are both from IKEA. (My husband works for IKEA, so you'll see a lot their fabulous storage and children's products in our playroom.) If you follow me on Instagram, you'll see lots of stories of my girls utilizing all of this equipment to it's fullest!
Playroom Toy Storage
When it came to toy storage, I wanted something that would hold a lot of toys, allow my children to access them, but also keep them neat and organized. IKEA's Trofast line was exactly what we needed!
I made labels by taking pictures of our actual toys to make it easier for my kids to put things away. (You can download my labels here for free.) I especially love this storage system because they can pull out the entire draw and find a spot to play with it. In theory, they would put it back before taking out another toy, but that is not always (ie never) reality around here.
We also love this storage because it makes a great little sitting area! The pencil pillow, cloud pillows, balloon lights, and cushion are all from IKEA. The picture is just the dust jacket of the book Oh the Wonderful Things You'll Be in this square picture frame.
Kitchen & Home Pretend Play Area
Our play kitchen/home area is one of our favorite parts of our playroom, and gets a lot of use! The black & white striped hamper we use to store our avalanche of stuffed animals is from Amazon. The baby changing table/swing was free from a friend, the high chair was a yard sale find that my husband painted, and the cradle was a gift from my husband's grandparents who purchased it from their local Amish market.
Our play kitchen was an old entertainment center my husband found on Craigslist. He spent many, many hours turning it into the perfect play kitchen! I can only claim credit for the "kitchen window" which is simply a picture frame with a picture of a tulip field in it. We have a ton of Hape and Melissa and Doug kitchen toys that really hold up. I'm not a fan electronic, noise making, flashing toys, but these are all still really interactive and fun. And they really inspire great imaginative play! Some of my favorite pieces are our coffee maker, mixer, toaster, cookies, pizza, and pots and pans. They're all available on Amazon. A fun little fact about the play kitchen is that the sink and phone are actually real because it was cheaper then purchasing a toy sink and phone!
Here's a peek into the fridge and under the sink storage.
He also added hooks on the side to hold their cleaning set which is also available on Amazon. They love it and we get a lot of use out of it, but I will warn you that the mop sheds a LOT.
When the play kitchen was in our living room, it tended to collect junk piles on the top. I wanted to prevent this from happening, so I decided to use these bins from The Dollar Tree to hold all of our art supplies.
Craft & Art Area
Speaking of art supplies, here's where my girls do lots of crafts! The storage containers on the wall are from IKEA, but they were a close out deal and I don't believe they carry them anymore. The table was my husband's when he was little!
Library Area
My girls love these adorable bean bag chairs from HomeGoods. They spend a good percentage of their time sitting on them and reading books from our library! (Click here to read all about our library organization here.) And we've gone full circle around our playroom!
It has been so wonderful to have a place where my girls can play, imagine, and create!
Previously we had so little space that they were always on top of each other. While that's still often the case because… siblings… now, they can give each other space when they want to.
But, of course, they spend a lot of time playing together as well.
So, now I'm going to quickly answer my 3 most asked questions about our playroom, but if you have more, please leave a comment below!
Question #1: Do your kids climb on those storage units?
YES! When I told my husband I wanted to put the units together like this, he told me they would climb on them. I figured they would try and it would get old, but I may or may not have been very wrong. I will say, luckily both of my girls are pretty nimble (Thank you Little Gym!) so it's really not a big deal.
Question #2: Is all of that EQUIPMENT really NECESSARY?
No, of course not! I do realize this area might be a little over the top (I mean who NEEDS a hanging bar?). But, it gets a lot of use. We don't watch very much TV around here, and my kids have a TON of energy, so it's really nice to have an indoor playground, so to speak.
QUESTION #3: is it always picture perfect?
That's a big NO! A playroom is meant to be played in! So, typically, it looks like this (or worse). But, we do try to clean it up every night before bed so we walk into a nice, neat, clean room each morning. And, because it's so organized, it's super easy to put everything where it belongs!
Our playroom is now where we spend most of our times, and I look forward to watching the space change as my girls grow and we begin homeschooling (potentially) in a couple years!