Hey folks! I know I'm a little lot late with this, but I wanted to share what we did the week before Winter Break this year!
First up, our parent gift. Last year, I made these adorable snowmen, and my plan was to do the same, BUT I couldn't find regular old popsicle sticks, only red and green, so instead we made these snowflake ornaments. I think they turned out really well!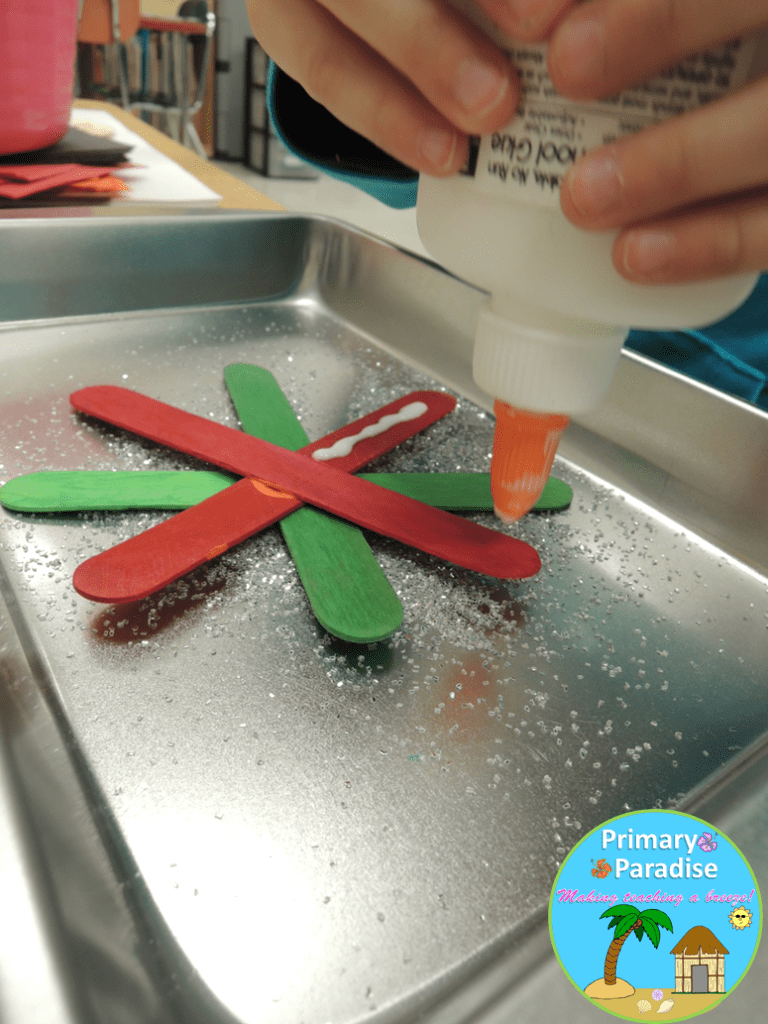 A picture of them in the process. I only bust out the glitter about once a year, so my kiddos really, really get excited.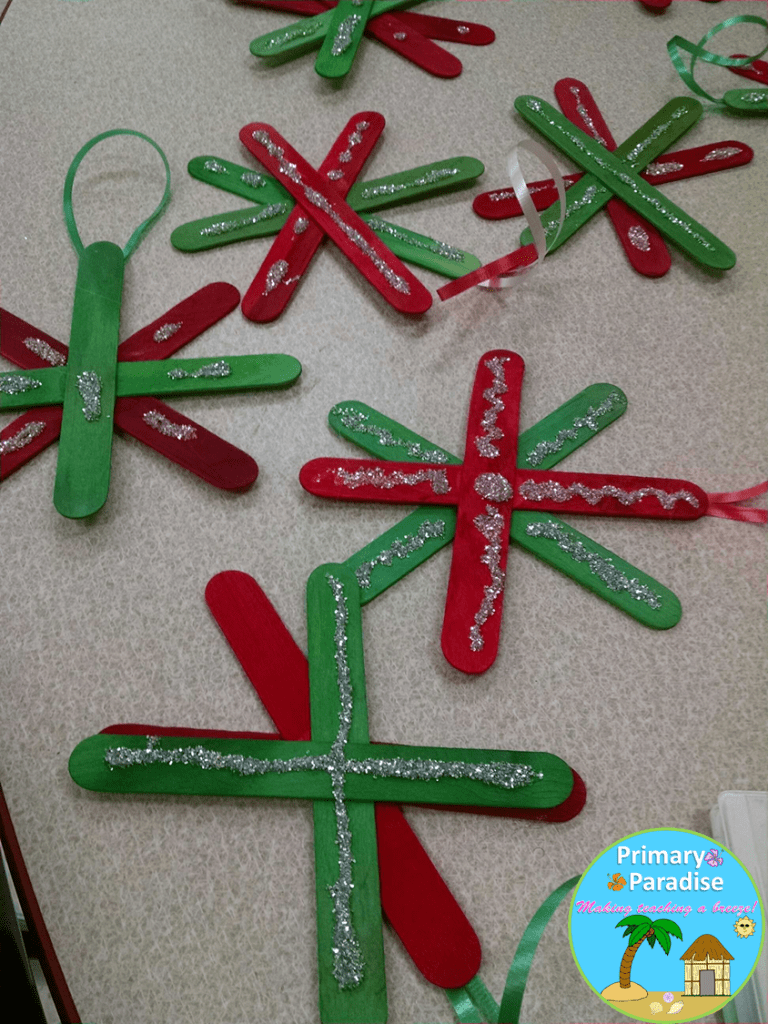 Finished projects. You can definitely see their personalities in these!
Next, we made the same cards we made last year with our snowman photobooth props. They had so much fun.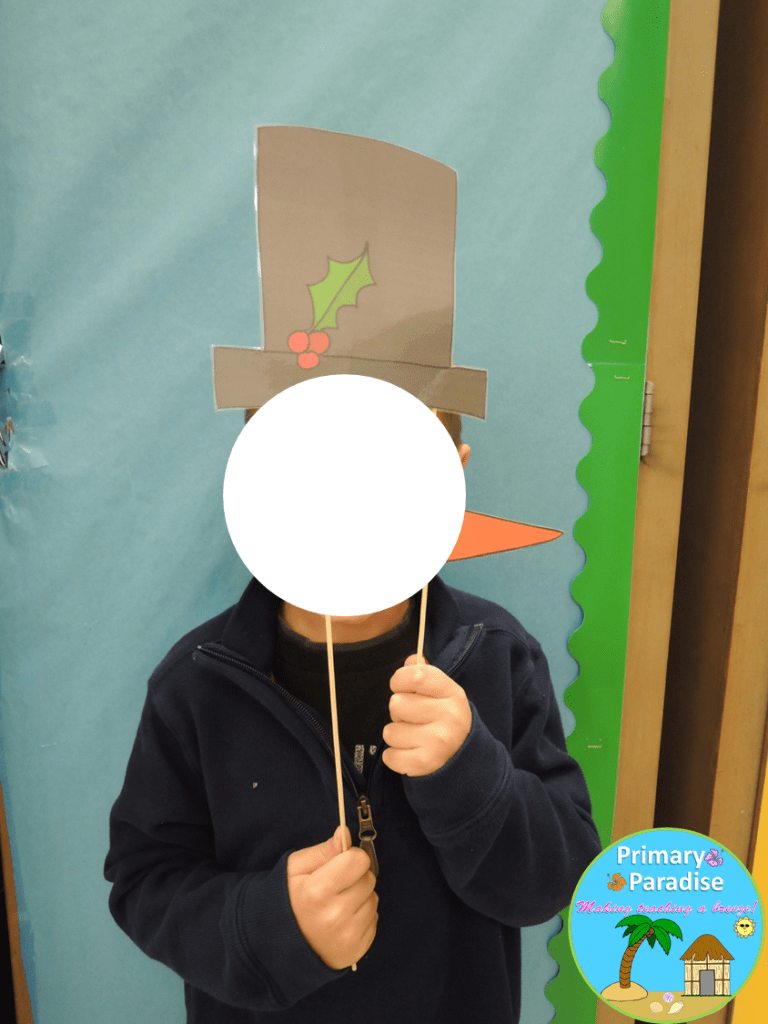 I gave my students a large piece of construction paper and had them decorate it however they wanted. Then, I helped them each wrap their snowflakes. They turned out great, but unfortunately I deleted all of the pictures off of my camera by accident.
We also wrote about how to make a snowman and then made construction paper snowmen. I gave them tracers for the circles, but they did everything else freehand. I love how unique they all are!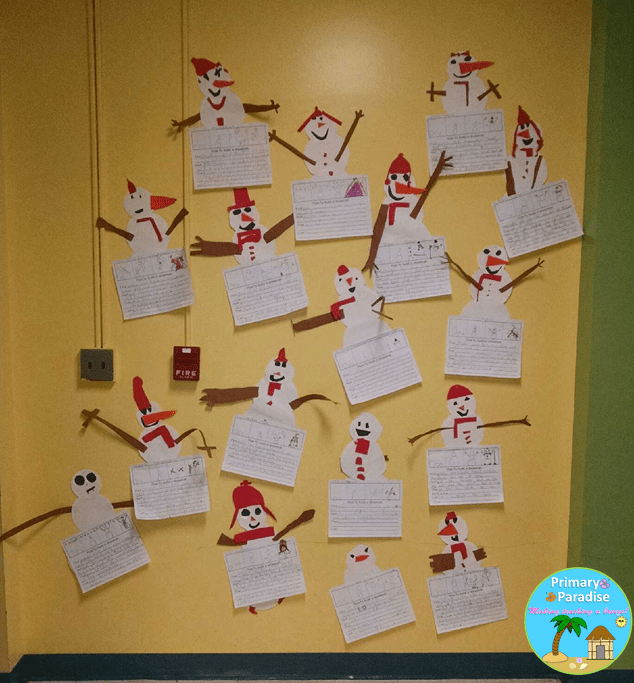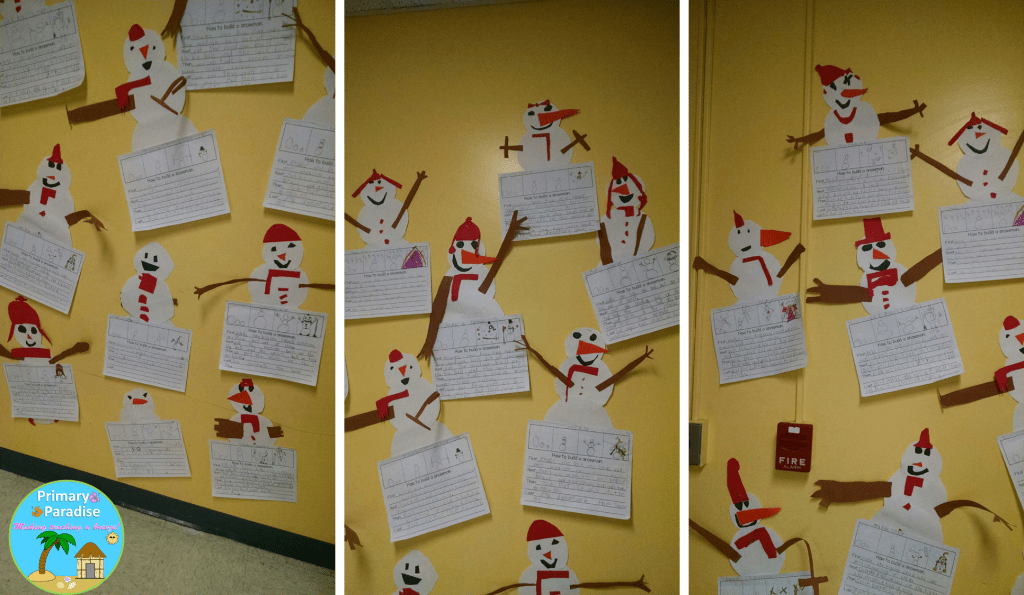 The writing format is a freebie from Dana Lester! Click here to grab it, and make sure to leave her some feedback!
On the last day before winter break, I wanted to come up with something unique and fun for my students to do, so I introduced rebus stories to them and we made our own.
I found Christmas puffy stickers at Dollar Tree and they worked perfectly, but your students could also just draw pictures. Click the picture below to grab the template for free.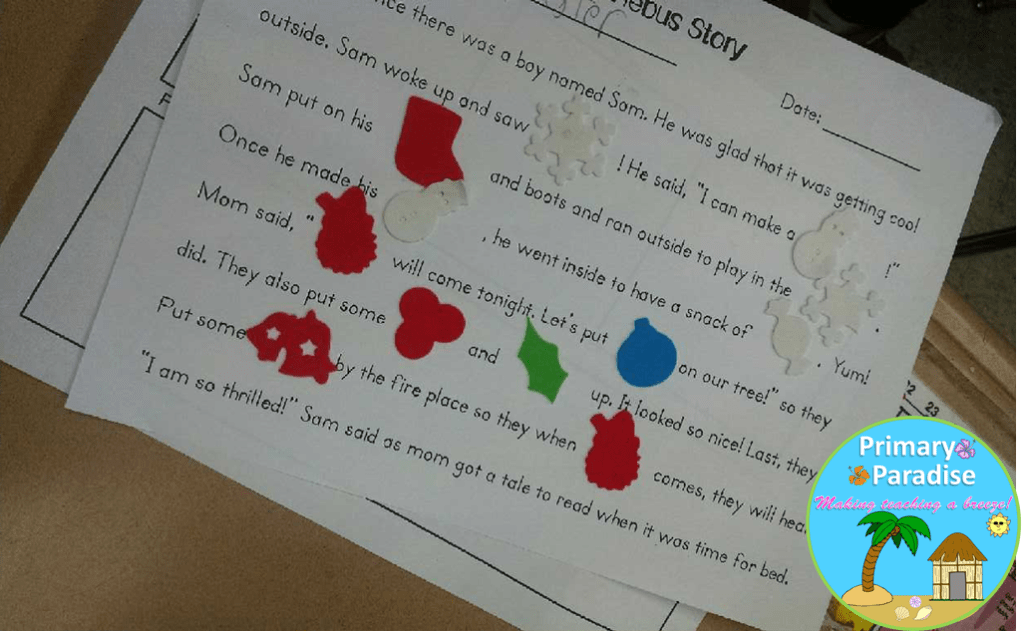 I'm thinking about making a whole like of rebus stories since my students loved them so much!
Have you ever read the book The 12 Days of Winter: A School Counting Book?
It's super cute and a perfect book for this time of year. We read the book and then my students made their own book of things they'd get or give to others.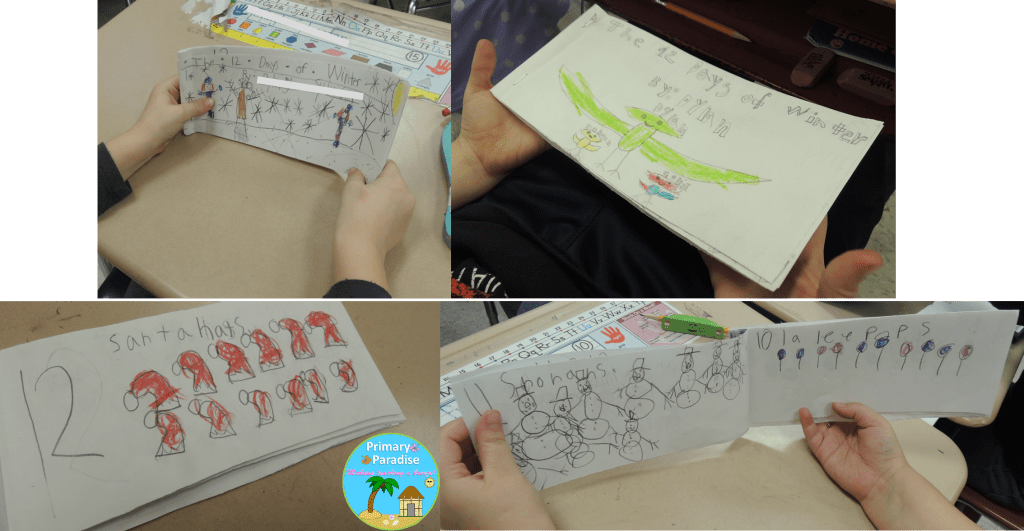 Of course on the last day before break we had some yummy treats as well. Last year I tried (and failed) to make melting snowman cookies with my class. They were delicious, but not very pretty. This year, I took the easy route. We made Snow Cookies! Store bought sugar cookies, add some frosting and some mini marshmallows, and you have some very happy kiddos. 🙂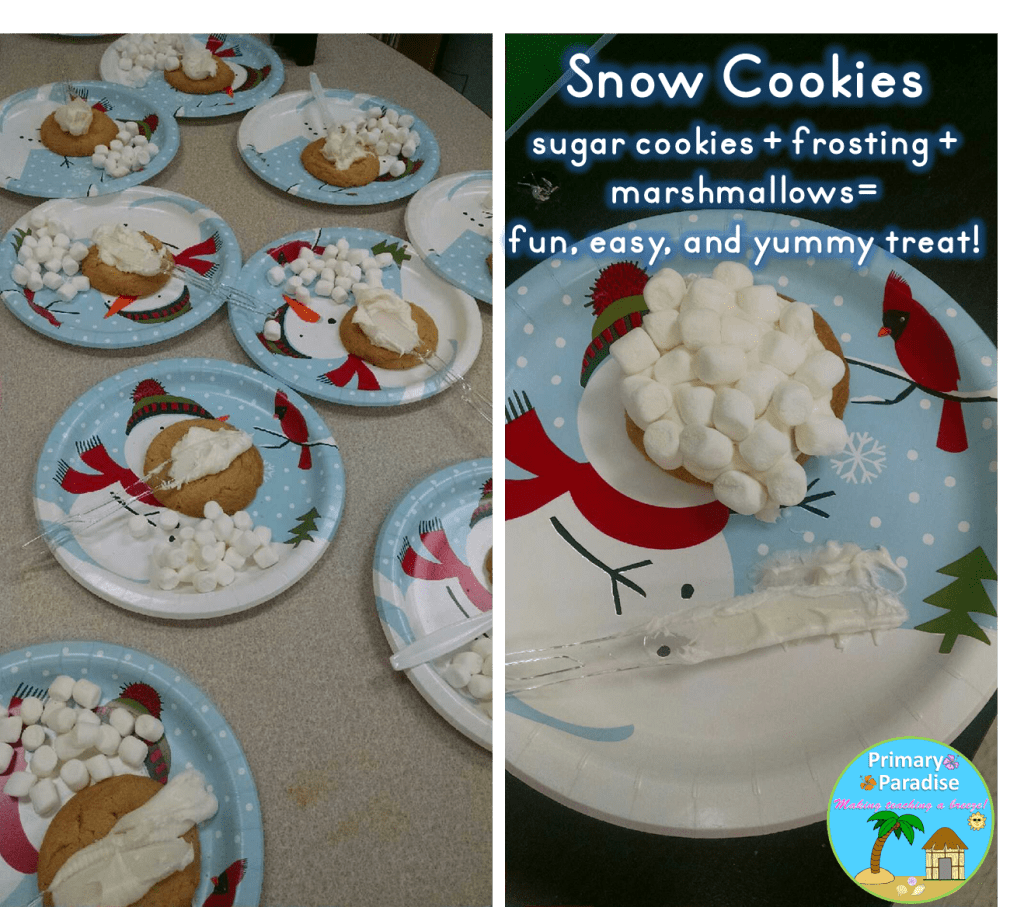 My kids loved spreading the frosting on themselves and putting the marshmallows in. I had pictures of them doing it, BUT I deleted them by accident as well. 🙁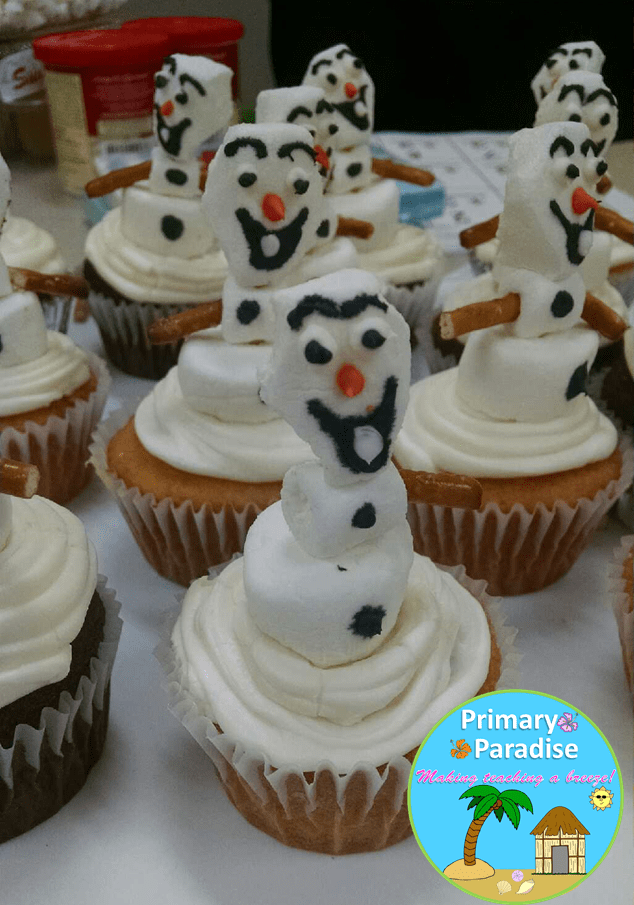 On top of the snow cookies, my awesome room mom also sent these Olaf cupcakes in. They were adorable, and my kiddos flipped for them.
My awesome room mom and her family always go to the local food bank and pack lunches this time of the year, so she brought in brown paper bags for my kiddos to decorate. I explained how there are people in the world who don't have enough food to eat and that these bags would hold a lunch for them. They were so excited to bring those people a little cheer.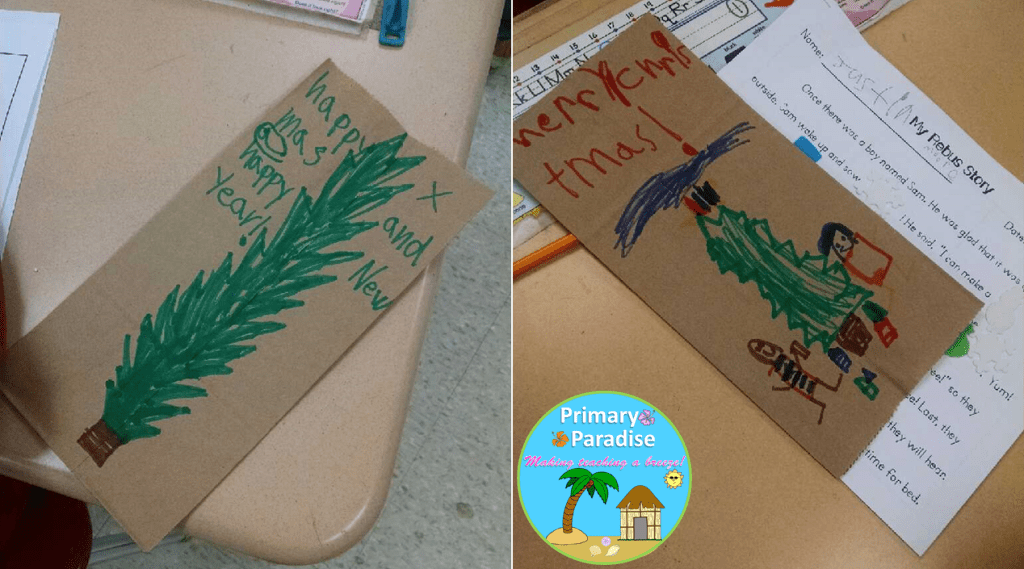 They really enjoyed decorating their bags.
So, that's what we did in a nut shell. Hopefully you see an idea or two you can tuck away for next year.
Before I go, I wanted to let you know that I finally posted my tens and ones mini pack, and it's only $3. If you follow me on instagram, you saw some of this in action. 🙂
For those of you looking ahead, I just posted my Valentine's EASY Writing Craft! Perfect hallway display and easy to differentiate!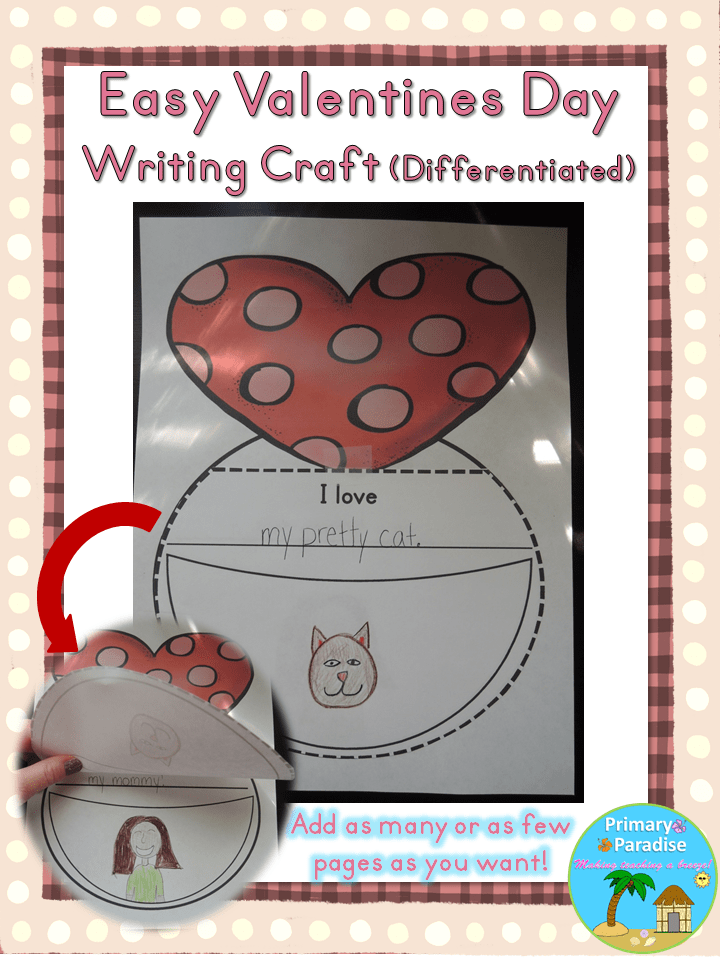 I'm also putting my 30 FULL Weeks of Writing Lessons for Primary Grade on sale until the end of the year! Save $9 and have your writing set for the rest of the school year!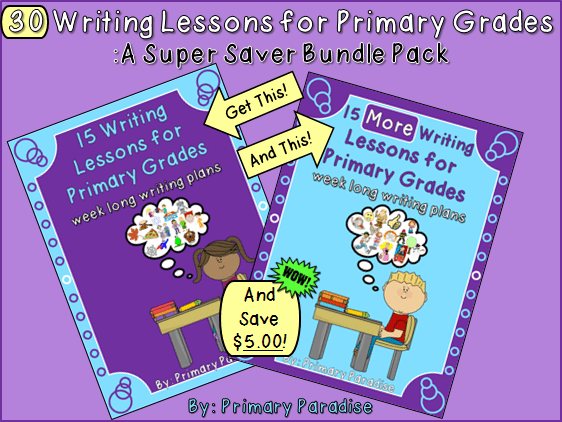 Last, make sure you check out our Jump into January Blog Hop and grab the no/low prep freebies and enter to win one of two $40 Amazon gift cards!
Click the button below to start hopping. 🙂